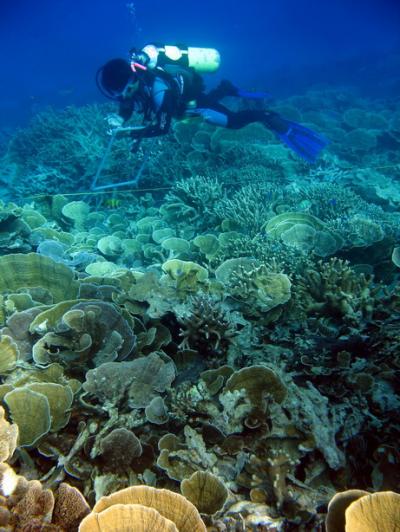 Marine conservationists from the Wildlife Conservation Society working with other coral reef experts have identified heat-tolerant coral species living in locations with continuous background temperature variability as those having the best chance of surviving climate change, according to a new simplified method for measuring coral reef resilience.
Therefore, coral reefs with these characteristics should receive immediate attention for conserving this highly threatened ecosystem, according to the authors of a study appearing today in the online journal PLOS ONE.
The bewildering diversity of coral reef environments has made assessing and prioritizing them costly, and yet they require immediate action to respond to the threats of climate change. Combining expert opinion and scientific evidence, the scientists developed a simplified assessment that reduces this complexity to 11 key and easily measured factors. This finding greatly simplifies and reduces the time needed for assessments and, therefore, gives coral reef managers a cost-effective, evidence-based tool for gauging a reef's chances of survival.
"Coral reefs are astoundingly complex systems," said Dr. Tim McClanahan, lead author of the study and head of WCS's coral reef research and conservation program. "This reality sometimes leads to the assumption that evaluations and management strategies must also be complex. Our study reveals, however, that effective conservation decisions may hinge on a few easily measurable factors, and this can promote faster management actions."
The study streamlines a previous approach to measuring the resilience of coral reefs by squaring a currently used assessment models with expert opinions and existing data sets. Focusing on a comprehensive field study undertaken by WCS in Karimunjawa Marine Park, located on the coast of Java in Indonesia, McClanahan and his co-authors examined a previously employed complex and expensive assessment protocol that included over 60 factors—herbivorous fish diversity, bio-erosion rates, hard coral cover, and many others—in order to determine which factors were most important.
Using a filtering methodology using surveys and scientific literature, the research team winnowed the list to 11 easily measured factors. Among these, the most important factors favoring resilience are heat-resistant coral species and background temperature variability.
The researchers than used the data collected in the previous comprehensive survey of Karimunjawa Marine Park and reassessed it with the new model. The priorities reached were not the same as the first assessment, which suggested that largely unimportant factors biased the selection of sites in the first assessment while increasing the costs of the investigation.
While the new model offers a potentially valuable, cost-effective tool in ranking the resilience of coral reef systems, McClanahan said that further research is needed to evaluate the priority and types of heat-resistant corals and temperature variability needed for conservation planning. He added that one of the more exciting outputs was that the study prioritized future investigations by identifying factors that are least agreed on among scientists and that have the highest potential to promote the resilience of coral reefs.
"This method gives us a foundation for what could become an indispensible assessment tool for identifying conservation priorities," added McClanahan. "We suspect this protocol will drive investigations for the next decade."
###
The authors of the paper include: Tim McClanahan, Stuart Campbell, and Stacy Jupiter of the Wildlife Conservation Society, USA; S.D. Donner of the University of British Columbia, Canada; J.A. Maynard of the Australian Centre of Excellence for Risk Analysis, University of Melbourne, Australia; M.A. MacNeil of the Australian Institute of Marine Science; N.A.J. Graham of the ARC Centre of Excellence for Coral Reef Studies, James Cook University, Australia; J.M. Maina of Macquarie University, Australia; A.C. Baker of the Rosenstiel School of Marine and Atmospheric Science, University of Miami, USA; J.B. Alemu I of the Institute of Marine Affairs, Chaguaramus, Trinidad and Tobago, West Indies; M. Beger of the University of Queensland, Australia; E.S. Darling of Simon Fraser University, Canada; C.M. Eakin of Coral Reef Watch, National Oceanic and Atmospheric Administration; S.F. Heron of NOAA's Coral Reef Watch and the Marine Geophysical Laboratory, James Cook University, Australia; C.J. Lundquist of the National Institute of Water & Atmospheric Research, New Zealand; E. McLeod of The Nature Conservancy, USA; P.J. Mumby of the Marine Spatial Ecology Lab, University of Queensland, Australia; M.J. Paddack of Santa Barbara City College, USA; E.R. Selig of Conservation International, USA; and R. van Woesick of the Florida Institute of Technology, USA.
From Fiji to Kenya to Glover's Reef, Dr. McClanahan's research has been examining the ecology, fisheries, climate change effects, and management of coral reefs at key sites throughout the world. This work has been supported by the John D. and Catherine T. MacArthur Foundation and The Tiffany & Co. Foundation.
---