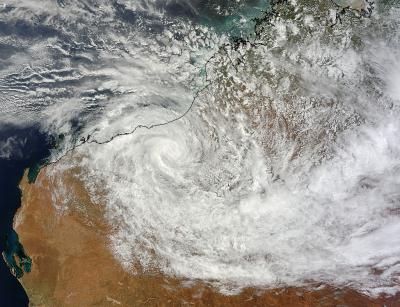 The tropical low pressure area known as System 94S continues to soak Australia and NASA satellites continue to track its movements. NASA's Terra and Aqua satellites captured visible and infrared data on the stubborn storm as warnings for heavy rainfall remain in effect for parts of Western Australia.
A visible image of System 94S taken from the Moderate Resolution Imaging Spectroradiometer instrument aboard NASA's Terra satellite on Jan. 20 at 02:10 UTC showed that the low remained organized even over land. It was 6 days before that the low pressure area was moving on land over Australia's Arnhem Region in the Northern Territory. System 94S has managed to keep together a long time over land.
Infrared data from the Atmospheric Infrared Sounder instrument that flies aboard NASA's Aqua satellite showed that System 94S still had powerful, high thunderstorms with very cold cloud top temperatures. Temperatures were near -63F/-52C which are indicative of the storm's ability to drop heavy rainfall. System 94S was located over the Gascoyne Region in northwestern Western Australia when Aqua flew overhead on January 21 at 05:29 UTC/12:59 a.m. EST and captured the infrared data.
The Australian Bureau of Meteorology or ABM issued a Severe Weather Warning for heavy rainfall in the northwestern area of Western Australia on January 21, the Gascoyne, Goldfields, Eucla, South Interior and Central Wheat Belt forecast districts
At 1500 UTC/10 a.m. EST/11 p.m. WST local time in Western Australia, System 94S was located over the northeast Gascoyne region (one of nine regions in Western Australia). The Gascoyne region has about 372 miles/600 km of coastline on the Southern Indian Ocean. System 94S was about 124 miles/200 kilometers southwest of Newman and 124 miles/200 kilometers north of Meekatharra. The low pressure area is forecast track slowly to the south across the central Gascoyne region on January 22. The Australian Bureau of Meteorology then expects System 94S to turn to the south-east into the northern Goldfields region located in the south central part of Western Australia.
ABM noted that System 94S is expected to cause heavy rainfall that could lead to flash flooding in parts of the warning area north of Kalgoorlie on January 22, Wednesday morning (local time). That heavy rain and flash flooding potential would extend to the rest of the warning area later that day and evening. For updated warnings, visit: http://www.bom.gov.au/wa/warnings/severe.shtml.
###
Text credit: Rob Gutro
NASA's Goddard Space Flight Center
---