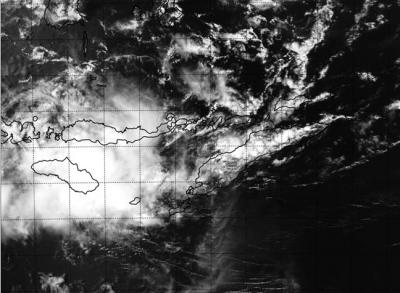 The remnants of former Tropical Cyclone Gillian moved out of the Southern Pacific Ocean and into the Indian Ocean only to trigger warnings and watches for part of Indonesia on March 19. NASA's Aqua satellite passed over the stubborn storm and took a visible image of the re-organizing tropical low pressure area.
NASA's Aqua satellite passed over Gillian's remnants on March 19 at 05:30 UTC/1:30 a.m. EDT and the Moderate Resolution Imaging Spectroradiometer or MODIS instrument took a visible picture of the storm. The image showed that the storm appeared to be well-defined, and more consolidated than it was the previous day.
The RSMC or Regional Specialized Meteorological Centre of Jakarta is issuing watches and warnings for parts of the Indonesia archipelago in Bahasa.
On March 18 at 1800 UTC/2 p.m. EDT, Gillian's remnants were near 9.3 south and 127.3 east, about 110 nautical miles east-southeast of Dali, Timor-Leste, Indonesia. The Joint Typhoon Warning Center expects the remnants will slowly develop over the next day as it moves across the Indonesian archipelago.
The Joint Typhoon Warning Center gives Gillian's remnants a medium chance to regain tropical depression status in the next day.
###
Text credit: Rob Gutro NASA's Goddard Space Flight Center
---