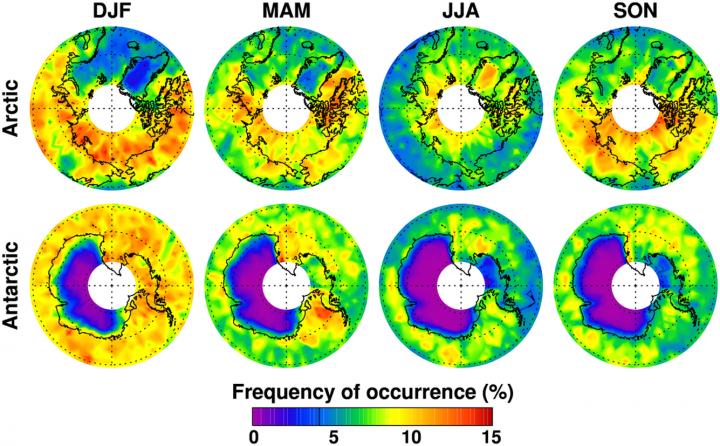 BELLINGHAM, Washington, and CARDIFF, UK -- Exceptional articles in interdisciplinary applications, theoretical innovation, and photo-optical instrumentation design published in 2016 in the Journal of Applied Remote Sensing (JARS) have been given best paper awards. The honorees were selected by the journal's editorial board.
JARS communicates concepts, information, and progress to improve monitoring and management of natural disasters, weather forecasting, agricultural and urban land-use planning, environmental quality monitoring, ecological restoration, and other commercial and scientific applications. The journal is published in the SPIE Digital Library at http://www.spiedigitallibrary.org/journals/journal-of-applied-remote-sensing. Ni-Bin Chang, professor of civil, environmental, and construction engineering at the University of Central Florida, is editor-in-chief.
"Optically thin midlevel ice clouds derived from Cloud Aerosol Lidar and Infrared Pathfinder Satellite Observations," authored by Vinay Kayetha and Richard Collins (University of Alaska, Fairbanks), was chosen in the category of Interdisciplinary Applications. The research employs satellite observation measurements to identify optically thin midlevel ice clouds and determine their occurrence and properties. The article is available via open access.
"Large patch convolutional neural networks for the scene classification of high spatial resolution imagery," by Yanfei Zhong, Feng Fei, and Liangpei Zhang (Wuhan University), was selected for Theoretical Innovation. The paper proposes a practical convolutional neural network architecture for high spatial resolution remote-sensing image scene classification, named a large patch convolutional neural network.
"Design and prototype of radar sensor with Vivaldi linear array for through-wall radar imaging: an experimental study," by Betül Y?lmaz and Caner Özdemir (Mersin University), was selected in the category of Photo-Optical Instrumentation and Design. The paper presents a radar sensor designed to detect and image moving objects behind a wall.
"The three papers selected for these best paper awards are highly deserving of this distinction and indicative of the important remote sensing research and applications published in JARS," said SPIE Director of Publications Eric Pepper.
###
The SPIE Digital Library contains more than 460,000 articles from SPIE journals, proceedings, and books, with approximately 18,000 new research papers added each year. The library is at http://www.spiedigitallibrary.org.
About SPIE
SPIE is the international society for optics and photonics, an educational not-for-profit organization founded in 1955 to advance light-based science, engineering and technology. The Society serves nearly 264,000 constituents from approximately 166 countries, offering conferences and their published proceedings, continuing education, books, journals, and the SPIE Digital Library. In 2016, SPIE provided $4 million in support of education and outreach programs. http://www.spie.org.
---