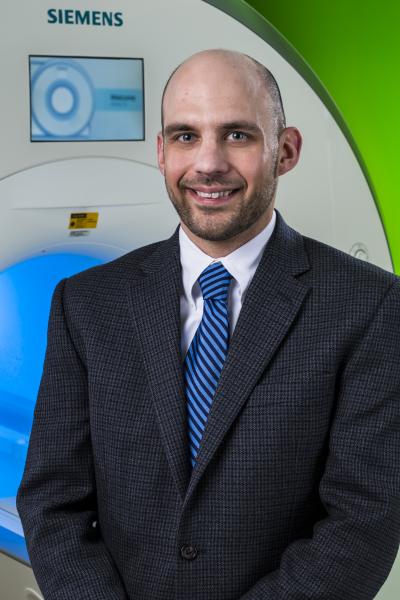 West Orange, NJ. April 30, 2014. Multiple sclerosis researchers have found that brain reserve and cognitive reserve confer a long-term protective effect against cognitive decline: Sumowski JF, Rocca MA, Leavitt VM, Dackovic J, Mesaros S, Drulovic J, Deluca J, Filippi M. Brain reserve and cognitive reserve protect against cognitive decline over 4.5 years in MS. Neurology. 2014 Apr 18. doi: 10.1212/WNL.0000000000000433 [Epub ahead of print]. James Sumowski, PhD, lead author of the article, and John DeLuca, PhD, are at Kessler Foundation. Co-authors are from the Manhattan Memory Center, New York, NY, the San Raffaele Scientific Institute, Milan, Italy, and the University of Belgrade, Serbia. Neurology is the official journal of the American Academy of Neurology. Dr. Sumowski presented this research at the 2014 AAN conference in Philadelphia.
"Our research aims to answer these questions," explained Dr. DeLuca. "Why do some people with MS experience disabling symptoms of cognitive decline, while others maintain their cognitive abilities despite neuroimaging evidence of significant disease progression? Can the theories of brain reserve and cognitive reserve explain this dichotomy? Can we identify predictors of cognitive decline?"
In this study, memory, cognitive efficiency, vocabulary (a measure of intellectual enrichment/cognitive reserve), brain volume (a measure of brain reserve), and disease progression on MRI, were evaluated in 40 patients with MS at baseline and at 4.5-year followup. After controlling for disease progression, scientists looked at the impact of brain volume and intellectual enrichment on cognitive decline.
Results supported the protective effects of brain reserve and cognitive reserve," noted Dr. Sumowski. "Patients with greater intellectual enrichment experienced lesser degrees of cognitive decline. Those with greater brain reserve showed a protective effect for cognitive efficiency. This study not only confirms these protective effects of brain and cognitive reserve, it shows that these beneficial effects persist for years."
###
Dr. Sumowski is a research scientist in Neuropsychology & Neuroscience Research, under the directorship of Nancy Chiaravalloti, PhD. John DeLuca, PhD, is senior VP of Research & Training at Kessler Foundation. Drs. Sumowski and DeLuca are on the faculty of the department of physical medicine and rehabilitation at Rutgers-New Jersey Medical School.
Study partially supported by a grant from the Ministry of Science, Republic of Serbia (Project number: 175031). Dr. Sumowski was funded in part by the NIH (R00HD060765).
Recent publications:
Sumowski JF, Leavitt VM. Body Temperature Is Elevated and Linked to Fatigue in Relapsing-Remitting Multiple Sclerosis, Even Without Heat Exposure. Arch Phys Med Rehabil. 2014 Feb 20.
Sumowski JF, Coyne J, Cohen A, Deluca J.Retrieval practice improves memory in survivors of severe traumatic brain injury. Arch Phys Med Rehabil. 2014 Feb;95(2):397-400
Sumowski JF, Chiaravalloti N, Krch D, Paxton J, Deluca J. Education attenuates the negative impact of traumatic brain injury on cognitive status. Arch Phys Med Rehabil. 2013 Dec;94(12):2562-4.
About MS Research at Kessler Foundation
Kessler Foundation's cognitive rehabilitation research in MS is funded by grants from the National Institutes of Health, National MS Society, Consortium of MS Centers, the Patterson Trust, Biogen Idec, Hearst Foundation and Kessler Foundation. Under the leadership of John DeLuca, PhD, senior VP for Research & Training, and Nancy Chiaravalloti, PhD, director of Neuropsychology & Neuroscience Research, scientists have made important contributions to the knowledge of cognitive decline in MS. Clinical studies span new learning, memory, executive function, attention and processing speed, emotional processing, employment and cognitive fatigue. Research tools include innovative applications of neuroimaging, iPADs, and virtual reality. Among recent findings are the benefits of cognitive reserve and aerobic exercise; correlation between cognitive performance and outdoor temperatures; efficacy of short-term cognitive rehabilitation using modified story technique; factors related to risk for unemployment, and the correlation between memory improvement and cerebral activation on fMRI. Foundation research scientists have faculty appointments at Rutgers-New Jersey Medical School.
About Kessler Foundation
Kessler Foundation, a major nonprofit organization in the field of disability, is a global leader in rehabilitation research that seeks to improve cognition, mobility and long-term outcomes, including employment, for people with neurological disabilities caused by diseases and injuries of the brain and spinal cord. Kessler Foundation leads the nation in funding innovative programs that expand opportunities for employment for people with disabilities. For more information, visit KesslerFoundation.org.
Facebook.com/KesslerFoundation
http://twitter.com/KesslerFdn
Carolann Murphy, PA; 973.324.8382; CMurphy@KesslerFoundation.org
Lauren Scrivo, 973.324.8384/973.768.6583 (cell); LScrivo@KesslerFoundation.org
---