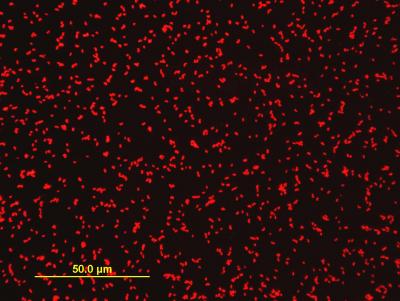 Virginia Key, FL (July 18, 2006) -- While phytoplankton scientists focus their research on some of the smallest organisms in the world, the impacts can be global. This week, in Proceedings of the National Academy of Sciences, a genomic analysis of the smallest, free-living eukaryote offers insight into its ability to thrive in the world's oceans and evolutionary biology. Known as Ostreococcus tauri, the analyzed phytoplankton has been thought to be not only the smallest eukaryote, but also ancient, dating back 1,500 million years and capable of photosynthesis that helps with carbon cycling. This genomic analysis offers important clues regarding the minimum genome size necessary for an organism to be able to live as a free living cell, perform photosynthesis, impact carbon cycling, and influence the climate.
In biology, organisms are divided into two major groupings: prokaryotes and eukaryotes, with eukaryotes being the more structurally complex. Humans, other animals, plants, fungi, and multi-cellular and complex unicellular microorganisms all fall within the "superkingdom" of eukaryotes.
"This is pretty big news," said Dr. Alexandra Worden, one of the paper's authors and an assistant professor at the University of Miami Rosenstiel School of Marine & Atmospheric Science, who was named a Moore Foundation Young Investigator in Marine Microbiology in 2004. Worden worked with the Osteococcus genome consortium, a european initiative to sequence this important organisms genome. "We have recently found that at times organisms such as Ostreococcus can photosynthetically produce more biomass than cyanobacteria, which are found in much greater numbers. Also, there is pretty good evidence that predators are consuming the carbon that is produced. This is important since these organisms don't sink on their own, so their fate – whether destroyed by viruses or consumed by larger organisms – dictates how they contribute to the global carbon cycle."
The prevailing indicator of climate change and global warming has been the increase in atmospheric carbon dioxide. Scientists agree that the ocean plays a key role in removing carbon dioxide from the atmosphere in a process known as the carbon cycle. Photosynthesizing organisms, such as the Ostreococcus consume carbon and release oxygen in its place.
"Certainly, the dynamics of these organisms are very important to understand since they are the photosynthesizers of the ocean. How much carbon they produce and where it goes are really important," Worden said. "Right now, we can only say that understanding the physiological controls of their growth – which is what the genome sequence helps us do – will help us to be more predictive of what changes might occur in such populations and how the oceans' ability to deal with climate change will be affected."
The study in the current Proceedings unveils the complete genome sequence of the world's smallest free-living eukaryote known to date. Scientists were able to observe the genetic basis of nutrient uptake and photosynthesis capabilities. Additionally, the scientists found that while the organism is compact, its genome is structurally complex, but quite streamlined.
###
Worden's group is leading the genome sequencing effort of two strains of another organism (Micromonas pusilla) that is closely related to Ostreococcus and will be performing comparative genomics between the three organisms to try to understand their different niches as well as finer points of evolutionary and physiological processes (e.g., why Micromonas is found in polar waters while Ostreococcus is not). The work is being done in collaboration with the Joint Genome Institute of the U.S. Department of Energy because of its carbon cycle importance.
Rosenstiel School is part of the University of Miami and, since its founding in the 1940s, has grown into one of the world's premier marine and atmospheric research institutions. See http://www.rsmas.miami.edu
---
Journal
Proceedings of the National Academy of Sciences