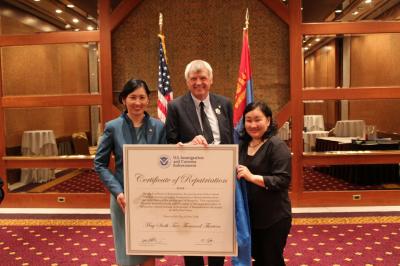 DEERFIELD, IL–It is not often that vertebrate paleontologists get awarded government medals. But it is also not often that these scientists get involved in international legal cases. Three paleontologists, all members of the Society of Vertebrate Paleontology, were recently awarded a Polar Star for their work to help return smuggled fossils to Mongolia. This award, among the highest honors of the Mongolian government, was bestowed on a Mongolian paleontologist, Bolortsetseg Minjin, and two North American paleontologists, Mark Norell of the American Museum of Natural History in New York, and Philip Currie of the University of Alberta, Canada. Thanks in part to the efforts of these paleontologists, a stolen specimen of Tarbosaurus bataar, a large, meat-eating relative of North America's Tyrannosaurus rex (known to the public as "T. rex"), has been returned to its native Mongolia. Additional fossils will be returned in the future.
Most nations with large paleontological resources, such as Mongolia, have laws that prohibit export of most fossils except by scientists with proper permits. Even then, the fossils remain national property and must be returned once studies are complete. Unfortunately, a black market exists for the sale of illegally collected and exported fossils. Some of these fossils, such as large dinosaurs, can sell for hundreds of thousands of dollars. This market is not only illegal, it is detrimental to science. Once fossils land in a private collection, they are seldom available for scientific study or public education. Even if they are available for study, the lack of permanent accessibility means that future researchers may not be able to verify observations and data as required by the scientific method. Moreover, if fossils are not collected with precise information about where and how they were found, much of their scientific value is lost.
Dr. Norell says that he "has no issue against people who are excavating according to law." In fact, he says that he has a good relationship with many Mongolian private collectors and no issue with most. "You can't break laws, you can't smuggle stuff out of countries that have laws against it," Norell said by phone from Beijing.
For Dr. Minjin, or Bolor, as she is known, the Polar Star brings with it a new position as chief paleontologist at the Central Museum of Mongolian Dinosaurs. This new museum was created to display the repatriated Tarbosaurus specimen and to facilitate study of other scientifically valuable fossils from Mongolia, particularly the Gobi Desert. It was Bolor, who works frequently in New York, who happened to first see the ad for the Tarbosaurus auction. With only two days to go before the sale, Bolor contacted a friend in the Mongolian government, Oyungerel Tsedevdamba, who in turn contacted Mongolian president Tsakhiagiian Elbegdorj. The president posted a statement on the country's website officially requesting that the sale be stopped, as collecting and selling Mongolian fossils are illegal under Mongolian law. Nevertheless, little had been done to stop the black market sale of specimens prior to this incident. Bolor's actions, as well as a Change.org petition begun by Neil Kelley, led to the involvement of an American lawyer, Robert Painter. Their efforts prevented the transfer of the auctioned specimen until its status could be resolved, and US and Mongolian officials together started an investigation into the provenance of the Tarbosaurus and several other specimens held by the same fossil dealer. Ultimately, Norell, Currie, and Minjin, along with others, were able to show that the specimens were indeed from Mongolia, and officials uncovered evidence of travel by the fossil dealer to the region. The man responsible for illegally collecting and attempting to sell the Tarbosaurus has been convicted and is awaiting sentencing.
Both Norell and Currie are experts in the study of Mongolian dinosaurs and have led field expeditions there in collaboration with Mongolian colleagues. Currie is also a past president of the Society of Vertebrate Paleontology (SVP), a leading professional paleontology organization. In addition to supporting paleontological research, the SVP has taken an active role in lobbying for better legislation to protect of vertebrate fossils in the US. This is a constant battle, as recently illustrated by Montana HB 392, a bill that was passed by the Montana State legislature and senate that would have permitted the sale of fossils collected from Makoshika State Park. Governor Bullock ultimately vetoed this bill, but legislation such as this runs the risk of letting scientifically valuable specimens be forever lost to science.
For now, Norell, Currie, Minjin, and other members of the SVP are happy to have seen the end of the Tarbosaurus affair. For Bolor, it brings not only a new position, but also a new opportunity to bring Mongolian paleontology into the nation's cultural consciousness. "The Mongolian public has embraced Tarbosaurus bataar and they are eager to learn more about the fossils of their country. I feel very lucky have a role helping Mongolia turn a new page in paleontology. The most important thing for Mongolia is now to train the next generation of Mongolian paleontologists. Without them we cannot continue to build upon what we have accomplished."
###
***PLEASE SEE THE EUREKALERT MULTIMEDIA GALLERY FOR ADDITIONAL IMAGES***
About the Society of Vertebrate Paleontology
Founded in 1940 by thirty-four paleontologists, the Society now has more than 2,300 members representing professionals, students, artists, preparators, and others interested in VP. It is organized exclusively for educational and scientific purposes, with the object of advancing the science of vertebrate paleontology.
CONTACT INFORMATION
Dr. Philip Currie
Professor and Canada Research Chair in Dinosaur Paleobiology
University of Alberta, Edmonton, Canada
Phone: (780) 492-6572
Email: philip.currie@ualberta.ca
Dr. Bolortsetseg Minjin (Bolor)
Chief Paleontologist and Assistant Director
Central Museum of Mongolian Dinosaurs, Ulaanbaatar
Phone: 516-305-2963 (USA); 976-9926-4750 (Mongolia)
Email: mbolor2001@yahoo.com
Dr. Mark Norell
Chairman & Curator-in-Charge, Division of Paleontology
American Museum of Natural History, New York
Phone: (212) 769-5804
Email: norell@amnh.org
OTHER EXPERTS
Dr. Catherine Forster
President, Society of Vertebrate Paleontology
Associate Professor of Biology
George Washington University, Washington, D.C.
Phone: (202) 994-1008
E-mail: forster@gwu.edu
Dr. Kenshu Shimada
Chair, Government Affairs Committee, Society of Vertebrate Paleontology
Associate Professor, Biological Sciences
DePaul University, Chicago
Phone: (773) 325-4697
Email: kshimada@depaul.edu
---