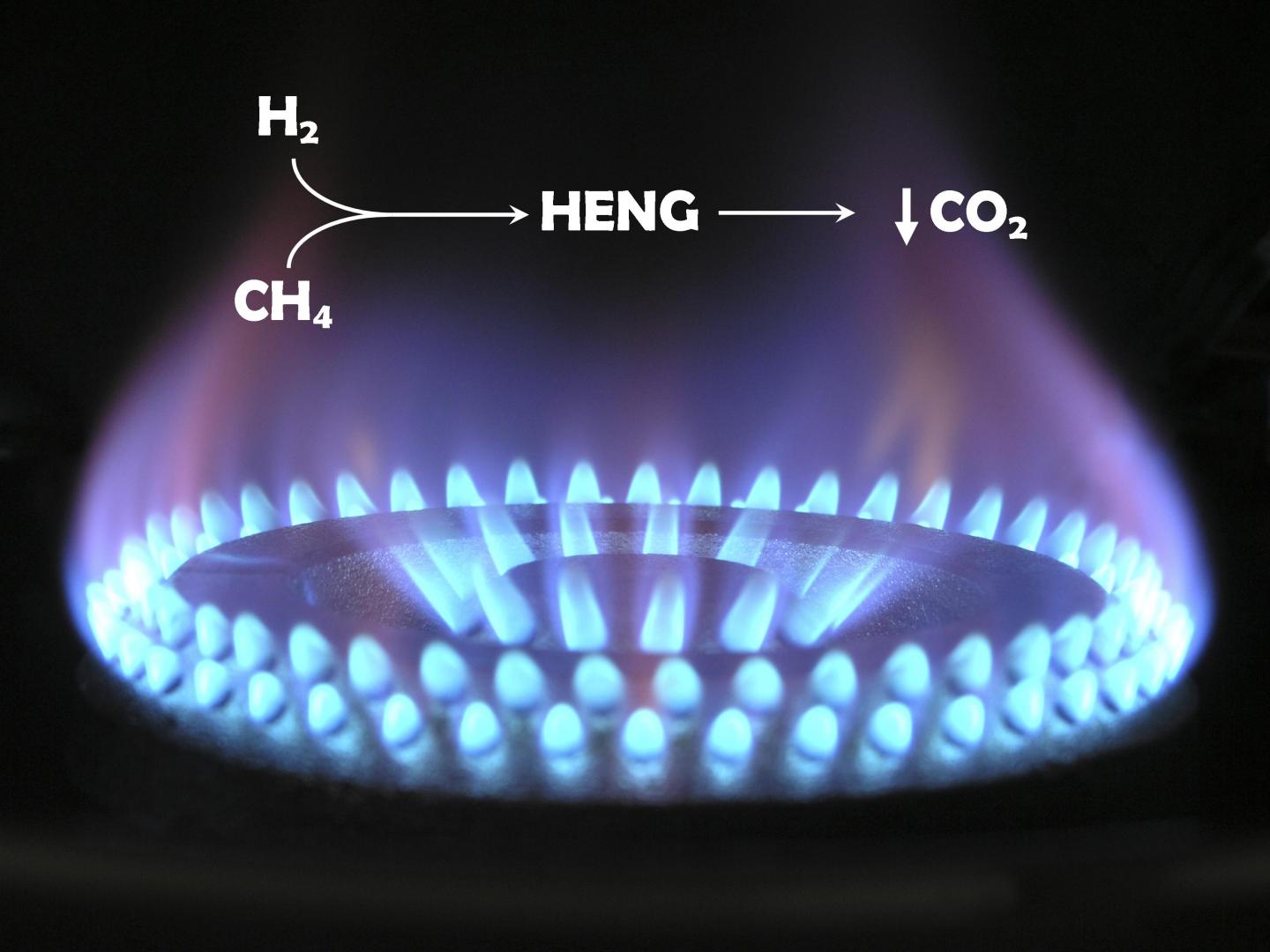 Almost a third of the natural gas fuelling UK homes and businesses could be replaced by hydrogen, a carbon free fuel, without requiring any changes to the nation's boilers and ovens, a pioneering study by Swansea University researchers has shown.
Over time the move could cut UK carbon dioxide emissions by up to 18%.
Natural gas is used for cooking, heating and generating electricity. Domestic gas usage accounts for 9% of UK emissions. In an effort to reduce annual carbon emissions, there is presently a concerted effort from researchers worldwide to offset our usage of natural gas.
Enriching natural gas with hydrogen is one way forward. Experiments have shown that modern-day gas appliances work safely and reliably with hydrogen-enriched natural gas as the fuel. It is already used in parts of Germany and the Netherlands, with a £600m government-backed trial in the UK taking place this year.
Natural gas naturally contains a small quantity of hydrogen, although current UK legislation restricts the allowed proportion to 0.1%.
The question the Swansea team investigated was how far they could increase the percentage of hydrogen in natural gas, before it became unsuitable as a fuel, for example because the flames became unstable.
The team, Dr Charles Dunnill and Dr Daniel Jones at the University's Energy Safety Research Institute (ESRI), found:
An enrichment of around 30% is possible, when various instability phenomena are taken into account
Higher percentages make the fuel incompatible with domestic appliances, due to hydrogen's relatively low energy content, its low density, and a high burning velocity.
30% enrichment by hydrogen nevertheless equates to a potential reduction of up to 18% in domestic carbon dioxide emissions;
The research was published by the Royal Society of Chemistry.
Dr Charles Dunnill of the Energy Safety Research Institute at Swansea University said:
"Up to 30% of the UK's gas supply can be replaced with hydrogen, without needing to modify people's appliances.
As a low carbon domestic fuel, hydrogen-enriched natural gas can cut our greenhouse gas emissions, helping the UK meet its obligations under the 2016 Paris Climate Change Agreement.
Hydrogen-enrichment can make a difference now. But it could also prove a valuable stepping-stone towards a future, pure hydrogen, zero carbon gas network."
###
Notes to editors
The research was published by the Royal Society of Chemistry in "Sustainable Energy and Fuels", http://pubs.rsc.org/en/content/articlepdf/2017/se/c7se00598a
30% hydrogen enrichment and a potential 18% drop in carbon emissions: the difference between the two percentages arises from the fact that hydrogen-enrichment lowers the calorific content of the fuel, necessitating a higher volume of gas for a given energy output.
The research was supported by the Welsh Government Sêr Cymru Program, FLEXIS, which is partially funded by the European Regional Development Fund, and the King Saud University as well as by the Welsh Government through the Sêr Cymru Chair for Low Carbon Energy and Environment. Co-author is Waheed Al-Masry an assistant professor in the Department of Chemical Engineering at King Saud University, Riyadh, Saudi Arabia.
The Energy Safety Research Institute (http://www.esri-swansea.org) is positioned to discover and implement new technology for a sustainable, affordable, and secure energy future and is housed on Swansea University's new world class Bay Campus. ESRI provides an exceptional environment for delivering cutting edge research across energy and energy safety-related disciplines with a focus on renewable energy, hydrogen, carbon capture and utilization, as well as new oil and gas technologies.
Follow us on Twitter: http://www.twitter.com/ESRI_Swansea & http://www.twitter.com/ESRI_Abertawe (Welsh)
When reporting this story, please use Swansea University and ESRI hyperlinks.
Swansea University is a world-class, research-led, dual campus university. The University was established in 1920 and was the first campus university in the UK. It currently offers around 350 undergraduate courses and 350 postgraduate courses to circa 20,000 undergraduate and postgraduate students.
The University's 46-acre Singleton Park Campus is located in beautiful parkland with views across Swansea Bay. The University's 65-acre science and innovation Bay Campus, which opened in September 2015, is located a few miles away on the eastern approach to the city. It has the distinction of having direct access to a beach and its own seafront promenade. Both campuses are close to the Gower Peninsula, the UK's first Area of Outstanding Natural Beauty.
Swansea is ranked the top university in Wales and is currently The Times and The Sunday Times 'Welsh University of the Year' for 2017. It is also ranked within the top 300 best universities in the world in the Times Higher Education World University rankings.
The results of the Research Excellence Framework (REF) 2014 showed the University has achieved its ambition to be a top 30 research University, soaring up the league table to 26th in the UK, with the 'biggest leap among research-intensive institutions' (Times Higher Education, December 2014) in the UK.
The University has ambitious expansion plans as it moves towards its centenary in 2020, as it continues to extend its global reach and realising its domestic and international ambitions.
Swansea University is a registered charity. No.1138342. Visit http://www.swansea.ac.uk
Further information
Kevin Sullivan, Swansea University Public Relations Office.
Tel: 01792 513245, email: k.g.sullivan@swansea.ac.uk
Follow us on Twitter: http://www.twitter.com/SwanseaUni Find us on Facebook: http://www.facebook.com/swanseauniversity
---
Journal
Sustainable Energy & Fuels