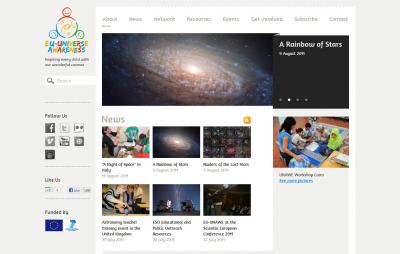 A Web site that aims to inspire young children by teaching them about the immensity of the universe and the wonder of the night sky has won the Science Prize for Online Resources in Education (SPORE).
"The Web site is intended to give a sense of perspective to everyone who uses it," says Carolina Odman-Govender, who developed the site into a global resource reaching forty countries. "You can see the universe as a big place and a beautiful place in which you fit."
Science magazine developed the Science Prize for Online Resources in Education (SPORE) to promote the best online materials in science education. The acronym SPORE suggests a reproductive element adapted to develop, often in less-than-ideal conditions, into something new. In a similar way, these winning projects can be seen as the seeds of progress in science education, despite considerable challenges to educational innovation. Each month, Science publishes an article by a recipient of the award, which explains the winning project. The article about Universe Awareness will be published on August 26.
"We're trying to advance science education," says Bruce Alberts, editor-in-chief of Science. "This competition provides much-needed recognition to innovators in the field whose efforts promise significant benefits for students and for science literacy in general. The publication in Science of an article on each Web site will help guide educators around the globe to valuable free resources that might otherwise be missed."
Odman grew up in Switzerland and as a young student became interested in philosophy and science. After completing a PhD in theoretical cosmology at Cambridge, she consulted for UNESCO, focusing on the impact of science and technology on societies, and tutored at the African Institute for Mathematical Sciences in South Africa. Just after finishing a post-doc, she saw a job listing that had been posted by Professor George Miley at the Leiden Observatory in the Netherlands. His interest in using astronomy to inspire young children immediately attracted Odman.
"I was keen on big issues," she says. "Why do we do astronomy? What does it bring us? I had also gone to South Africa and taught, which was life-changing. I had never met such eager students, eager to use math and science to help themselves and their families."
The Universe Awareness (UNAWE) Web site that Odman developed reaches out to children between the ages of four and ten, especially in underprivileged areas throughout all the regions of the world. Its resources come from an army of 400 volunteers all over the world. Everything is checked for accuracy by qualified astronomers. Odman says one aspect of its importance is that astronomy allows the children to "see the world as it really is, without real borders between countries."
One resource on the site provides traditional stories from many cultures about the sky and the universe. Each is beautifully written and illustrated, and includes a box about the related science. "You have the science, but you also have the story," Odman says. "This connects culture to science. Astronomy is built on a heritage from many cultures; it is built upon things that these children are part of. It's not just something NASA owns that's 50 years old."
"Universe Awareness resources are locally relevant," says Science editorial fellow Melissa McCartney. "Educators and volunteers close to the children make certain they can identify with the characters featured in the activities and are presented with familiar, real-life examples."
An example of an easily adaptable resource on the site is Deadly Moons, which was developed by Deirdre Kelleghan, an Irish artist and amateur astronomer, who kept up her lifelong fascination in many ways, from inviting neighbors in the suburbs of Dublin to come try her telescope, to becoming a representative for NASA's Saturn Observation campaign. Kelleghan is the co-author, with Odman, of the essay about Universe Awareness that will appear in Science. Kelleghan's Deadly Moons presentation is in some ways highly specific to her culture, even using the street word "deadly" to describe how interesting our moon and the many exotic moons in the presentation are to kids. At the same time, the one-hour interactive workshop is designed very simply, such that teachers from other cultures can pick and choose which moons they want to emphasize, including ones that might have features named in their own languages. The far side of our moon, for example, has many features named after Russians.
"It's simple, cross-cultural, and flexible," says Kelleghan, "so a presenter from Hong Kong or Romania can easily make it culturally relevant. They don't need a whole lot of explanation."
Kelleghan, who gave the Deadly Moons program to Universe Awareness so it would get out to more children, also volunteers each year to bring it to thousands of children around Dublin. She says that as she presents it, she gets the children to talk, to call out their preferences for one moon over another, to imagine alien creatures they would find in the oceans inside of Saturn's moons. "I let their imaginations go wild," she says. "I'm very tuned in with kids, particularly kids from the inner city who aren't used to getting this kind of stuff.
"It's not like learning about astronomy in a stuffy way. It's a fun way."
Also the co-author of a book called "Sketching the Moon: an Astronomical Artists Guide," Kelleghan has the children in her workshops draw their favorite moon using black paper and soft pastels. "If you draw anything, it means you're learning more about it," she says. "You've been more proactive in the learning."
Until now, the educators and presenters who use and contribute to Universe Awareness have worked as volunteers. Odman says she hopes winning the SPORE award and the publication of an essay about the Web site in Science might help them get resources.
"The award reflects well on all the volunteers on the ground," she says. "I hope this visibility for the program will open doors for them so they can get funding."
Kelleghan echoes that intention and explains her dedication to teaching young children about the universe.
"I think having an awareness of where we are, our place in space, gives us more respect for the planet, makes us more outward-looking, and puts us in touch with our humanity, in that we're all on the same planet," she says. "I think it brings people to a better understand of everything."
###
To visit Universe Awareness, go to unawe.org.
The American Association for the Advancement of Science (AAAS) is the world's largest general scientific society, and publisher of the journal, Science (www.sciencemag.org) as well as Science Translational Medicine (www.sciencetranslationalmedicine.org) and Science Signaling (www.sciencesignaling.org). AAAS was founded in 1848, and includes some 262 affiliated societies and academies of science, serving 10 million individuals. Science has the largest paid circulation of any peer-reviewed general science journal in the world, with an estimated total readership of 1 million. The non-profit AAAS (www.aaas.org) is open to all and fulfills its mission to "advance science and serve society" through initiatives in science policy; international programs; science education; and more. For the latest research news, log onto EurekAlert!, www.eurekalert.org, the premier science-news Web site, a service of AAAS.
---