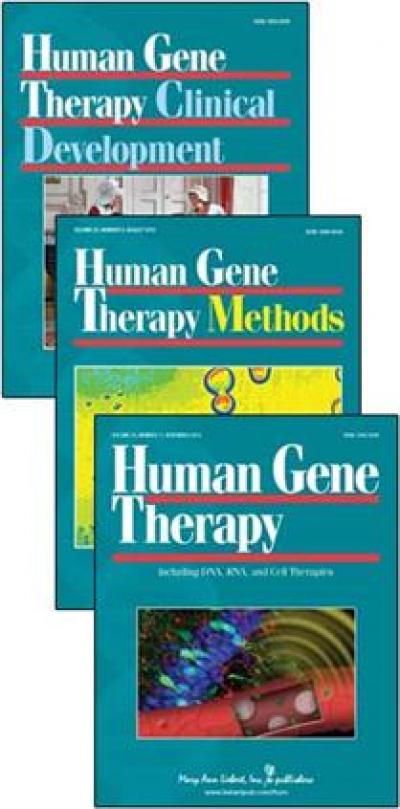 New Rochelle, NY, February 24, 2014—Over the past three funding stages, the European Commission has invested nearly $475 million in 100 projects in the gene transfer and gene therapy field. David Gancberg, Directorate-General for Research and Innovation, European Commission (Brussels), describes the substantial opportunities for funding to support basic and clinical research in gene and cell therapy to find new treatments for chronic and rare diseases and novel regenerative medicine approaches in a Commentary article in Human Gene Therapy, a peer-reviewed journal from Mary Ann Liebert, Inc., publishers. The article is available free on the Human Gene Therapy website.
Dr. Gancberg and co-author Ruxandra Draghia-Akli state, "More than ever, the European Union offers to the gene and cell therapy sectors the possibilities of financial support to bright and innovative consortia ready to develop, possibly in collaboration with industry, new therapeutic applications to be tested in clinical trials, or novel products for the market, and build sustainable networks of expertise in the field," in their article "Gene and Cell Therapy Funding Opportunities in Horizon 2020: An Overview 2014-2015."
"Funding for gene therapy provided by the European Commission over the last decade has been critical to the current success we are seeing in the clinics. The commentary provided by doctors Gancberg and Draghia-Akli describe exciting new programs." says James M. Wilson, MD, PhD, Editor-in-Chief of Human Gene Therapy, and Director of the Gene Therapy Program, Department of Pathology and Laboratory Medicine, University of Pennsylvania Perelman School of Medicine, Philadelphia.
###
About the Journal
Human Gene Therapy, the official journal of the European Society of Gene and Cell Therapy, British Society for Gene and Cell Therapy, French Society of Cell and Gene Therapy, German Society of Gene Therapy, and five other gene therapy societies, is an authoritative peer-reviewed journal published monthly in print and online. Human Gene Therapy presents reports on the transfer and expression of genes in mammals, including humans. Related topics include improvements in vector development, delivery systems, and animal models, particularly in the areas of cancer, heart disease, viral disease, genetic disease, and neurological disease, as well as ethical, legal, and regulatory issues related to the gene transfer in humans. Its sister journals, Human Gene Therapy Methods, published bimonthly, focuses on the application of gene therapy to product testing and development, and Human Gene Therapy Clinical Development, published quarterly, features data relevant to the regulatory review and commercial development of cell and gene therapy products. Tables of content for all three publications and a free sample issue may be viewed on the Human Gene Therapy website.
About the Publisher
Mary Ann Liebert, Inc., publishers is a privately held, fully integrated media company known for establishing authoritative peer-reviewed journals in many promising areas of science and biomedical research, including Nucleic Acid Therapeutics, Tissue Engineering, Stem Cells and Development, and Cellular Reprogramming. Its biotechnology trade magazine, Genetic Engineering & Biotechnology News (GEN), was the first in its field and is today the industry's most widely read publication worldwide. A complete list of the firm's 80 journals, books, and newsmagazines is available on the Mary Ann Liebert, Inc., publishers website.
Mary Ann Liebert, Inc.
140 Huguenot St., New Rochelle, NY 10801-5215
http://www.liebertpub.com
Phone: (914) 740-2100
(800) M-LIEBERT
Fax: (914) 740-2101
---
Journal
Human Gene Therapy