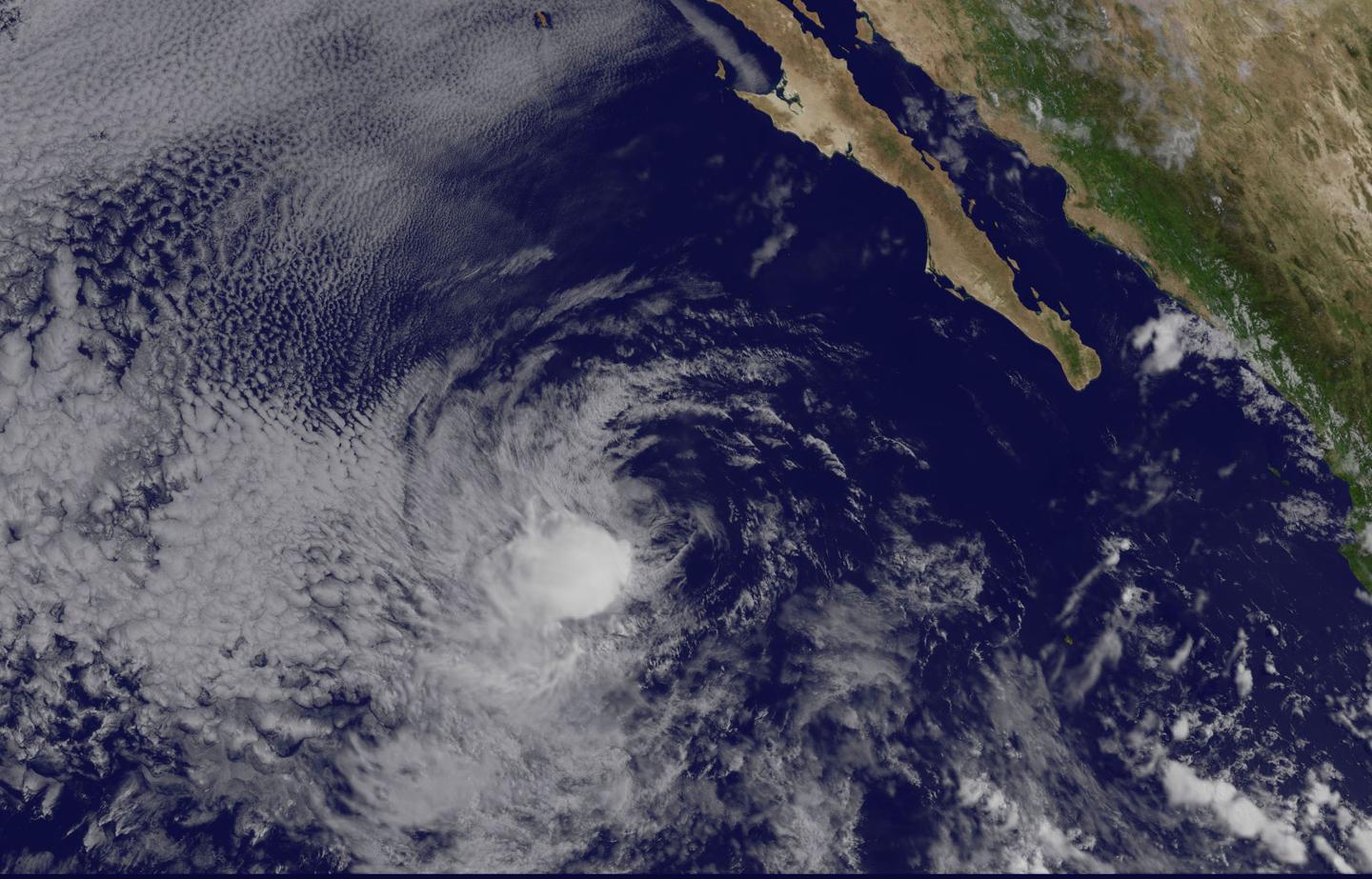 Satellite imagery from NOAA's GOES-West satellite showed vertical wind shear was already tearing Tropical Storm Jova apart just two days after it formed. By August 14, the storm weakened into a post-tropical cyclone.
Tropical Storm Jova formed around 11 p.m. EDT on Friday, August 11. Now, wind shear it tearing the storm apart.
At 12:45 p.m. EDT (1500 UTC) on Sunday, August 13, NOAA's GOES-West satellite captured a visible image of Tropical Depression Jova that showed wind shear was pushing most of the clouds southwest of the center of circulation. That wind shear is causing the demise of the depression.
NOAA manages the GOES series of satellites. NASA/NOAA's GOES Project at NASA's Goddard Space Flight Center in Greenbelt, Maryland uses the satellite data to create imagery.
The National Hurricane Center (NHC) said at 11 a.m. EDT on August 13 "conventional satellite imagery and an earlier composite microwave (image) pass show that the fully exposed low-level center is becoming more ill-defined, particularly in the northeastern portion of the circulation."
At that time, the center of Tropical Depression Jova was located near 20.4 degrees north latitude and 117.4 degrees west longitude. That puts the center about 431 miles (694 km) west-northwest of Socorro Island. The depression was moving toward the west near 14 mph (22 kph). Maximum sustained winds were near 35 mph (55 kph) with higher gusts. The estimated minimum central pressure is 1005 millibars.
On Monday, August 14, 2017 at 2:30 a.m. EDT (0630 UTC) Jova was no longer a tropical cyclone and classified as a post-tropical cyclone. Post-tropical cyclone Jova was centered near 20 degrees north latitude and 121 degrees west longitude, about 630 nautical miles west-southwest of the southern tip of Baja California. The estimated minimum central pressure was 1006 millibars and the maximum sustained winds were near 23 knots.
Jova is forecast to weaken and dissipate by August 17.
For forecast updates on Jova, visit: http://www.nhc.noaa.gov.
###
---