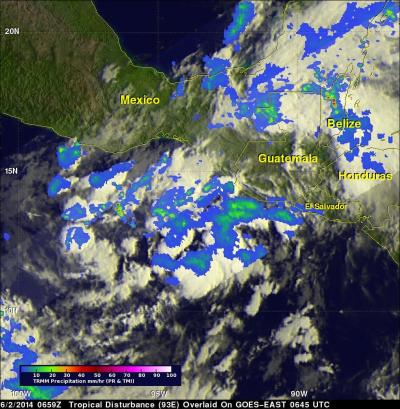 There's a new tropical low pressure area brewing in the Eastern Pacific and NASA's TRMM satellite flew overhead and got a read on its rainfall rates and cloud heights.
The eastern Pacific Ocean has become active on cue with the start of the hurricane season in that area. Only a few days after hurricane Amanda weakened and disappeared the National Hurricane Center (NHC) said that development of another tropical cyclone is probable southeast of Salina Cruz, Mexico. NASA and the Japan Aerospace Exploration Agency's Tropical Rainfall Measuring Mission or TRMM satellite captured rainfall data on System 93E on June 2, 2014 at 0659 UTC (2:59 a.m. EDT).
At NASA's Goddard Space Flight Center in Greenbelt, Maryland, TRMM's Microwave Imager (TMI) and Precipitation Radar (PR) data were overlaid on an enhanced infrared image from NOAA's GOES-EAST satellite received at 0645 UTC (02:45 a.m. EDT) on June 2. TRMM found areas of moderate to heavy rainfall in showers and thunderstorms within the area of this tropical low. However, the heaviest rainfall found by TRMM in the area covered by this image was 115.8 mm (4.6 inches) per hour in another area of disturbed weather over Belize.
At 2 p.m. EDT, the National Hurricane Center update noted that showers and thunderstorms associated with a low pressure area became better organized during the morning hours. System 93E is located 250 miles south-southeast of Salina Cruz, Mexico,
Because the environmental conditions are conducive for additional development, The National Hurricane Center expects a tropical depression may likely form later today or tonight as the low moves slowly northeastward or northward.
Even though the low has not yet become a depression, the National Hurricane Center reported that it continues to bring very heavy rainfall to portions of western Central America, and is expected to spread over southeastern Mexico during the next couple of days. These rains could cause life-threatening flash floods and mud slides in areas of mountainous terrain.
As of June 2 at 2 p.m. EDT (11 a.m. EDT), the National Hurricane Center gives System 93E a 90 percent chance of becoming tropical depression 2E in the next 48 hours.
###
---