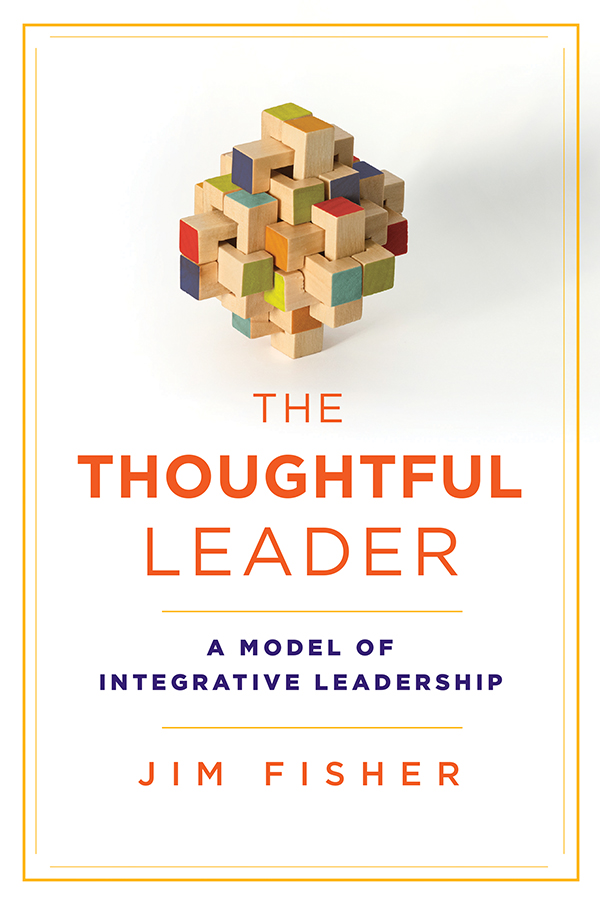 Toronto - Leadership is a quality that is difficult to define. Some believe that it is innate, the gift of a selected few. Others believe that it is a skill that can be learned but don't agree on what, exactly, should be taught.
In a new book from Rotman-UTP Publishing, The Thoughtful Leader, A Model of Integrative Leadership, author Jim Fisher provides an invigorating, inclusive and positive framework for teaching current and aspiring leaders in all walks of life. Fisher, a professor emeritus at the University of Toronto's Rotman School of Management, has incorporated various apparently opposing leadership ideas into an integrated model. In order to successfully meet the challenges of a fast changing world, leaders can no longer choose between managing, directing or engaging. The thoughtful leader is someone who simultaneously, consistently and coherently manages, directs and engages their followers. The framework provides a way for anyone who is motivated to lead, has the courage to act and is willing to think about their actions to become more effective. Thoughtful leaders can maintain integrity in their actions and activities regardless of the situations that they encounter day-to-day.
"Leadership today is difficult, but I remain very optimistic about the state of leadership in the world," says Fisher. "Those with ambition and courage who are already leading can be better. Those with great ideas can take the leap and make the world a better place."
Fisher developed his framework at the Rotman School as a Professor teaching leadership as a course in the MBA program and in skills development programs in a wide range of executive programs. He was able to test the most popular theories against his own experience as strategy consultant and business executive as well as the issues and challenges faced by his students. He has become convinced that leadership is more about what you do than what skills and attributed you might have.
The Thoughtful Leader offers a fresh and forward thinking framework that allows active and emerging leaders to be better prepared to live as a leader day to day.
Select Advance Praise for The Thoughtful Leader
"Knowledge upon which positive action can be taken is rarely provided and hence precious. By this standard, The Thoughtful Leader by Jim Fisher is a gold mine of value for the practice of leadership. Simply put, it is the most actionable book on leadership I have yet read. Anybody who wants to become a better leader would be wise to read it." -- Roger Martin, former Dean and Institute Director of the Martin Prosperity Institute at the Rotman School of Management, University of Toronto
"Jim has masterfully demystified 'Leadership' for those who think not everyone is meant to be a leader. He seamlessly takes the reader through the journey of managing, directing, and engaging to build confidence in anyone aspiring to be a leader. A must read for anyone in a leadership role or aspiring to move up the ladder." -- Deepak Chopra, President & Chief Executive Officer, Canada Post Corporation
"Jim Fisher's mix of theory, stories, personal journeys, and real cases offers a wealth of information that showcases his broad and deep command of the many facets of leadership. By impressively pulling together leadership theories and concepts into a coherent framework, Jim successfully convinces us leadership can be learned." -- Rose Patten, Special Advisor to the President and CEO, BMO Financial Group, and Adjunct Professor and Executive in Residence at the Rotman School of Management
The Thoughtful Leader
A Model of Integrative Leadership
ISBN 9781442647985
Hard Cover
$32.95
Jim Fisher is Professor Emeritus and the former Vice Dean of the Rotman School of Management. He started his career with McKinsey before founding The Canada Consulting Group, which became the Canadian office of The Boston Consulting Group. He joined George Weston Ltd. in 1986 and served as Executive Vice President of Weston Foods, Chairman and President of William Neilson Limited and President of George Weston North American Bakeries. He continues to teach leadership, strategy and organizational design in several programs at the Rotman School.
###
Founded in 1901, University of Toronto Press (UTP) is Canada's leading scholarly publisher and one of the largest university presses in North America, releasing over 200 new scholarly, reference, and general-interest books each year, as well as maintaining a backlist of over 3500 titles in print. For more information, visit utppublishing.com.
Books from Rotman-UTP Publishing, a joint imprint of the University of Toronto Press and the Rotman School, bridge research and practice, offering actionable learning for professionals, students, and general readers striving to navigate today's complex business environment.
The Rotman School of Management is located in the heart of Canada's commercial and cultural capital and is part of the University of Toronto, one of the world's top 20 research universities. The Rotman School fosters a new way to think that enables our graduates to tackle today's global business and societal challenges. For more information, visit http://www.rotman.utoronto.ca.
For more information:
Ken McGuffin
Manager, Media Relations
Rotman School of Management
University of Toronto
Voice 416.946.3818
E-mail mcguffin@rotman.utoronto.ca
Follow Rotman on Twitter @rotmanschool
Watch Rotman on You Tube http://www.youtube.com/rotmanschool
---