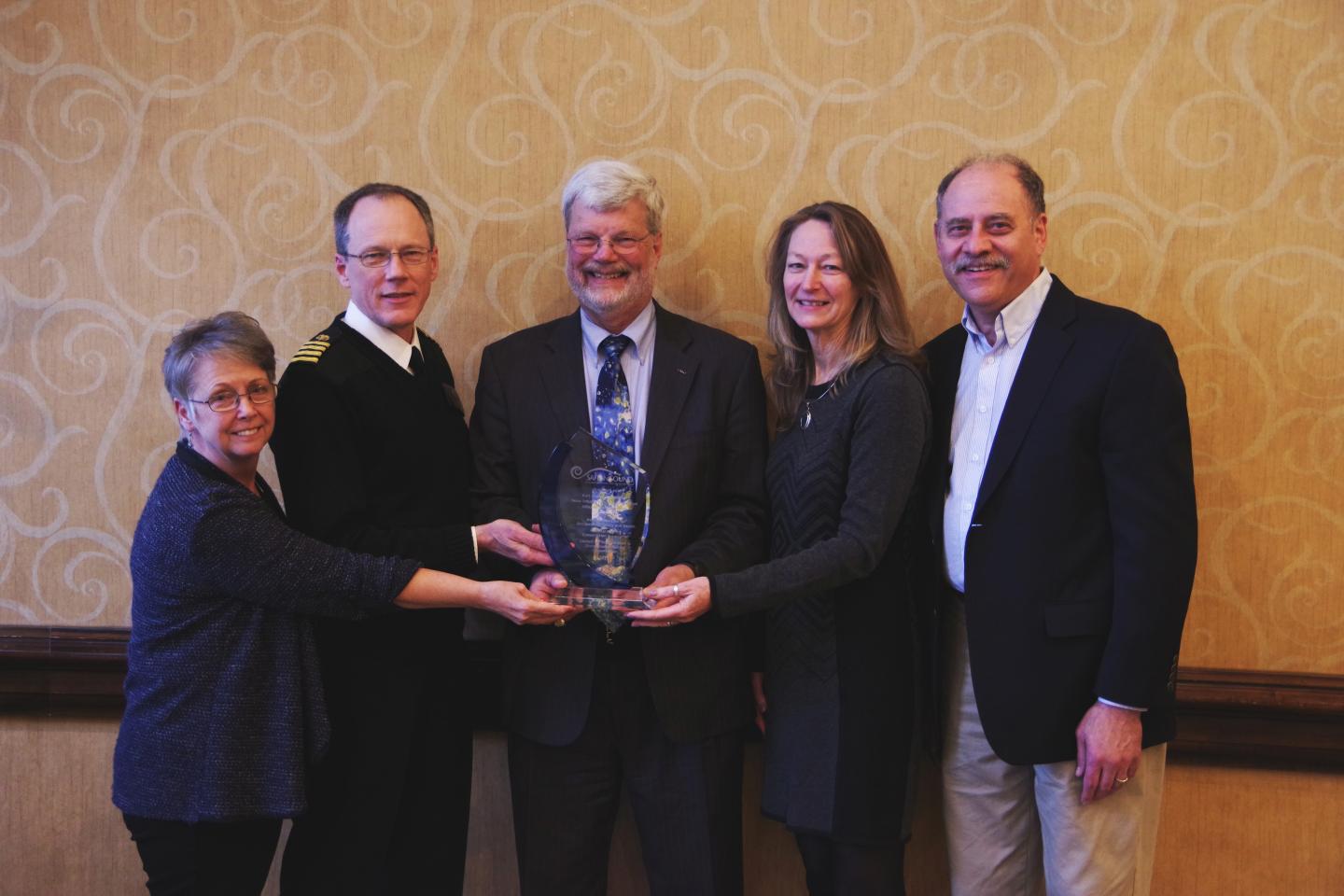 ARLINGTON, Va.--Noise-induced hearing loss (NIHL) is a far-reaching and expensive problem for the U.S. Navy. Hearing loss and tinnitus (commonly referred to as ringing in the ears) are among the most common disability claims submitted to the U.S. Department of Veterans Affairs.
On a mission to help the Navy reduce this problem is Kurt Yankaskas, who has managed the Office of Naval Research's (ONR) NIHL program for the past 10 years. His efforts were recognized last week when he received the 2019 Safe-in-Sound Excellence in Hearing Loss Prevention Award from the National Institute for Occupational Safety and Health, in partnership with the National Hearing Conservation Association and the Council for Accreditation in Occupational Hearing Conservation.
"Hearing loss is a major concern for the Navy," said Yankaskas. "High risk of exposure to prolonged noise can produce auditory injuries and impairments, which can compromise safety, quality of life and effectiveness of communication."
It's that last impairment--the effectiveness of communication--that Yankaskas is particularly concerned with when it comes to warfighters, because hearing and understanding verbal commands are absolutely critical to keeping everyone safe.
The challenge for those who serve on Navy vessels or in naval shipyards is that noise surrounds them 24 hours a day, with no real audiological rest (quiet time). Many machinery/work spaces can reach decibels outside of safety regulations--anything above 85 decibels (typical of a dishwasher, garbage disposal or other small kitchen appliance)--for prolonged periods of time. This extended exposure to high-level noise can kill sensory hair cells found in the inner ear's cochlea; damage other essential auditory nerves; and alter brain circuits necessary for hearing and speech understanding--which can cause permanent hearing loss.
And while Sailors do have hearing protection, it is not always adequate for the noise levels reaching over 150 decibels during an F-18 Hornet launch.
To develop better hearing protection, Yankaskas' NIHL research portfolio sponsors work with various government, academic and business groups. The focus is on four multi-discipline areas: noise control, susceptibility, medical research and hearing protection.
This work has seen a number of success stories. These include custom-molded ear plugs, which can cut noise levels up to 40 decibels; advanced flight deck cranial helmets, which offer better hearing protections and communications in loud environments; quieter abrasive-blasting nozzles that decrease noise by 20 decibels and make it 20 percent more efficient; and new measurement and modeling techniques and performance standards.
ONR Executive Director E. Anne Sandel--who worked with Yankaskas on aircraft carrier design while at Naval Sea Systems Command--is not surprised by these successes. She is confident that his unmatched experience in researching noise issues for the Navy has significantly influenced auditory research throughout the Department of Defense, industry and academia.
"Kurt is recognized by his peers and colleagues for his passion and commitment to improving warfighter performance and health," said Sandel. "His years in the ship design community, especially aircraft carriers, have enabled him to focus on solutions for those in high-noise environments. Beyond warfighters, his program also benefits the civilian sector, including audiology clinics and laboratories."
So what's next for Yankaskas?
For him, it's all about continuing his hearing research to help protect the warfighter. But he also sees an opportunity to educate the general public on the importance of reducing their noise exposure, because hearing loss can reduce quality of life as we age and can limit career opportunities if lost at a young age.
###
---