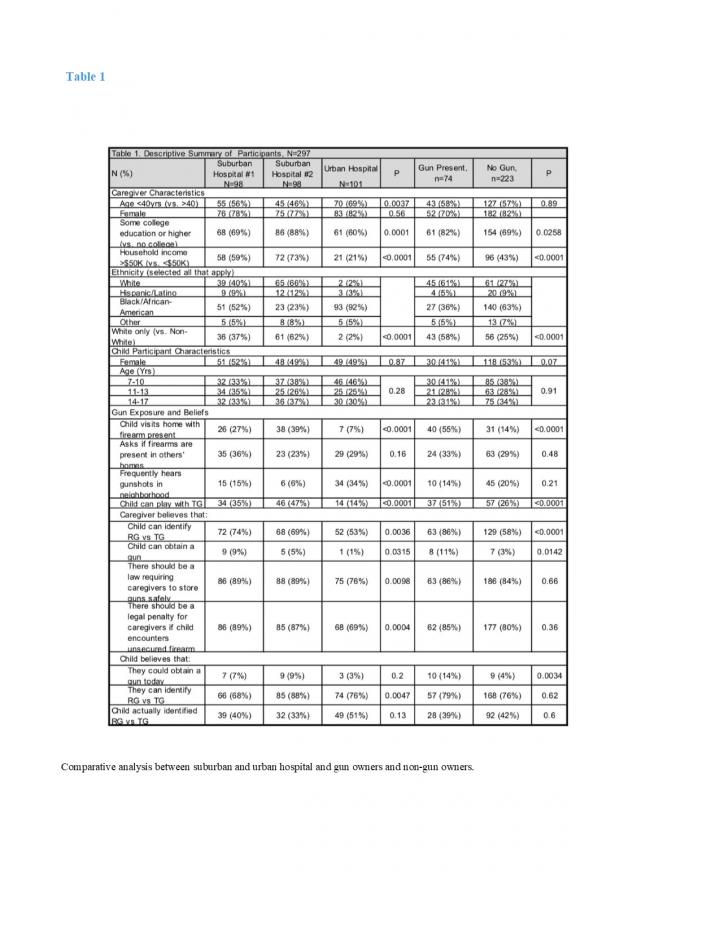 ORLANDO, Fla. - A new study found that a majority of parents and caregivers, including firearm owners, said they were confident their children could tell a real gun apart from a toy gun. The children themselves also said they thought they could recognize the difference. But when shown side-by-side photos of actual and fake (toy) firearms, only 41 percent of children between ages 7 and 17 years old identified both correctly.
The study abstract, "A Comparison of Parental Firearm Storage Patterns and Children's Access to Firearms," will be presented on Monday, Nov. 5, during the American Academy of Pediatrics (AAP) 2018 National Conference & Exhibition in Orlando, Fla.
"One of the most dramatic findings was how easily caregivers and children can confuse real guns with today's realistic-looking toy guns," said Kiesha Fraser Doh, MD Assistant Professor of Pediatrics and Emergency Medicine Physician at Emory University School of Medicine. "Especially considering gun owners surveyed were nearly twice as likely as non-gun owners to let their children play with toy guns, safe storage of firearms in homes where children play is critical."
For the study, Fraser Doh and her colleagues surveyed 297 caregiver-child pairs visiting one of three pediatric emergency departments --2 suburban and 1 urban--in the southeastern United States. over a three -month period in 2017. Gun owners represented 25 percent of respondents, and they were significantly more likely to be white, have an annual income of greater than $50,000, and some college education, compared with non-gun owners. Gun owners were also more likely to allow their child to play with toy guns, (51 percent, compared with 26 percent of non-gun owners).
In addition to asking about toy guns, the researchers asked all the caregivers how easily they thought their child could access a real gun. Few caregivers (5 percent, overall) felt their child could obtain a gun within 24 hours. However, results show that 14 percent of the children whose caregivers owned guns and 4 percent of children whose caregivers didn't own a gun, said they could access a gun within a day.
Among the study's firearm owners, most recruited from the suburban hospitals, fewer than half (34percent) stored their gun locked, unloaded, and separate from ammunition as recommended by the American Academy of Pediatrics (AAP). In addition, among children who reported having a gun in the home 53 percent knew where it was stored and 45 percent knew where ammunition was stored.
Dr. Fraser Doh will present an abstract of the study, available below, between 3:10 and 3:18 p.m. on Monday, Nov. 5, in the Plaza International Ballroom at the Orange County Convention Center in Orlando, Fla.
In addition, Dr. Fraser Doh will be among highlighted abstract authors available to the media after a brief presentation in the Press Office (room W208AB) at 12:50 p.m. EST on Saturday, Nov. 2.
Please note: only the abstract is being presented at the meeting. In some cases, the researcher may have more data available to share with media, or may be preparing a longer article for submission to a journal.
###
The American Academy of Pediatrics is an organization of 67,000 primary care pediatricians, pediatric medical subspecialists and pediatric surgical specialists dedicated to the health, safety and well-being of infants, children, adolescents and young adults. For more information, visit http://www.aap.org. Reporters can access the meeting program and other relevant meeting information through the AAP meeting website at http://www.aapexperience.org/
Abstract Title: A comparison of parental firearm storage patterns and children's access to firearms
Kiesha Fraser Doh
Atlanta, GA, United States
Purpose: Approximately, one in three children live in homes with a firearm, many of them unlocked and/or loaded. Parents who express interest in gun storage safety frequently fail to ask about firearm storage while their child is in the care of others. Our objective was to assess presence of firearms in the homes of patients and parents' knowledge of children's access to firearms. Methods: A convenience sample of participants presenting to 3 pediatric emergency departments (EDs), 2 suburban and 1 urban, were recruited over 3 months to evaluate presence of guns and children's access to firearms. Participants were English-speaking caregivers and their children aged 7-17 years old. Caregivers responded to questions regarding the presence of firearms in their own home, their child's access to firearms in their own and other homes, play with toy guns (TG), and their perceived belief that their child could discriminate between TG and real guns (RG). Additionally, children of the caregivers were asked to discriminate between pictures of a TG and RG. Descriptive statistics were reported and comparisons using chi-squared and fisher's exact tests were conducted between urban/suburban EDs and gun owners (GO)/non-gun owners (NGO). Results: There were 297 completed surveys (101 urban; 196 suburban). The majority of respondents were female (79%), had some college education (72%), and an income > $50K (51%). Blacks and Whites represented 56% and 33% of participants, respectively. GO represented 25% of respondents; they were significantly more likely to be White (p<0.0001), have an annual income >$50K (p<0.001), and some college education (p=0.026) compared to NGO (see table 1). Additionally, GO were more likely to allow their child to play with TG (51% vs 26%, p<0.001), have discussed firearm safety with their child (86% vs 58%, p<0.001), and believe their child could correctly identify a RG vs TG (71% vs 63%, p=0.200). Children, regardless of caregiver gun-ownership, also felt confident in identifying a RG vs TG (GO 79%, NGO 76%); however, when presented with an image of RG vs TG, less than half of children of both groups (39% and 42%, respectively) correctly identified the RG. Regardless of gun ownership, over 80% of respondents supported legislation regarding firearm safety. Few caregivers (5.1%) felt their child could obtain a gun in 24 hours, while this study showed 14% of GO children vs 4% of NGO children (p=0.003) stated they could obtain a gun in 24 hours. Conclusion: In this study population, the majority of caregivers and children believed that the child could correctly identify a RG vs TG, however only 40% were able to do so. This was despite differences in allowing play with TG, gun-ownership, and discussion of firearm safety. This highlights the need for campaigns to educate parents on the importance of safe firearm storage.
---