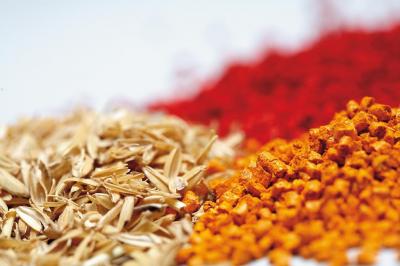 TECNALIA is leading the development of new biocomposites based on the transformation of urban and agricultural waste into high-performance products for the construction sector. These innovative materials will be developed within the framework of INNOBITE (INNOvative BIocomposiTEs), a European Commission FP7 collaborative project co-participated by several research centres and European SMEs: VTT (FI), EMPA (CH), EXERGY (UK), VERTECH (FR), TECNARO (DE), ECOPULP (FI), ACF (ES) and CIMV (FR).
Aimed to contribute to the development of a new European economy supported by sustainable consumption and production patterns, the research is based on two innovative ideas: the revalorisation of the inorganic fraction of wheat straw and the production of cellulose nanofibres out of recycled paper. Once isolated through environmentally friendly processes, these two compounds will become high-performance additives in new polymeric composites. The two most abundant fractions of wheat straw, lignin and cellulose will become, respectively, polymeric matrix and reinforcing material, thus achieving the maximum efficiency of such resource.
The new composite materials will be validated by designing and developing dividing panels for compartmentalisation and profiles for decking and fencing. These new products will be evaluated against appropriate resistance and durability standard tests to guarantee complying with minimum technical standard and endorsing its launching to the market. They will also be subjected to biodegradability trials, aiming to highlight the environmental benefits over current solutions. Both the products and the production processes developed throughout the project will be evaluated, respectively, with Life Cycle Analysis and Environmental Technology Verification, the most rigorous environmental controls that exist.
The global demand for biocompounds is growing and new sub-sectors such as Sustainable Construction are slowly getting consolidated in the market, strongly supported by favourable policies and increasing social awareness. The knowledge developed within INNOBITE project will generate new business opportunities for existing industries in the construction sector, allowing them to diversify into new markets, but also will promote the creation of new companies, models and business areas.
The fluctuations of oil price, together with the effect of its use on global climate patterns, has given rise over the past decade to a non-stop quest for more sustainable materials, usually based on natural compounds, which can replace oil-derived products. Placing this need into a much more generalised context, in March 2010 the European authorities launched Europe 2020 Strategy, a route map that has to define the imminent evolution of our consumer society, with three fundamental priorities: 1) developing a knowledge and innovation-based economy (Smart Growth); 2) promoting the efficiency of natural resources (Sustainable Development); and 3) boosting a job-creating economy (Inclusive Growth). INNOBITE project aims to have a direct impact on all three, by being committed to the recovery of two abundant natural by-products, incorporating the latest scientific advances and relying on small and medium enterprises as the vehicle for the transformation.
###
---