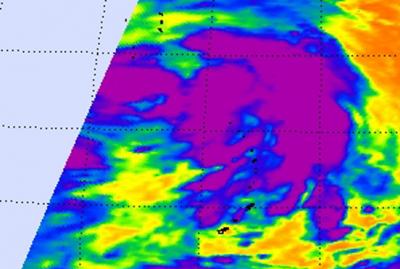 NASA's Aqua satellite took an infrared "picture" of Tropical Storm Maliksi in the western North Pacific Ocean and identified the strongest part of the storm being east of its center.
On Oct. 3 at 1500 UTC (11 a.m. EDT), Tropical storm Maliksi had maximum sustained winds of 45 knots (51.7 mph/83.3 kph). It was located about 470 nautical miles (541 miles/870.4 km) south-southeast of Tokyo, Japan, near 29.4 North and 143.1 East. Maliksi was speeding to the north-northeast at 21 knots (24.1 mph/38.8 kph).
The Atmospheric Infrared Sounder (AIRS) instrument that flies aboard NASA's Aqua satellite captured an infrared image of Tropical storm Maliksi on Oct. 2, 2012 at 1547 UTC (11:47 p.m. EDT). Strongest thunderstorms appeared east of the center of circulation, where cloud-top temperatures were as cold as -63 Fahrenheit (-52 Celsius). On Oct. 3, the strongest thunderstorms and deepest convection were still only occurring east of the center of circulation, with the exception of some limited convection (rising air that form thunderstorms that make up the tropical cyclone) near the center.
The tropical storm is in an area of strong vertical wind shear, which will continue to weaken it. The Joint Typhoon Warning Center noted today, Oct. 3, that Maliksi is starting to look extra-tropical. Maliksi is forecast to remain at sea, and track to the north-northeast over the next several days during its transition.
###
---