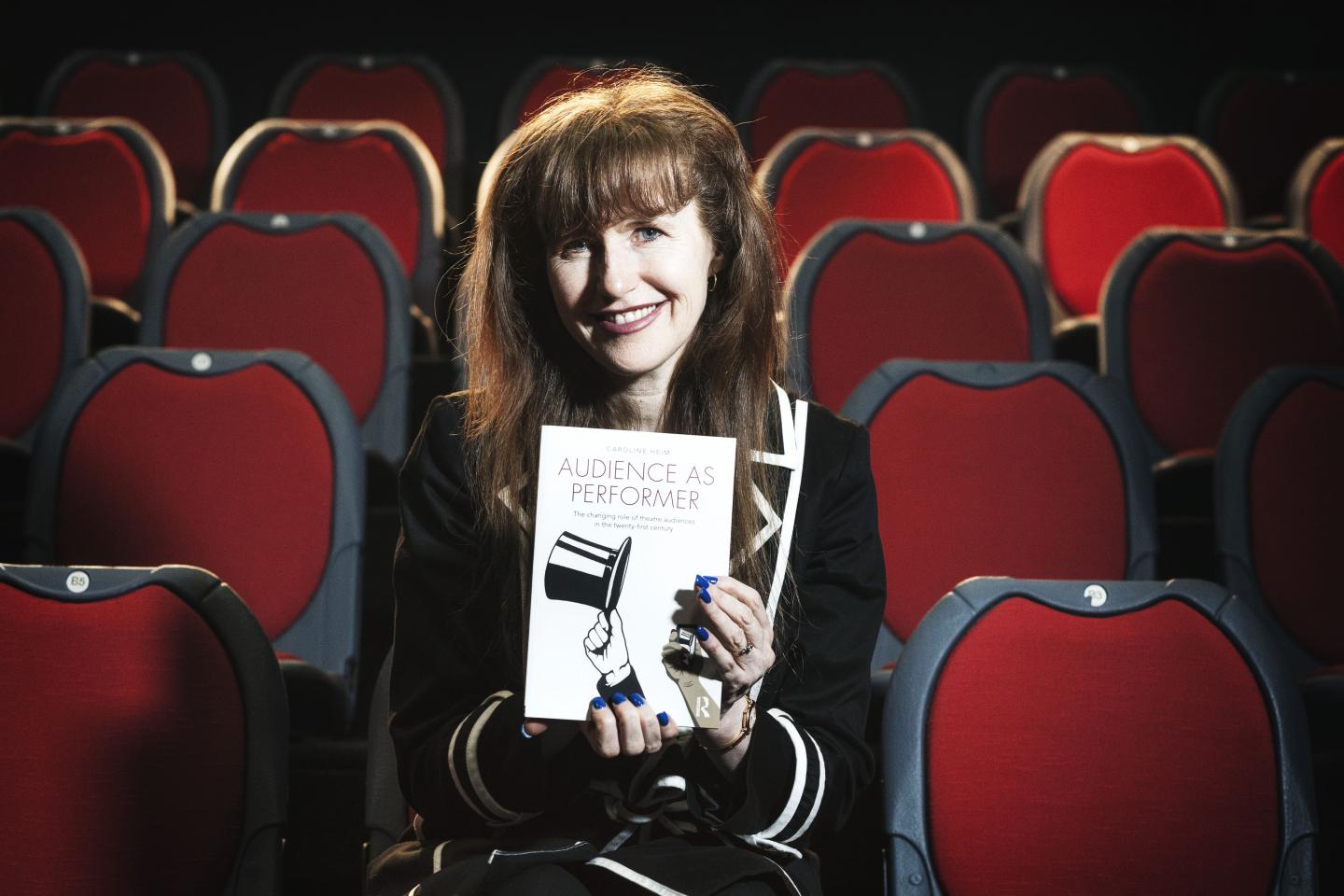 The tendency of modern audiences to scream, take photos, tweet reviews during a performance, leap on stage, drink, banter with performers and generally get themselves in on the act is explored in a new book by QUT Creative Industries Lecturer in Drama Caroline Heim.
Until recently theatre audiences mostly adhered to a strict code of conduct; taking their seat and remaining quiet until it was time to laugh or applaud. Audiences of the 21st Century, however, are increasingly exuberant participants and according to Dr Heim it's a trend that divides audiences and performers alike, especially when some people bring their dinner with them.
Her book, Audience as Performer: The Changing Role of Theatre Audiences in the Twenty-First Century, is based on research and interviews conducted with performers, audiences and ushers at productions in London, New York, Toronto, Glasgow and Sydney.
"In a way this new style of rampant audience participation is a return to what theatre was always about. In Shakespeare's day audiences were notoriously rowdy and involved. They sang along, whistled, heckled and were completely uninhibited about eating, drinking and spitting during a show," Dr Heim said.
"The idea of the audience quietly sitting in a darkened theatre only started in the 19th Century when electric lights gave theatres the option of dimming the lights. We then saw a strict theatre etiquette evolve that has remained until very recently.
"Younger audiences are changing all by inserting themselves into the action front and centre. They are used to interacting with screens and at music festivals and concerts. In a sense social media and technology has turned back time.
"Once audiences sat down and shut up but no more and many theatres and performers are welcoming the new world order. I saw Rocky on Broadway and 100 members of the audience were invited to be fans at a boxing match while in Australia, the audiences of Strictly Ballroom The Musical are encouraged to form a conga line and take to the stage for the finale.
"There is a definite blurring on public and private spaces and I have seen some alarming sights during my research. One person thought it was appropriate to eat their sushi while in the front row of a Sydney Theatre Company production while another smuggled a small dog into the London production of the musical Legally Blonde."
Dr Heim received a QUT Woman in Research grant to travel and undertake her research at the theatres of West End, Broadway, Sydney and elsewhere. She interviewed more than 150 people including legendary 84-year-old Broadway star Sondra Lee and Australia's Tony Award-nominated Tony Sheldon who played Bernadette in the stage adaption of Priscilla.
"Sondra Lee hates the trend but Tony Sheldon and many others embrace it and I would say about two thirds of the audience members I spoke to were enjoying the shift in their role. One woman had been going to the theatre for 60 years and she loved the loosening of restraints," said Dr Heim, who was previously a professional actor in New York and the winner of a Drama League Award.
"Many see it as reinventing live theatre and it is happening in all forms of live performance including the ballet and opera. It was once something that you really only saw in alternative theatre but now audience interaction has become mainstream.
"There are some that take it too far though. Mobile phones and other electronic devices can be a huge and annoying distraction for both performers and audiences. "
Audience as Performer: The Changing Role of Theatre Audiences in the Twenty-First Century is published by Routledge, Taylor & Francis Group, London, and is available in paperback, hard copy or as an eBook.
###
Media contact:
Amanda Weaver, QUT Media, 07 3138 9449, amanda.weaver@qut.edu.au
After hours: Rose Trapnell, 0407 585 901, media@qut.edu.au
---