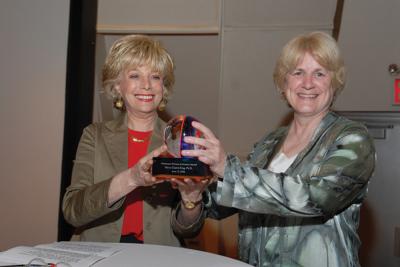 Dr. Mary-Claire King, a distinguished geneticist who has made influential discoveries in multiple fields of research, received the seventh Weizmann Women & Science Award. Established in 1994 by Sara Lee Schupf, National Chair Emerita of the American Committee for the Weizmann Institute of Science (ACWIS), the biennial award honors outstanding women scientists in the U.S. who have made a major contribution in science, technology, or engineering.
Ms. Schupf cited Dr. King's "monumental accomplishments [that] have the potential to improve the quality of life for millions," adding that Dr. King, who is the American Cancer Society Research Professor of Genome Sciences and Medicine at the University of Washington in Seattle, "embodies the spirit of the Weizmann Women & Science Award, and is a superb role model for young women."
Senator Hillary Rodham Clinton sent a video, shown at the ceremony, in which she congratulated Dr. King and emphasized that more work must be done to encourage young women to enter science-related fields. Senator Clinton also extended her congratulations to the American Committee for the Weizmann Institute of Science for "continued leadership on behalf of women and scientists in the U.S. and worldwide."
The Weizmann Institute's Prof. Ruth Arnon, Paul Ehrlich Professor of Immunology, discussed the critical role of female scientists both at Weizmann and in Israel as a whole. One of the scientific community's most highly regarded immunologists, Prof. Arnon's many achievements include co-inventing Copaxone®, a drug that is a mainstay for treating multiple sclerosis.
Prof. Arnon praised Dr. King's work and career as exemplifying the role of women in science in the U.S., saying, "perhaps we women have not broken the glass ceiling yet, but if we are hardheaded, we might."
CBS News 60 Minutes correspondent Lesley Stahl, described by Ms. Schupf as another "formidable role model for women," presented the award to Dr. King. The Emmy-award-winning Ms. Stahl expressed her pride in honoring Dr. King, who has excelled in her profession "not just once, not just twice, but three times" through her work in genetics.
Her first major discovery was that the human and chimpanzee genomes are so similar that our genes are 99 percent identical – a fact that we now take for granted.
Dr. King's second medicine-changing discovery was of a gene, BRCA1, that can run in families and that predisposes women to breast cancer. As Ms. Stahl pointed out, the discovery that breast cancer has a hereditary component was revolutionary when Dr. King reported it in 1990.
Her third major contribution to science and society was her breakthrough work in identifying bodies through DNA. Dr. King's research has not only transformed crime forensics, but has been used to identify soldiers from the battlefield and people who have died in natural disasters or through genocide.
In presenting the award, a custom-designed globe by the artist Vasa and a check for $25,000, Ms. Stahl stated that Dr. King's work "reveals not only her intelligence, tenacity, and technical skills, but also her special caring for people."
Dr. King was clearly moved as she accepted the award, saying, "we all have heroes in science, and mine has been Ruth Arnon for as long as I can remember." To Prof. Arnon, she said, "I will try to follow in your path."
Dr. King spoke of her decade-long collaboration with geneticists in Israel and her belief that "Israel probably has, person for person, the strongest science in the world." She then announced her decision to use the $25,000 award to help Israeli women in science. She outlined a plan to bring these scientists to the U.S. for sabbaticals, thus allowing them to do intensive research in U.S. labs and to receive commensurate compensation, and expressed hope that her program would inspire others to undertake similar projects.
Dr. King spoke about her current research, and concluded by stressing her belief that "being a scientist transcends all other loyalties." Her career, her commitment, and the use of her award to help other women in science proves that she not only speaks those words, but lives by them.
The ceremony, held at Rockefeller University, drew a distinguished audience of researchers and academicians, friends of ACWIS and WIS, and supporters of the sciences. Several members of the award nominating committee were in attendance, including Enriqueta Bond, Ph.D.; Florence Hazeltine, Ph.D., M.D.; Leon Lederman, Ph.D. and Nobel Prize laureate; Maxine Singer, Ph.D.; Torsten N. Wiesel, M.D. and Nobel Prize laureate; and Harriet Zuckerman, Ph.D. Ms. Schupf is Chair of the Nominating Committee. Also present were Dr. Albert Willner, President Emeritus of ACWIS, and Norman Cohen, current President of ACWIS.
###
The American Committee for the Weizmann Institute of Science (ACWIS), founded in 1944, develops philanthropic support for the Weizmann Institute of Science in Rehovot, Israel, one of the world's premier scientific research institutions. The Weizmann Institute is a center of multidisciplinary scientific research and graduate study, addressing crucial problems in medicine and health, technology, energy, agriculture, and the environment. For additional information, please visit www.weizmann-usa.org
---