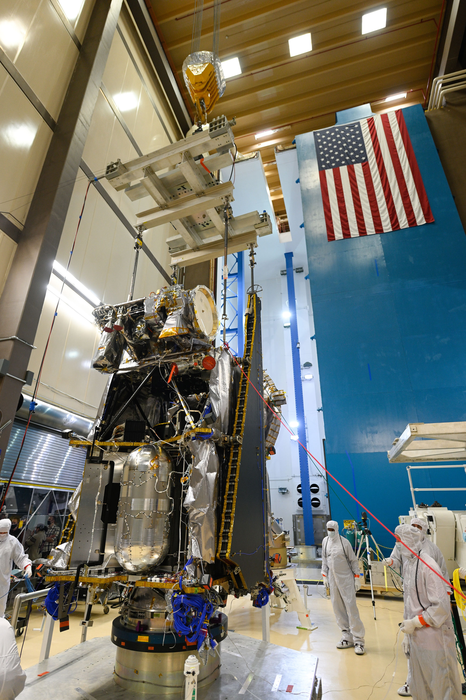 SAN ANTONIO — Aug. 2, 2021 — The first spacecraft to explore Jupiter's Trojan asteroids arrived at NASA's Kennedy Space Center in Florida July 30. The Southwest Research Institute-led mission is beginning final preparations for launch.
The Lucy spacecraft will undergo final testing and fueling prior to launch on an Atlas V 401 rocket during a 23-day launch period starting Oct. 16, 2021. From there, it will begin a 12-year, 4-billion-mile journey to visit a record eight targets, including seven Trojans. The mission was named after the fossilized skeleton of an early hominid found in Ethiopia in 1974, which in turn, was named after an evening the paleontologists spent celebrating to the Beatles' song "Lucy in the Sky with Diamonds." Just as the Lucy fossil provided unique insights into the origin of humanity, the Lucy mission promises to revolutionize our knowledge of the origin of humanity's home world.
"It is hard to believe that we are finally here after over seven years of hard work," said SwRI's Dr. Hal Levison, Lucy's principal investigator. "We would not have made it without an extremely talented and dedicated team. It is now time to get Lucy into the sky so that it can deliver its revolutionary science about the origin of our planetary system."
Orbiting in tandem with Jupiter, the Trojan asteroids are a diverse population of small bodies. These time capsules left over from the formation of the solar system could be made from some of the same materials as the outer planets, providing insights to the origins of the solar system. The asteroids are trapped in two "swarms" leading and trailing the gas giant in its path around the Sun.
"The spacecraft will encounter the first of its eight targets, a main belt asteroid, in 2025. Lucy will reach the first of seven Trojan asteroids in 2027 and fly by the final binary pair in 2033," said Dr. Cathy Olkin, Lucy's deputy principal investigator. "Lucy incorporates three Earth-gravity assists in an epic flight to these amazing, record-breaking encounters."
The Lucy spacecraft, built by Lockheed Martin Space, weighs nearly a ton and measures more than 46 feet (14 meters) from tip to tip when fully deployed. Two huge solar panels, each almost 24 feet (7 meters) in diameter, will unfurl to power the spacecraft as it flies beyond the orbit of Jupiter, the farthest any solar-powered spacecraft has traveled from the Sun — another record for Lucy.
The spacecraft was transported from Buckley Space Force Base in Aurora, Colorado, aboard a U.S. Air Force C-17 cargo plane on July 30. Over the weekend, the team transferred the spacecraft from the shipping container into the Astrotech cleanroom and performed post-ship inspections to confirm Lucy arrived in good condition. The spacecraft is beginning its final round of testing and pre-launch checks, which include software, instrument, powered function, propulsion propellent load and telecommunication system tests as well as spacecraft self-tests.
Lucy is led by Southwest Research Institute's Boulder, Colorado, office. NASA's Goddard Space Flight Center in Greenbelt, Maryland, provides overall mission management, systems engineering and safety and mission assurance. Lockheed Martin Space in Littleton, Colorado, is building the spacecraft. Lucy is the 13th mission in NASA's Discovery Program. NASA's Marshall Space Flight Center in Huntsville, Alabama, manages the Discovery Program for the agency's Science Mission Directorate in Washington, D.C.

For more information, visit http://lucy.swri.org/ or https://www.swri.org/planetary-science.
---