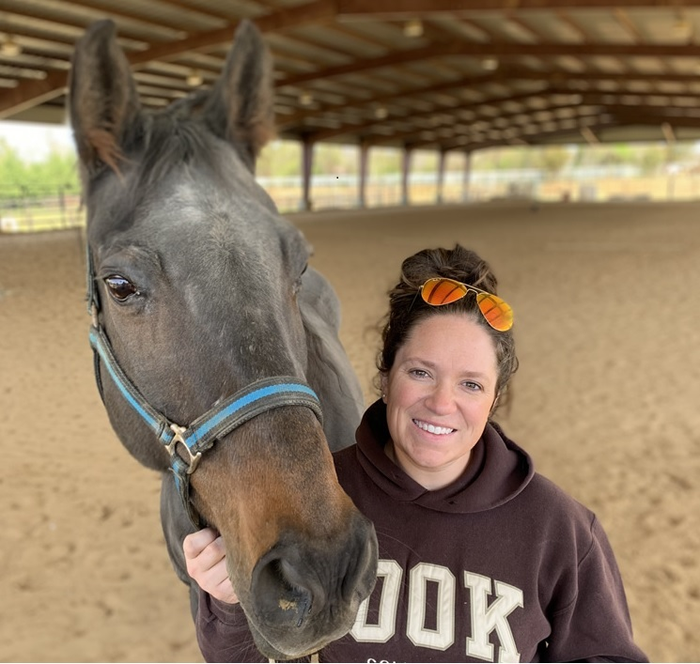 KNOXVILLE, Tenn. — One of University of Tennessee Extension's own has received a national honor for her work in equine nutrition and management. Jennie L. Ivey, associate professor in the Department of Animal Science and Extension equine specialist, has been recognized by the Southern section of the American Society of Animal Science with the 2021 Extension Award.
The award was presented to Ivey during the organization's 2021 annual meeting held in July in Louisville, Kentucky. Presented on an annual basis, the award recognizes a member of the Southern Section of the American Society of Animal Science who has made an outstanding contribution to animal science programs in Extension.
As an Extension equine specialist, Ivey's work includes researching nutritional, exercise and management interventions to improve equine well-being, along with the impact owner knowledge has on equine management. She also works to present knowledge and information to equine owners across Tennessee through Horse Management Field Days held each fall. Ivey serves on the American Youth Horse Council board of directors, the Eastern National 4-H Roundup Committee, and the Equine Science Society Exercise Science Committee as well as that group's Teaching and Extension Committee.
Ivey states, "I'm truly humbled and honored to be receive the 2021 Extension Award. It means so much knowing, especially with how many wonderful educators there are in the Southern Section, that I was selected as this year's recipient. I'm truly thankful for all the mentors, supports, and my family for helping me get to where I am in my career. Having overcome several obstacles over the last few years, both personally and professionally, I really cannot thank the committees enough for my nomination and selection as this year's award recipient."
A native of New Jersey, Ivey holds a bachelor's degree in equine science from Rutgers University and from West Virginia University she earned both a master's and doctoral degree in equine nutrition and exercise physiology.
Through its mission of research, teaching and extension, the University of Tennessee Institute of Agriculture touches lives and provides Real. Life. Solutions. utia.tennessee.edu.
---