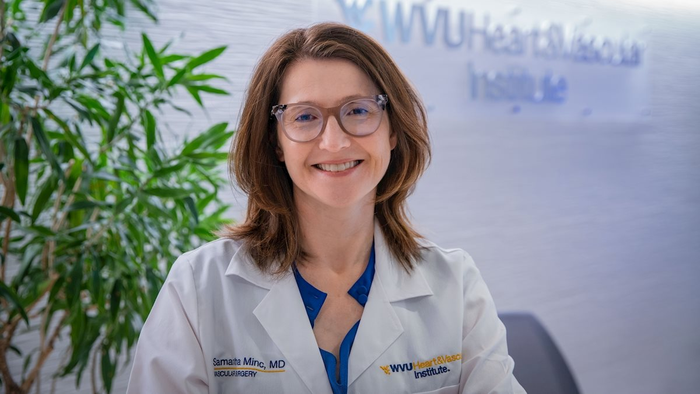 One-fourth of all people who have a leg amputated below the knee will be dead within five years of the operation. If the amputation is above the knee, the mortality rate jumps to one-half.
With a grant from the National Institutes of Health, Samantha Minc, M.D., vascular surgeon and researcher at the WVU Heart and Vascular Institute, is launching a pilot program to prevent amputations in West Virginia. Given that West Virginians face a disproportionate number of risk factors for amputations, the program could save many lives.
"Smoking in West Virginia is one of our biggest issues," Dr. Minc, an assistant professor in the WVU School of Medicine Department of Cardiovascular and Thoracic Surgery, said. "Across the country, people connect amputation with diabetes. They don't connect it with smoking. But 50 percent of people who smoke more than 100 cigarettes in their lifetime will have some kind of damage to their arteries. And the patients that really have the highest risk of amputation are diabetics with arterial disease."
West Virginia has the highest rate of cigarette use in the nation. It also has the one of the highest rates of diabetes diagnoses in adults. And according to Minc, West Virginia's rates of amputations related to diabetes and peripheral artery disease are up to six times higher than the national average.
"If I just casually say 'PAD,' nobody in the country knows what it is," she said. "They know what coronary artery disease is, but they don't know what peripheral artery disease is. So, I think we have to educate the population about it. We even have to educate physicians about it."
Over five years, the grant will support community-engaged amputation-prevention interventions in three Pocahontas County clinics.
Minc's previous research — funded by the West Virginia Clinical and Translational Science Institute and the Society for Vascular Surgery Foundation — identified Pocahontas County as a major amputation hotspot in West Virginia.
Minc and her team will work with primary care physicians and community members to tailor amputation prevention interventions to meet the needs of community clinics and primary care providers.
One area of focus will be providing guidance for conducting foot exams to identify patients at risk for amputation and recommending the best course of action, depending on the exams' results.
In addition, a number of complementary interventions will be implemented and assessed, including partnering with Project ECHO to educate providers on high-risk foot care and establishing a "hot-foot hotline" that connects providers with specialists at WVU Medicine to help devise plans of care for their patients.
One of the key features of this project is that these interventions will be implemented with the guidance of the community members they will affect. That's critical to creating effective and long-lasting interventions to improve public health.
"While prevention has always been central to the work that we do, receiving additional support on conducting comprehensive foot exams on diabetics and patients with peripheral artery disease is welcomed," Sarah Chouinard, M.D., chief medical officer at Community Care of West Virginia, which is participating in the program, said. "Raising awareness in the community about the importance of patients keeping chronic care appointments for foot exams will be helpful as we try to reach and screen all of our community members."
Before launching the pilot project, Minc talked to primary care physicians, public health officials, and other community members across the state to pinpoint the best ways to reduce the amputation rates in their respective areas.
"I set up meetings at county town halls," she said. "I talked to health departments. We interviewed 64 people across the state who had had amputations or worked with people that ended up with amputations. We got a lot of data about what they thought the problems were and tried to come up with things that would be helpful for them."
That data will inform what Minc and her colleagues do for Pocahontas County, as will an ongoing partnership with primary care providers, public health officials, and community members.
If the pilot program succeeds, Minc and her colleagues will bring it to other high-risk areas in the state and customize it to meet the needs of those communities. She hopes to ultimately create a toolkit that can be used in high-risk communities across the country.
"There's not a lot of people interested in understanding the Appalachian population and what's bringing them to acute-care intervention," Luke Marone, M.D., chief of vascular and endovascular surgery at the WVU Heart and Vascular Institute, said. "Why are these people getting so sick without somebody intervening first and creating preventive behaviors — meaning education, dietary changes, smoking cessation, and all these things that feed into vascular disease. Dr. Minc is unique in that aspect. This is an area of research that's really burgeoning, especially from a vascular perspective."
Research reported in this publication was supported by the National Institute of Diabetes and Digestive and Kidney Diseases of the National Institutes of Health under Award Number 1K23DK128569-01. The content is solely the responsibility of the authors and does not necessarily represent the official views of NIDDK or NIH.
For more information: Angela Jones-Knopf, Corporate Director of Media Relations and Public Affairs, 304-285-7259
---
Subject of Research
People