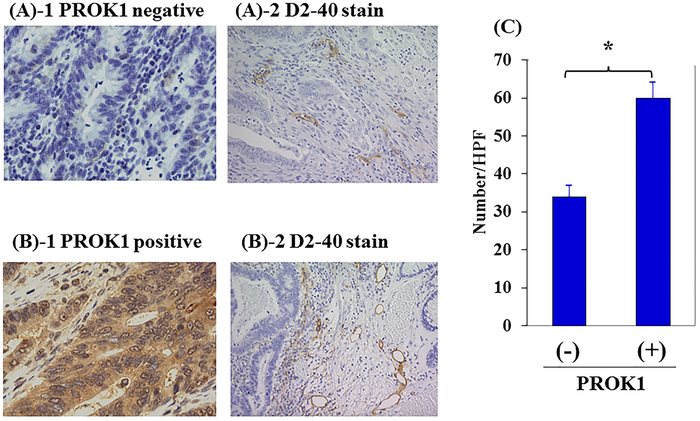 Oncotarget published "Prokineticin-1 induces normal lymphangiogenic activity and is involved in lymphangiogenesis and lymph node metastasis in colorectal cancer" which reported that PROK1 expression and the number of lymph vessels were examined in the primary lesion of 391 patients whose colorectal tumors had been resected.
When PROK1 was used as a stimulus, the number of lymphatic cells increased compared to unstimulated cells.
The number of lymph vessels in the primary tumor tissue increased when PROK1 was highly expressed compared to cases with undetectable PROK1 expression.
When PROK1 was expressed in human colorectal tumors, the rate of lymph node metastasis was significantly higher than that in cases with undetectable PROK1 expression.
PROK1 is a lymphangiogenic factor involved in the formation of new lymph vessels and lymph node metastasis in human colorectal cancer.
Dr. Takanori Goi from The University of Fukui said, "The morbidity rate for colorectal cancer is very high in Japan and in western countries."
These authors previously reported, for the first time, that the increase of PROK1 is relevant to angiogenesis and hepatic metastasis of colorectal cancer cells in patients.
Other studies demonstrated that PROK1 expression correlates with malignancy in prostate cancer, neuroblastoma, thyroid cancer, pancreatic duct cancer, gastric cancer, and small intestinal cancer, indicating that PROK1 is important for malignant tumor formation.
PK-R1 and PK-R2 were identified as PROK1 receptors, and the interaction of PROK1 with its receptors drives various physiological phenomena.
In the present study, they observed that PK-R1 and PK-R2 were expressed in normal lymphatic endothelial cells and that proliferation of lymphatic endothelial cells and lymphangiogenesis are induced by PROK1 stimulation.
Furthermore, they identified a new relationship between PROK1 expression and lymphatic formation, invasion, and metastasis in human colorectal cancer.
The Goi Research Team concluded in their Oncotarget Research Output, "The role of PROK1 in the tumor microenvironment has been revealed by the present study, which leads the development of a new therapy for colorectal cancer by providing basic insight for the molecular mechanism of invasion and metastasis."
###
DOI - https://doi.org/10.18632/oncotarget.28016
Full text - https://www.oncotarget.com/article/28016/text/
Correspondence to - Takanori Goi - tgoi@u-fukui.ac.jp
Keywords - prokineticin-1, lymphangiogenic+activity, colorectal+cancer
About Oncotarget
Oncotarget is a bi-weekly, peer-reviewed, open access biomedical journal covering research on all aspects of oncology.
To learn more about Oncotarget, please visit https://www.oncotarget.com or connect with:
SoundCloud - https://soundcloud.com/oncotarget
Facebook - https://www.facebook.com/Oncotarget/
Twitter - https://twitter.com/oncotarget
LinkedIn - https://www.linkedin.com/company/oncotarget
Pinterest - https://www.pinterest.com/oncotarget/
Reddit - https://www.reddit.com/user/Oncotarget/
Oncotarget is published by Impact Journals, LLC please visit https://www.ImpactJournals.com or connect with @ImpactJrnls
Media Contact
MEDIA@IMPACTJOURNALS.COM
18009220957x105
Copyright © 2021 Impact Journals, LLC
Impact Journals is a registered trademark of Impact Journals, LLC
---
Article Title
Prokineticin-1 induces normal lymphangiogenic activity and is involved in lymphangiogenesis and lymph node metastasis in colorectal cancer
Article Publication Date
6-Jul-2021