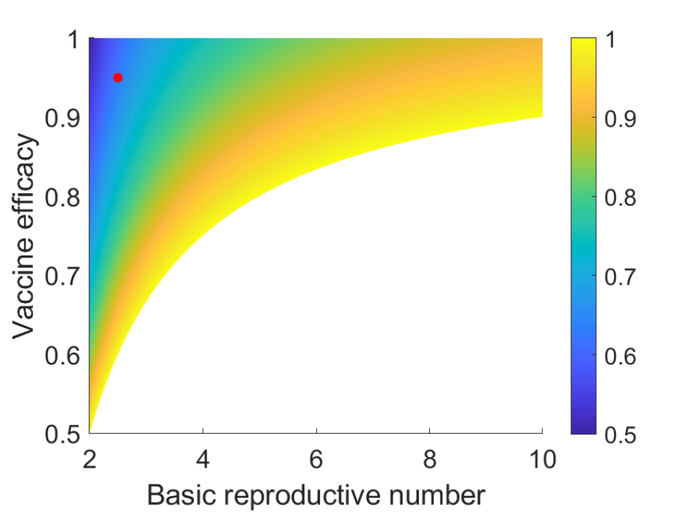 The availability of vaccines provides a promising solution to contain the COVID-19 pandemic. However, it remains unclear whether the large-scale vaccination can succeed in containing the COVID-19 pandemic and how soon. According to a study conducted by scientists from Beijing Institute of Genomics, Chinese Academy of Sciences (China National Center for Bioinformation), vaccination alone cannot stop the pandemic in some scenarios, and non-pharmaceutical interventions (NPIs) are necessary to complement vaccination and accelerate the end of the pandemic. The article has been published online on May 20, 2021, in the open access journal Quantitative Biology under Higher Education Press.
The study developed an epidemic model to explore pandemic dynamics under vaccination and NPI scenarios, explicitly parameterized key factors related to vaccination, including the duration of immunity, vaccine efficacy, and daily vaccination rate, etc. The model was applied to the daily reported numbers of confirmed cases of Israel and the USA to explore and predict trends under vaccination based on their current epidemic statuses and intervention measures.
"In Israel, over half of the population was fully vaccinated yet, and under the current vaccination scheme, the pandemic was predicted to end between May 14, 2021 and August 26, 2021, assuming immunity persists for 180 days to 365 days and with or with no NPIs. For the USA, if we assume the current vaccination rate (0.268% per day) and intensity of NPIs, the pandemic will end between January 20, 2022, and October 19, 2024, assuming immunity persists for 180 days to 365 days. However, assuming immunity persists for 180 days and no NPIs are implemented, the pandemic will not end and instead reach an equilibrium state, with a proportion of the population remaining actively infected." Dr. Chen said.
Overall, the daily vaccination rate should be decided according to vaccine efficacy and immunity duration to achieve herd immunity. In some situations, vaccination alone cannot stop the pandemic, and NPIs are necessary to supplement vaccination and accelerate the end of the pandemic. Considering that vaccine efficacy and duration of immunity may be reduced for new mutant strains, it is necessary to remain cautiously optimistic about the prospect of ending the pandemic under vaccination.
About Higher Education Press
Founded in May 1954, Higher Education Press Limited Company (HEP), affiliated with the Ministry of Education, is one of the earliest institutions committed to educational publishing after the establishment of P. R. China in 1949. After striving for six decades, HEP has developed into a major comprehensive publisher, with products in various forms and at different levels. Both for import and export, HEP has been striving to fill in the gap of domestic and foreign markets and meet the demand of global customers by collaborating with more than 200 partners throughout the world and selling products and services in 32 languages globally. Now, HEP ranks among China's top publishers in terms of copyright export volume and the world's top 50 largest publishing enterprises in terms of comprehensive strength.
The Frontiers Journals series published by HEP includes 28 English academic journals, covering the largest academic fields in China at present. Among the series, 13 have been indexed by SCI, 6 by EI, 2 by MEDLINE, 1 by A&HCI. HEP's academic monographs have won about 300 different kinds of publishing funds and awards both at home and abroad.
About Quantitative Biology
Quantitative Biology (QB) is an interdisciplinary journal that focuses on original research that uses quantitative approaches and technologies to analyze and integrate biological systems, construct and model engineered life systems, and gain a deep understanding of the life sciences. The journal publishes research, review, method, protocol/tutorial article in the broad fields of bioinformatics, computational biology, systems biology and synthetic biology.
---
Method of Research
Data/statistical analysis
Subject of Research
Not applicable
Article Title
Will the large-scale vaccination succeed in containing the COVID-19 pandemic and how soon?