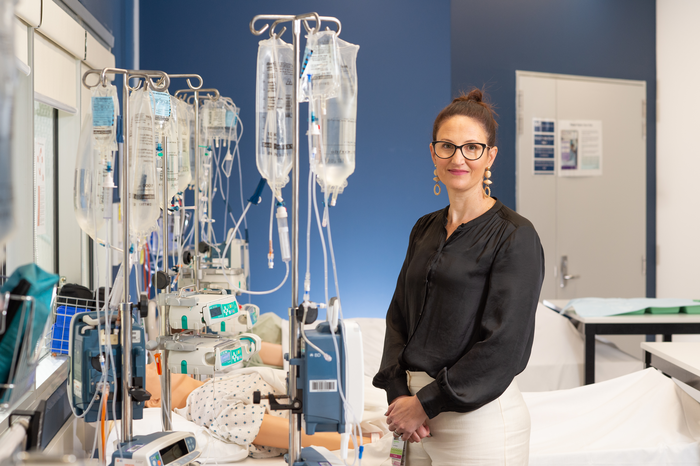 The finding, published in Australian Critical Care, showed elevated posttraumatic stress symptoms evident in 24 per cent of children during the 12 months after hospital discharge and most likely for children treated with midazolam therapy.

Midazolam is used to sedate children when they need lifesaving treatments like intubation, but the long-term side effects of using this drug have not been previously explored in children.
Longitudinal study confirms a link between midazolam and elevated posttraumatic stress symptoms (PTSS) in some children.
Children exposed to midazolam were almost four times more likely to have elevated PTSS.
PTSS can included nightmares, difficulty sleeping, reliving the event in thought and play, angry outbursts and ongoing fear or sadness.
Study raises awareness of potential adverse effects and need for early interventions for at-risk children.
Associate Professor Debbie Long from the QUT Centre for Healthcare Transformation and a paediatric intensive care research lead at Queensland Children's Hospital co-led the first longitudinal study, a collaboration between QUT, UQ and Children's Health Queensland, which identified a link between midazolam and posttraumatic stress symptoms in children.

She said while this drug was already associated with posttraumatic stress in adults, this study was the first to find a link in children, and one of the first to include children as young as two years old.

The four-year cohort study included 265 children aged 2-16 years from two Queensland hospitals between 2008-2011. Parents completed surveys on their child's behaviour at one-, three-, six- and 12-month intervals.

Associate Professor Long said the study found children with elevated posttraumatic stress symptoms after intensive care were 3.63 times more likely to have been exposed to midazolam.

She said while drug protocols for children admitted to intensive care had changed in recent years as other drugs with neuroprotective benefits became available, midazolam was still widely used and the study served to raise awareness of its potential adverse effects and the need for early intervention.

Her team had demonstrated dexmedetomidine for long-term sedation up to 14 days as an alternative to midazolam that did not have its amnesic effects, but it would not completely replace its use.

"One of the benefits of dexmedetomidine is that we can reach the desired levels of sedation quickly and safely and have more awake sedation, allowing children to be calm and comfortable," Associate Professor Long said.

"But there are some illnesses and injuries, such as seizures, for which midazolam is still considered the first line therapy so it is unlikely that the drug will be completely removed from our treatment armoury."

More than 10,000 children are admitted to paediatric intensive care units across Australia and New Zealand each year because of trauma or critical illness, with many requiring life support.

Associate Professor Long said most children admitted to intensive care were under five years of age, and about 50 per cent of those were under two years of age.

"It was thought that giving a child midazolam would help them forget being in intensive care. But unfortunately, we think it distorts their memory making process," she said.

"It's possible they construct nonfactual memories and that, combined with drug withdrawal-related delirium, could lead to posttraumatic stress in the acute recovery phase.

"We're starting to wonder if early posttraumatic stress is a gateway disorder to anxiety and depression even if it resolves, because health conditions like these are doubling as more children survive intensive care.

"If symptoms are not identified and managed early, the ripple effect could be life-long—affecting relationships at home, school or when getting a job in later years."

Associate Professor Long said results from the study showed symptoms were significant in the first month after care but could continue for 10-12 months before resolving, and that some children still had elevated symptoms at 12 months.

"Our concern is that families with children who experience posttraumatic stress won't engage in ongoing care because they're too traumatised," she said.

"Identification of the early distress allows medical professionals to engage families sooner and monitor children more closely."

While the study focused on the association between intensive care treatment factors and posttraumatic stress symptoms in children, Associate Professor Long said non-treatment factors including acutely distressed parents during admission and pre-existing internalising child behaviours also predicted ongoing distress after hospital discharge.

With knowledge from the study, Associate Professor Long will soon co-lead an interventional study to look at psychosocial support for parents and children, and ways to normalise the hospital treatment process to reduce the incidence of posttraumatic stress.
###

Download images of Associate Professor Debbie Long.

Media contacts
Novella Moncrieff, 07 3138 1150 or novella.moncrieff@qut.edu.au
After hours: Rose Trapnell, 0407 585 901 or media@qut.edu.au
---
Journal
Australian Critical Care
Subject of Research
People
Article Title
Midazolam exposure in the paediatric intensive care unit predicts acute post-traumatic stress symptoms in children
Article Publication Date
6-Aug-2021