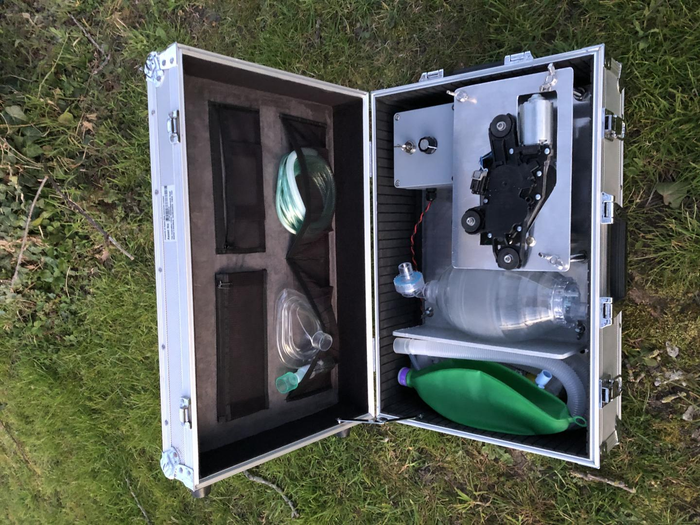 Scientists believe a new low-cost ventilator could have a profound effect on global healthcare.
A UK team of academic and industrial engineers, manufacturers and clinicians developed a potentially life-saving Field Ventilator at the start of the coronavirus pandemic to treat patients in poor and remote parts of the world.
It is now hoped that the portable device can be used beyond COVID-19 to treat a range of respiratory diseases and patients in need of respiratory support.
Nachi Chockalingam, Professor of Clinical Biomechanics at Staffordshire University, played a played a pivotal role in the ventilator's development. He explained: "Ventilator capacity in low and middle-income countries is extremely limited where it exists at all. A significant majority of cases can be managed with intervention involving a short course of mechanical ventilation, therefore widespread and timely access to ventilators could help to improve patient outcomes in these settings.
"The Field Ventilator system is designed to be modular, with power management, alarms and monitoring available as an add-on module, should resources not be available locally. Further, as the name implies, it is designed to function and withstand the much harsher environment found outside the average hospital, such as that found in a field hospital or rural community health service."
The Field Ventilator uses a windscreen wiper motor, cam and lever system and a standard Bag-Valve-Mask (BVM) (also known as Ambu Bag) to ventilate the patient. The unit is designed to run on a vehicle battery, which can be recharged via solar panels, wind turbines or mains power.
A new paper outlines how better access to such ventilators could help reduce mortality rates worldwide, particularly in remote rural settings where access to specialist equipment and medical staff is poor.
Low and middle-income countries are also disproportionately affected by road traffic accidents, women are more likely to die during childbirth, and younger patients are more likely to be affected by critical illness.
Professor Chockalingam added: "There is a clear and urgent need for simple, low cost, portable ventilators like The Field Ventilator - the availability of which would have a profound effect on healthcare and the health economy."
###
Read the full paper - A low-cost field ventilator: An urgent global need
---
Journal
Health Science Reports
DOI
Method of Research
Data/statistical analysis
Article Title
A low-cost field ventilator: An urgent global need