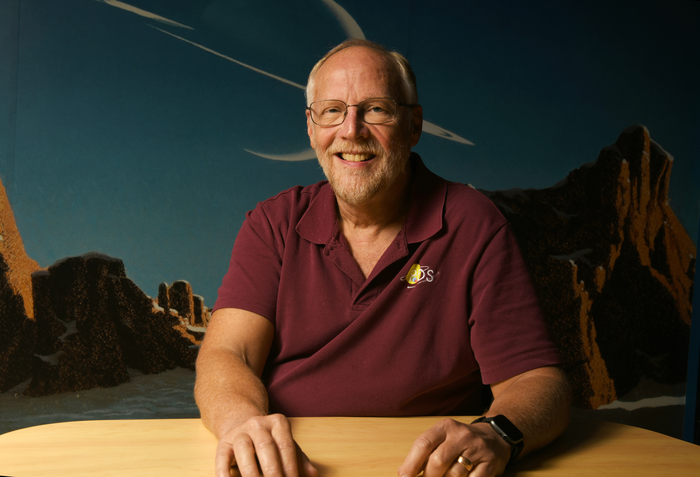 August 9, 2021, Mountain View, CA – The Division of Planetary Sciences (DPS) of the American Astronomical Society and the SETI Institute announce that Dr. Mark Showalter will receive the 2021 Harold Masursky Award for Meritorious Service to Planetary Science. The Harold Masursky Award recognizes and honors individuals who have rendered outstanding service to planetary science and exploration through - but not limited to - engineering, managerial, programmatic, editorial, or public service activities. Carl Sagan received the first Harold Masursky Award in 1991.
In a statement announcing the 2021 award, DPS said:
The 2021 Harold Masursky Award for meritorious service to planetary science goes to Dr. Mark Showalter (SETI Institute). Dr. Showalter's service to the community has centered around his 30 years as Principal Investigator of the Planetary Data System Ring-Moon Systems Node. In this role, Dr. Showalter has gone above and beyond simply archiving ring data to providing invaluable search and ephemeris tools that assist the planetary science community as a whole. He has set up graphical tools for observation and proposal planning and produced the original design and much of the initial implementation of the Outer Planets Unified Search tool, which supports more than 1.5 million outer planet system observations.
"When I started working with the Planetary Data System in 1990, we would distribute data by putting CD-ROMs in the mail," said Dr. Showalter. "Today, we can build sophisticated search engines and distribute terabytes of data online. I have enjoyed being a part of the PDS team and contributing to this ongoing evolution."
Mark Showalter joined the SETI Institute in 2005 and is a Senior Research Scientist and Fellow. His research focuses on the dynamics of rings and small moons in the Solar System. Known for his persistence in planetary image analysis, Mark's early work with Voyager data led to the discoveries of Jupiter's faint, outer "gossamer" rings and Saturn's tiny ring-moon, Pan. Starting in 2003, his work with the Hubble Space Telescope led to the discoveries of "Mab" and "Cupid," small moons of Uranus now named after characters from Shakespeare's plays. His work also revealed two faint outer rings of dust encircling the planet. In 2011, Mark initiated a Hubble observing program focused on Pluto, which led to the discoveries of two tiny moons. Their names, "Kerberos" and "Styx," were selected through an international naming campaign. Mark also discovered the 14th known moon of Neptune, Hippocamp. He is a co-investigator on NASA's New Horizons mission to Pluto and the Kuiper belt, leading efforts to search for dust rings and small moons while also assessing potential hazards to the spacecraft. He was also a co-investigator on the Cassini mission to Saturn, which ended in 2017.
In addition to his research, Mark managed the Planetary Data System Ring-Moon Systems Node from 1990 to 2020 and plays an active role as "manager emeritus." The site provides public access to images and other data from NASA's Voyager, Galileo, Cassini and New Horizons missions, the Hubble Space Telescope, and various Earth-based telescopes.
"One of the most valuable and important attributes of NASA's space science and exploration is that all the data collected and knowledge gained belong to the public," said Bill Diamond, SETI Institute CEO. "Mark and his colleagues have contributed so much to making planetary science data and imagery more available and accessible not only to the scientific community but to the general public more broadly. We are delighted to see Mark's innumerable contributions recognized through the Masursky Award." Said Diamond.
"This prestigious award is so richly deserved as Mark's work and career epitomize excellence and dedication, and I could not be happier for him," said Nathalie Cabrol, Director of the Carl Sagan Center for Research at the SETI Institute.
The 2021 DPS prizes will be presented at the 53rd annual meeting of the Division for Planetary Sciences, which will occur virtually from October 3-8, 2021. The full announcement for DPS can be found here: https://dps.aas.org/news/aas-division-planetary-sciences-announces-2021-prize-winners.
About the SETI Institute
Founded in 1984, the SETI Institute is a non-profit, multidisciplinary research and education organization whose mission is to lead humanity's quest to understand the origins and prevalence of life and intelligence in the universe and share that knowledge with the world. Our research encompasses the physical and biological sciences and leverages expertise in data analytics, machine learning and advanced signal detection technologies. The SETI Institute is a distinguished research partner for industry, academia and government agencies, including NASA and NSF.
Contact Information:
Rebecca McDonald
Director of Communications
SETI Institute
rmcdonald@SETI.org
---
---