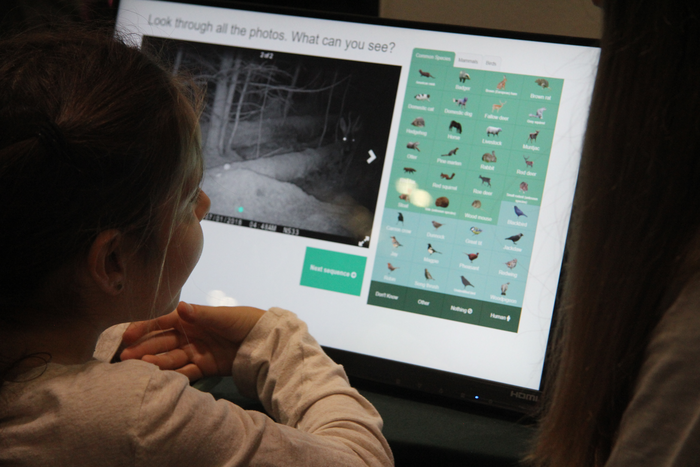 The British Ecological Society's project to improve nature connection in schools in County Durham and North East England has been awarded £248,700 of government money from the Green Recovery Challenge Fund.
The 'Connecting schools to nature in North East England' project will see the BES, in partnership with citizen science organisation MammalWeb Ltd. and engagement charity SMASH-UK, work with primary school pupils, teachers, and early career ecologists to deliver a green transformation to 50 schools in disadvantaged areas of the northeast of England and create the 'Environmental Educators of tomorrow'. 
Six fixed-term jobs and placements in the North East will be created to coordinate the project and training will be delivered to an estimated 350 teachers at the partner schools. On top of this, 50 early career ecologists will be upskilled as 'Environmental Educators in Residence', collaborating with teachers to develop practical workshops and deliver biodiversity enhancements to school grounds. 
The programme will benefit wildlife through the creation of wildflower areas, hedgehog-highways, bird-feeding stations, nest-boxes and insect 'hotels'. Pupils will then become citizen scientists, monitoring the wildlife around their schools. Through these activities, the programme will increase young peoples' connection to nature, with an estimated 10,000 pupils getting involved. 
The project is one of ninety nature projects across England to have been awarded funding from the Government's multi-million pound Green Recovery Challenge Fund to boost green jobs and nature recovery. The fund is being delivered by The National Lottery Heritage Fund in partnership with Natural England and the Environment Agency.
Dr Chris Jeffs, Engagement & Outreach Manager at the British Ecological Society, who will be leading the project said:
"A love of and connection with the natural world often starts with an inspiring experience. We want to bring these inspirational moments directly to the school and home environment, opening the wellbeing benefits nature brings to those currently least able to access them.

"In this project we will provide opportunities for school pupils to really experience nature - and, importantly, to see how small wildlife-friendly interventions can lead to positive changes."
On the opportunities for those getting involved in the project, Chris Jeffs said:
"Helping to develop the 'environmental educators of tomorrow' is such an exciting prospect, and vital as we emerge from a pandemic. This project will help scores of ecologists and educators bridge the 'covid skills gap', supporting young individuals as they enter the job market and pursue diverse career paths within the environmental sciences."
Project partner and MammalWeb founder, Prof. Philip Stephens (based at Durham University) said:  
"Children in the northeast of England have been shown to spend less time outdoors than anywhere else in the country and have limited opportunities to access nature. At the same time, the region is one of the least densely populated regions of England, leaving plenty of potential areas for nature regeneration and becoming a UK biodiversity haven.

"The MammalWeb project, which uses motion activated wildlife cameras to help people learn about the secretive mammalian wildlife around them, has been shown to enhance pupils' knowledge of and connection to nature, and we hope this funding will enable us to expand the benefits of nature to thousands of pupils.

"We're excited by the potential to develop pupils' engagement with the natural world through activities that both improve the environment and deliver valuable biodiversity data to aid with management and conservation."

An integral part of the project will be that ecologists, teachers, and pupils will all be involved in the design as well as the delivery of the project. This innovative codesign aspect will be led by SMASH-UK. 
Wyn Griffiths (co-founder of SMASH-UK and associated with Middlesex University) said:
"Our coproduction principle of 'in the community, with the community, by the community' will ensure our audiences are heard throughout the design of our resources ". 

Dr Lindsay Keith (co-founder of SMASH-UK and associated with University of Greenwich) added:
"Immersive experiences are essential for promoting positive change, benefitting both educators and participants, and crucially foster an enhanced connection to nature for the next generation."
###
---