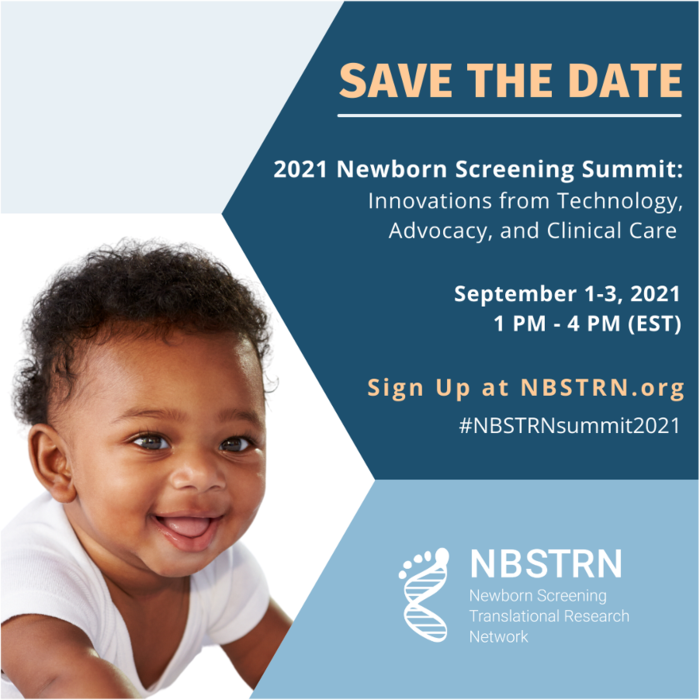 September is Newborn Screening Awareness Month! The Newborn Screening Translation Research Network (NBSTRN) invites you to spend three focused sessions learning from and connecting with innovators who are expanding the reach of newborn screening (NBS) research in technology, advocacy, and clinical care.
2021 NBSTRN Summit speakers include the following:
Anna Grantham - Hunter's Hope
Stephen Kingsmore, MD, DSc - Rady Children's Hospital-San Diego
Jolan Walter, MD, PhD - University of South Florida
Mia Morrison, MPH - Health Resources & Services Administration (HRSA)
Lisa R. Diller, MD; Richard B. Parad, MD, MPH; and Jennifer Yeh, PhD - Harvard Children's Hospital and Boston Children's Hospital
Laura V. Milko, PhD, and Jonathan S. Berg, MD, PhD - the University of North Carolina at Chapel Hill
Timothy Yu, MD, PhD - Boston Children's Hospital
Aaron Goldenberg, PhD - Case Western Reserve University
Brianne Miller, MPH - Genetic Alliance
Register today at www.nbstrn.org to join your fellow researchers, healthcare professionals, families, advocacy groups, and state newborn screening programs!
About Newborn Screening:
Each year in the United States (US), over 13,000 newborns are identified with a genetic disease through a multi-component, multi-stakeholder system of newborn screening (NBS). NBS is recognized as one of the most successful public health programs in the U.S. because it provides the opportunity to identify infants with treatable conditions regardless of race, income, or location of birth. NBS began in the 1960s when a longitudinal study led by the Eunice Kennedy Shriver National Institute of Child Health and Human Development (NICHD) discovered that newborns who received a screening test for phenylketonuria (PKU), using a blood spot on filter paper taken shortly after birth, benefited from early diagnosis and treatment.3 This discovery led to PKU screening pilots in several states, and eventual nationwide screening of all newborns using state-based public health laboratories.
Six decades of discoveries and innovations have led to screening for up to 81 conditions in the U.S. Advocacy groups and families play an important role in expanding screening to new conditions by supporting and participating in research studies, public health efforts, clinical care activities, and policy development. Learn more about screening in the U.S. using the NBS Virtual Repository of States, Subject, and Samples (NBS-VR) and the conditions that are part of, or candidates for, screening using the NBS Condition Resource (NBS-CR).
About NBSTRN:
The NBSTRN engages various stakeholders across the newborn screening, including researchers discovering and piloting novel technologies and interventions, state NBS programs, clinicians diagnosing and caring for newborns, patient families, and advocacy groups working on expanding NBS and improving health outcomes. NBSTRN facilitates collaboration between these essential groups to advance NBS research.
NBSTRN is a key component of the Eunice Kennedy Shriver National Institute of Child Health and Human Development (NICHD) Hunter Kelly Newborn Screening Research Program. The American College of Medical Genetics and Genomics (ACMG) operates the NBSTRN through a contract from NICHD.
The NBSTRN's mission is to facilitate newborn screening-related research to discover novel technologies, treatments, and interventions through the development of resources, tools, and expertise.
---