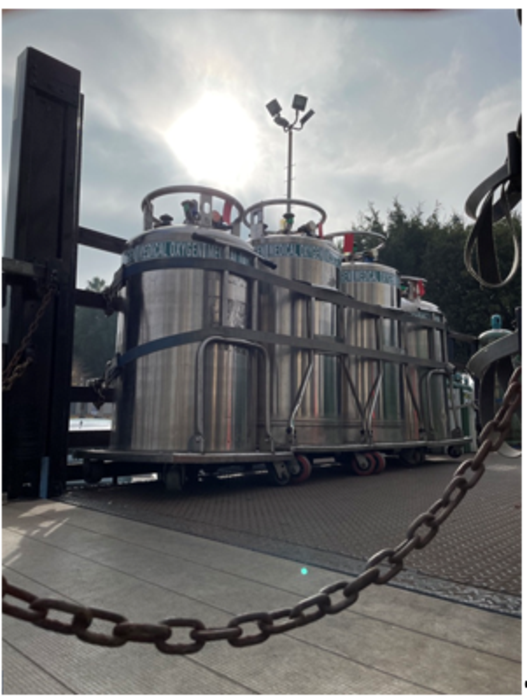 California, the 5th largest economy in the world with a population of nearly 40 million, experienced a medical surge during 2020-21 due to the COVID-19 pandemic. In a recent article published in the journal Disaster Medicine and Public Health Preparedness (DOI: https://doi.org/10.1017/dmp.2021.267), authors from the state and several institutions described how a collaborative, multi-disciplinary clinical and logistical solution was developed. This innovative approach was able to help the state support the ventilator and oxygen needs of a population during a mass surge in demand.
Oxygen consumption due to the use of high-flow nasal cannula systems in COVID-19 patients creates significant flow demands from typical liquid oxygen systems in hospitals. Depending upon the numbers of patients requiring oxygen in a given area of the facility, pipe diameters, and load, the external coils of the liquid oxygen system, where liquid evaporates into gaseous oxygen, delivery to the hospital may freeze and suddenly diminish flow. Back-up systems are required in addition to plans for de-icing the coils.
Faced with an oxygen shortage throughout large regions of the state and the logistical challenges associated with local health systems sharing oxygen resources, a state coordinating center with a 24-hour hotline for emergency requests was created. Through a contract with a biomedical engineering team, the state emergency services authority restored deployable oxygen concentrators (DOCS) from long-term storage to oxygen depots, which is described further in the article. Power issues, concentrator supplies, and logistical solutions are described further.
According to Dr. Asha Devereaux, one of the authors of the article "Oxygen plans are required at every level of disaster and pandemic response, from logisticians to end-users. Assumptions that oxygen is an endless supply are erroneous and oxygen conservation and supply should be part of every current and future planning efforts."
###
About the Journal
Disaster Medicine and Public Health Preparedness is the first comprehensive and authoritative journal emphasizing public health preparedness and disaster response for all health care and public health professionals globally. The journal seeks to translate science into practice and integrate medical and public health perspectives. DMPHP is an official journal of the Society for Disaster Medicine and Public Health, Inc. and is produced by Cambridge University Press.
About the Society
The Society for Disaster Medicine and Public Health, Inc. aims to evolve a discipline around disaster medicine and public health. The society's goal is to improve global health security, with the involvement and development of global health professionals and others who are involved in responding to and or managing significant events. The mission of the SDMPH is to advance and promote excellence in education, training and research in disaster medicine and public health for all potential health system responders based on sound educational principles, scientific evidence and best clinical and public health practices.
---
Journal
Disaster Medicine and Public Health Preparedness
Method of Research
Case study
Subject of Research
Not applicable
Article Title
Oxygen and Ventilator Logistics during California's COVID-19 Surge-When Oxygen becomes a Scarce Resource
Article Publication Date
16-Aug-2021