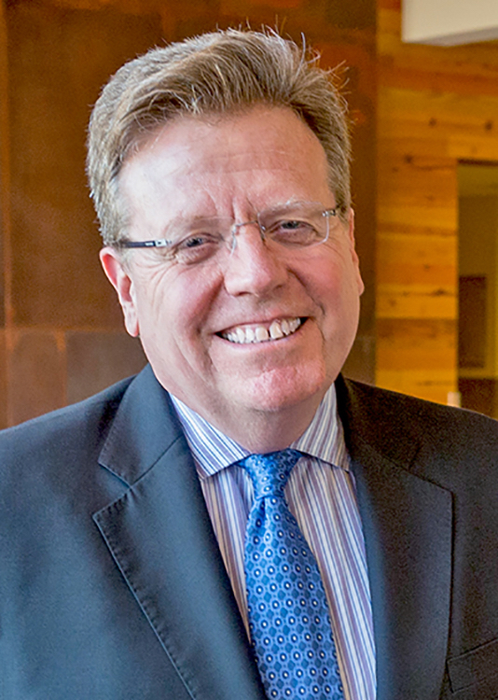 HOUSTON – (Sept. 1, 2021) – The Welch Institute for Advanced Materials, a strategic partnership between The Welch Foundation and Rice University focused on world-leading advanced materials research, has named Matthew Tirrell to chair its Scientific Advisory Board (SAB).
Tirrell is dean of the Pritzker School of Molecular Engineering and the Robert A. Millikan Distinguished Service Professor at the University of Chicago.
He replaces Paul Alivisatos, who was recently named president of the University of Chicago.
"I want to thank Paul for his leadership on The Welch Institute's Scientific Advisory Board in its first year," said Welch Foundation Chair and Director Carin Barth. "His wisdom and guidance have been immensely helpful and I know how fortunate the University of Chicago is to have him at its helm.
"We are thrilled to have Dr. Tirrell assume the chair position of The Welch Institute's SAB," Barth said. "Matt is a highly acclaimed pioneer in nanotechnology and biomolecular engineering and recognized for his innovative and collaborative research. His background and accomplishments will be a tremendous asset to The Welch Institute as we build a premier program in advanced materials."
"We are delighted and grateful that Matt Tirrell, one of the country's most eminent material scientists, has agreed to chair the board," said Rice University President David Leebron. "As we continue to develop plans for the institute, Matt's advice, along with that of other SAB members, will be invaluable."
Tirrell's lab specializes in the manipulation and measurement of polymer surface properties at the molecular level to gain insight into adhesion, friction and biocompatibility.
His academic career led him from the University of Minnesota faculty to dean of engineering at the University of California, Santa Barbara, and then to chair of bioengineering at the University of California, Berkeley, before joining Chicago in 2011. He is also a senior scientist at the Center for Molecular Engineering at Argonne National Laboratory, and previously served as a faculty scientist at Lawrence Berkeley National Laboratory.
Tirrell earned a bachelor of science degree in chemical engineering at Northwestern University and a Ph.D. in polymer science and engineering from the University of Massachusetts. He won the Polymer Physics Prize of the American Physical Society in 2012 for achievements in polymer dynamics, and is a member of the National Academy of Sciences, National Academy of Engineering and the American Academy of Arts and Sciences.
"The Welch Institute is committed to making a distinctive mark in the realm of advanced materials," Tirrell said. "I look forward to helping the institute evolve toward this goal."
The Welch Institute combines fundamental chemistry and materials science with the latest in machine learning and artificial intelligence to accelerate the discovery, design and manufacture of the next generation of materials. The goal is to revolutionize energy systems, sustainable water, space systems, telecommunications, manufacturing, transportation, security and more.
-30-
This news release can be found online at https://news-network.rice.edu/news/2021/08/31/welch-institute-names-matthew-tirrell-to-chair-scientific-advisory-board/.
Follow Rice News and Media Relations via Twitter @RiceUNews.
Related materials:
The Welch Institute: https://welchinstitute.org
Image for download:
https://news-network.rice.edu/news/files/2021/08/0907_TIRRELL-1-WEB.jpg
CAPTION: Matthew Tirrell.
About The Welch Institute
The Robert A. Welch Foundation committed $100 million to establish The Welch Institute at Rice University, the largest grant in the foundation's 65-year history, as part of a strategic partnership focused on advanced materials research. The goal of The Welch Institute is to attract top researchers from around the world to collaborate with Rice University's internationally renowned faculty and scientific resources, making the institute a center of intellectual discovery, innovation and transformation in advanced materials. The institute is governed by an independent board of directors and advised by a scientific advisory board. For more information about The Welch Institute, visit https://welchinstitute.org/.
About Rice University
Located on a 300-acre forested campus in Houston, Rice University is consistently ranked among the nation's top 20 universities by U.S. News & World Report. Rice has highly respected schools of Architecture, Business, Continuing Studies, Engineering, Humanities, Music, Natural Sciences and Social Sciences and is home to the Baker Institute for Public Policy. With 4,052 undergraduates and 3,484 graduate students, Rice's undergraduate student-to-faculty ratio is just under 6-to-1. Its residential college system builds close-knit communities and lifelong friendships, just one reason why Rice is ranked No. 1 for lots of race/class interaction and No. 1 for quality of life by the Princeton Review. Rice is also rated as a best value among private universities by Kiplinger's Personal Finance.
---