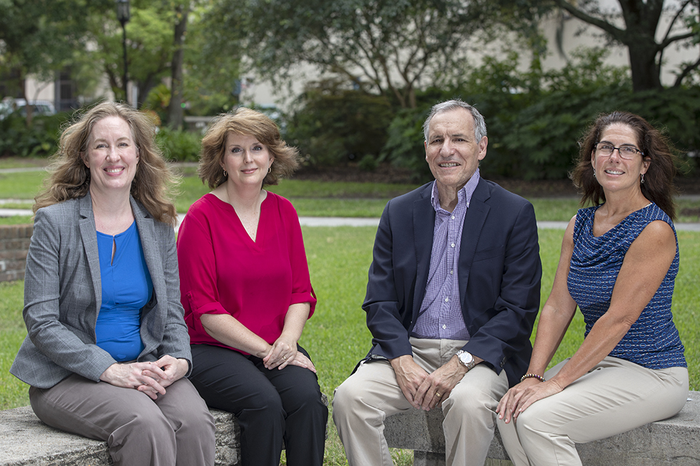 Marc Chimowitz, MBChB, a professor of neurology at the Medical University of South Carolina (MUSC), and Brian Hoh, M.D., chair of neurosurgery at the University of Florida, will co-lead a trial testing whether two prospective therapies prevent recurrent stroke better than the standard of care in patients with intracranial arterial stenosis, or severe narrowing of an artery in the brain.
With $38.3 million of funding from the National Institutes of Health (NIH), the trial, known as Comparison of Anticoagulation and anti-Platelet Therapies for Intracranial Vascular Atherostenosis, or CAPTIVA, will enroll 1,683 patients across 115 NIH StrokeNet sites. Enrollment will begin in January of 2022. The NIH StrokeNetwas created to maximize the efficiency of multi-site trials focused on stroke prevention, treatment and recovery.
MUSC will receive $12 million in funding to serve as the national center for coordinating the intensive medical management that is to be provided to all patients and for managing data and providing statistical analysis for the nationwide trial.
Intracranial arterial stenosis accounts for 8% to 10% of all strokes in the U.S., about 80,000 per year. Worldwide, it is one of the most common causes of stroke and is particularly prevalent in Black, Asian and Hispanic populations. It could also play a role in people of color having worse stroke outcomes in the U.S. than whites.
"What compounds the problem is that, if you've had a stroke from this disease, your risk of a recurrent stroke is much higher than for other causes of stroke," said Chimowitz.
Chimowitz has led three consecutive NIH trials for this disease over the past 20 years, including the Stenting and Aggressive Medical Management for Preventing Recurrent Stroke in Intracranial Stenosis, or SAMMPRIS, trial, which provided the basis for the current standard of care. SAMMPRIS showed that intensive medical management of risk factors along with dual antiplatelet therapy with aspirin and clopidogrel prevented recurrence of stroke in these patients much better than stents.
However, SAMMPRIS results showed that the best outcomes were seen in patients who had had only transient ischemic attacks and not strokes prior to enrollment. Among those who had had strokes, over 20% of patients experienced a recurrent stroke due to a blood clot, bleeding in the brain or vascular death within one year, despite being treated with intensive management of risk factors and the combination of aspirin and clopidogrel.
"Clearly there is a need for better treatment for this disease," said Hoh, co-leader of the CAPTIVA trial."Although symptomatic intracranial arterial stenosis is common and has a poor prognosis, only a few large randomized therapeutic trials have been conducted in these patients. Despite its importance, it is an understudied disease compared with other cerebrovascular conditions such as carotid artery stenosis and atrial fibrillation."
CAPTIVA will begin where SAMMPRIS left off, enrolling patients with severe narrowing of an artery in their brains who have also had strokes. CAPTIVA will determine whether two new prospective therapies — aspirin plus either ticagrelor, also known as Brilinta, or rivaroxaban, also known as Xarelto — are more effective at reducing the risk of a second stroke than aspirin plus clopidogrel and whether they lead to an increased risk of bleeding. Patients will be treated with one of the three therapies for one year.
In addition to receiving one of the three combinations of anti-clotting medications, all patients will undergo intensive medical management and work with a health coach to make lifestyle modifications. Tanya Turan, M.D., professor of neurology at MUSC, will oversee the coordination of intensive medical management for the nationwide trial.
"Intensive management of vascular risk factors, such as high blood pressure, raised cholesterol, diabetes, smoking and physical inactivity, is key for reducing the risk of stroke in patients with a narrowed brain artery or other causes of stroke," said Turan.
"The CAPTIVA trial provides protocols for intensive management of vascular risk factors for all patients enrolled in the trial to lower their risks of stroke."
CAPTIVA was co-designed with Sharon Yeatts , Ph.D., a professor in the Department of Public Health Sciences at MUSC. Yeatts will play a key role as a statistician in the trial.
"CAPTIVA will evaluate two novel therapies against the current standard of care in a single trial, a design that improves efficiency from the perspective of both network resources and the available patient population," said Yeatts.
Two other professors in the MUSC Department of Public Health Sciences will also play key roles in the CAPTIVA trial. Renee Martin, Ph.D., will serve as the principal study statistician, and Jordan Elm, Ph.D., will lead the StrokeNet National Data Management center for the trial, as she does for all StrokeNet trials.
Another goal of the study is to screen all participants for a mutation known to prevent clopidogrel, a prodrug, from being fully metabolized into its active form. Investigators want to find out if patients with this mutation have better outcomes when given ticagrelor or rivaroxaban, each of which differs from the other and from clopidogrel in its mechanism of action. The study could pick up a robust difference in response to the various treatments by patients with and without the mutation.
"We are excited about the collaborative effort of the CAPTIVA trial that will build upon the progress made with the SAMMPRIS trial," said Raymond DuBois, M.D., Ph.D., dean of the College of Medicine at MUSC."Each new discovery brings us closer to better quality of life for more stroke patients."
Although the trial is not designed to answer which of the two prospective therapies is best, Chimowitz said that its unique three-arm design will provide an efficient and economical way to obtain definitive evidence of whether one or both of the prospective therapies outperform the current standard of care. Results are expected within five or six years.
"The CAPTIVA trial is evaluating new combinations of anti-clotting medications for patients with a narrowed brain artery," said Chimowitz. "The hope is that at least one of these new combinations will be highly effective for lowering the risk of stroke in these patients."
# # #
About the Medical University of South Carolina
Founded in 1824 in Charleston, the Medical University of South Carolina (MUSC) is home to the oldest medical school in the South as well as the state's only integrated academic health sciences center, with a unique charge to serve the state through education, research and patient care. Each year, MUSC educates and trains more than 3,000 students and nearly 800 residents in six colleges: Dental Medicine, Graduate Studies, Health Professions, Medicine, Nursing and Pharmacy. MUSC brought in more than $271 million in biomedical research funds in fiscal year 2020, continuing to lead the state in obtaining National Institutes of Health funding, with more than $129.9 million. For information on academic programs, visit musc.edu.
As the clinical health system of the Medical University of South Carolina, MUSC Health is dedicated to delivering the highest quality patient care available while training generations of competent, compassionate health care providers to serve the people of South Carolina and beyond. Comprising some 2,000 beds, more than 100 outreach sites, the MUSC College of Medicine, the physicians' practice plan and nearly 275telehealth locations, MUSC Health owns and operates eleven hospitals situated in Charleston, Chester, Fairfield, Florence, Kershaw, Lancaster and Richland counties. In 2021, for the seventh consecutive year, U.S. News & World Report named MUSC Health the No. 1 hospital in South Carolina. To learn more about clinical patient services, visit muschealth.org.
MUSC and its affiliates have collective annual budgets of $4.6 billion. The more than 20,000 MUSC team members include world-class faculty, physicians, specialty providers and scientists who deliver groundbreaking education, research, technology and patient care.
---