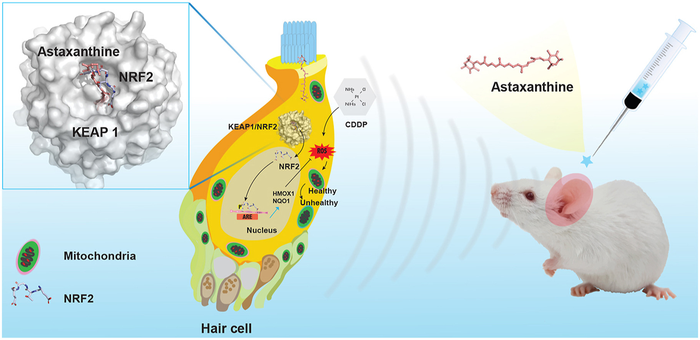 Astaxanthine (AST) has important biological activities including antioxidant and anti-inflammatory effects that could alleviate neurological and heart diseases, but its role in the prevention of cisplatin-induced hearing loss (CIHL) is not yet well understood.
In this study, a steady interaction between AST and the E3 ligase adapter Kelch-like ECH-associated protein 1, a predominant repressor of nuclear factor erythroid 2-related factor 2 (NRF2), was performed and tested via computer molecular docking and dynamics. AST protected against cisplatin-induced ototoxicity via NRF2 mediated pathway using quantitative PCR and Western blotting. The levels of reactive oxygen species (ROS) and mitochondrial membrane potential revealed that AST reduced ROS overexpression and mitochondrial dysfunction. Moreover, AST exerted anti-apoptosis effects in mouse cochlear explants using immunofluorescence staining and HEI-OC1 cell lines using quantitative PCR and Western blotting. Finally, AST combined with poloxamer was injected into the middle ear through the tympanum, and the protection against CIHL was evaluated using the acoustic brain stem test and immunofluorescent staining in adult mice.
The results suggest that AST reduced ROS overexpression, mitochondrial dysfunction, and apoptosis via NRF2-mediated pathway in cisplatin-exposed HEI-OC1 cell lines and mouse cochlear explants, finally promoting cell survival. This study demonstrates that AST is a candidate therapeutic agent for CIHL.
Article reference: Nan Benyu et al., Astaxanthine attenuates cisplatin ototoxicity in vitro and protects against cisplatin-induced hearing loss in vivo, Acta Pharmaceutica Sinica B, 2021, ISSN 2211-3835, https://doi.org/10.1016/j.apsb.2021.07.002
Keywords: Astaxanthine, Cisplatin, Hearing loss, Mitochondrial, Ototoxicity, Reactive oxygen species, Apoptosis
# # #
The Journal of the Institute of Materia Medica, the Chinese Academy of Medical Sciences and the Chinese Pharmaceutical Association.
For more information please visit https://www.journals.elsevier.com/acta-pharmaceutica-sinica-b/
Editorial Board: https://www.journals.elsevier.com/acta-pharmaceutica-sinica-b/editorial-board
APSB is available on ScienceDirect (https://www.sciencedirect.com/journal/acta-pharmaceutica-sinica-b).
Submissions to APSB may be made using Editorial Manager® (https://www.editorialmanager.com/apsb/default.aspx).
CiteScore: 12.5
Impact Factor: 11.413
ISSN 2211-3835
---
Journal
Acta Pharmaceutica Sinica B