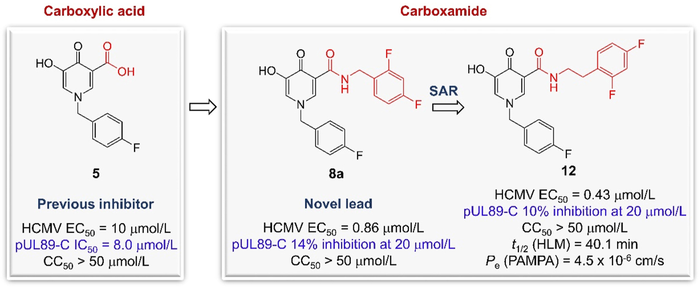 Current drugs for treating human cytomegalovirus (HCMV) infections are limited by resistance and treatment-associated toxicities. In developing mechanistically novel HCMV antivirals, the authors of this article discovered an N-benzyl hydroxypyridone carboxamide antiviral hit (8a) inhibiting HCMV in submicromolar range.
In this article the authors describe the structure–activity relationship (SAR) for 8a, and the characterization of potent analogs for cytotoxicity/cytostatic property, the preliminary mechanism of action, and the absorption, distribution, metabolism and excretion (ADME) properties. The SAR revealed a few pharmacophore features conferring optimal antiviral profile, including the 5-OH, the N-1 benzyl, at least one –CH2− in the linker, and a di-halogen substituted phenyl ring in the amide moiety.
The authors identified numerous analogs with sub-micromolar antiviral potency and good selectivity index. The preliminary mechanism of action characterization used a pUL89-C biochemical endonuclease assay, a virus entry assay, a time-of-addition assay, and a compound withdrawal assay. ADME profiling measuring aqueous solubility, plasma and liver microsomal stability, and parallel artificial membrane permeability assay (PAMPA) permeability demonstrated largely favorable drug-like properties. Together, these studies validate the N-benzyl hydroxypyridone carboxamide as a viable chemotype for potent and mechanistically distinct antivirals against HCMV.
Article reference: Senaweera Sameera et al., Discovery of N-benzyl hydroxypyridone carboxamides as a novel and potent antiviral chemotypeagainst human cytomegalovirus (HCMV), Acta Pharmaceutica Sinica B, 2021, ISSN 2211-3835, https://doi.org/10.1016/j.apsb.2021.08.019
Keywords: Human cytomegalovirus, N-Benzyl hydroxypyridone carboxamides, Structure–activity relationship, Mechanism of action
# # #
The Journal of the Institute of Materia Medica, the Chinese Academy of Medical Sciences and the Chinese Pharmaceutical Association.
For more information please visit https://www.journals.elsevier.com/acta-pharmaceutica-sinica-b/
Editorial Board: https://www.journals.elsevier.com/acta-pharmaceutica-sinica-b/editorial-board
APSB is available on ScienceDirect (https://www.sciencedirect.com/journal/acta-pharmaceutica-sinica-b)
Submissions to APSB may be made using Editorial Manager® (https://www.editorialmanager.com/apsb/default.aspx).
CiteScore: 12.5
Impact Factor: 11.413
ISSN 2211-3835
---
Journal
Acta Pharmaceutica Sinica B