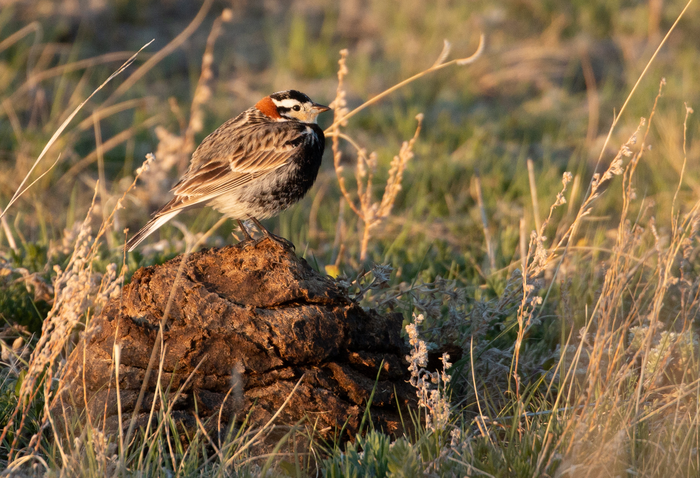 North American grassland bird species, many endemic to the prairie ecosystem, are in decline. Until now, the impact of increasing bison reintroductions as well as cattle and bison grazing on rangelands was largely unknown. New research shows both cattle and bison grazing are viable options for conserving grassland birds in the prairie landscape. Bison were grazed at low stocking rates year-round with no rotation among pastures, suggesting that bison grazing can maintain bird diversity and achieve the benefits of large herbivore grazing without the intensive management of pasture rotation as needed in cattle. Despite controversy, year-round bison grazing does not have negative impacts on grassland bird communities and provides additional benefits, above and beyond cattle grazing, for the ecosystem as a whole.
Research Paper
Title: "Grassland bird diversity and abundance in the presence of native and non-native grazers"
Published: Avian Conservation and Ecology
Link: https://www.ace-eco.org/vol16/iss2/art13/
For citations: https://doi.org/10.5751/ACE-01944-160213

Abstract:
Temperate grassland biomes are globally imperiled, and grassland birds are in precipitous decline as a result. The majority of North America's grassland birds breed on rangelands occupied by domestic cattle, but reintroductions of bison to restore evolutionary grazing patterns are increasingly common. Grassland landscapes in western North America have undergone drastic changes since millions of bison occupied this landscape, and the biodiversity effects of bison on modern rangelands remain poorly understood. Here, we test the biodiversity effects of native versus non-native grazers in the context of a highly diverse grassland bird community on the Northern Great Plains of North America. We compared the effects of 2 different grazing treatments common across the region on avian diversity: seasonally grazed and manually rotated domestic cattle, and year-round, free-moving bison. We also test whether estimated abundances of 11 grassland/steppe obligate songbirds differ between these two management regimes. We found roughly equivalent bird diversity, as measured by species richness and Shannon's diversity index, at sites occupied year-round by bison and seasonally by cattle. We also found no significant effect of grazer type on 9 of 11 grassland songbird species. The two exceptions were Grasshopper Sparrow and Vesper Sparrow, which were more abundant in bison pastures. Our results suggest that both native and non-native grazers can create habitat for a highly diverse assemblage of grassland birds under grazer-specific management regimes.
Quote from Andy Boyce, lead author and conservation ecologist for the Smithsonian Conservation Biology Institute's Migratory Bird Center:
"Our research proves both cattle and bison grazing can create high-quality habitat for grassland songbirds. To benefit the whole ecosystem and all the animals that call it home, we should also adopt grazing practices that reduce human infrastructure, like barbed-wire fencing, as much as possible. Because of their unique ecology and physiology, bison don't need to be moved around the landscape with fencing like cattle typically do. Less fence means less danger for low-flying species like the Sage Grouse and more freedom of movement for migratory species like pronghorn."

Authors
Andy J. Boyce (1), Hila Shamon (1), Kyran Kunkel, (1,3,4), William J. McShea (1)
(1) Smithsonian Conservation Biology Institute
(2) Conservation Science Collaborative
(3) University of Montana
About the Smithsonian Conservation Biology Institute
The Smithsonian Conservation Biology Institute plays a leading role in the Smithsonian's global efforts to save wildlife species from extinction and train future generations of conservationists. SCBI spearheads research programs at its headquarters in Front Royal, Virginia, the Smithsonian's National Zoo in Washington, D.C., and at field research stations and training sites worldwide. SCBI scientists tackle some of today's most complex conservation challenges by applying and sharing what they learn about animal behavior and reproduction, ecology, genetics, migration and conservation sustainability.
---
Method of Research
Observational study
Subject of Research
Animals
Article Title
Grassland bird diversity and abundance in the presence of native and non-native grazers
Article Publication Date
2-Sep-2021