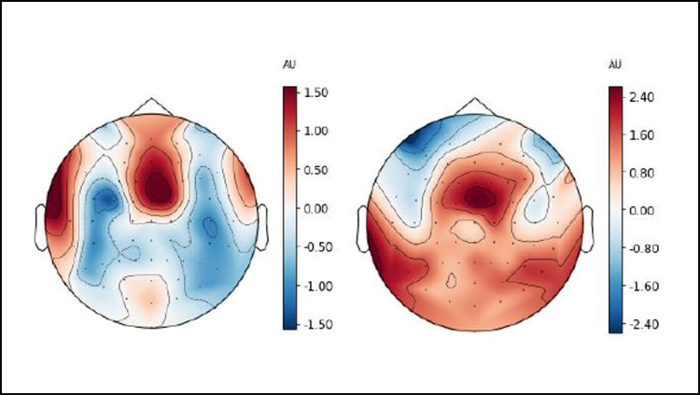 The ability of cognitive control allows humans to override the brain's impulses, like focusing on one person in the crowd and ignoring distractions. It also plays a role in making moral decisions. But does cognitive control override a moral impulse to be honest, or to be dishonest? It depends on a person's moral default, according to new research published in JNeurosci.
Speer et al. used EEG to find the activity pattern of cognitive control and compare it to the brain activity of participants during a cheating task. Participants played spot-the-difference and won a reward when they reported finding three differences. But only some pairs of images actually contained three differences, encouraging the participants to cheat. The moral default of the participants varied: some people chose to cheat a few times, while others only told the truth a few times. As participants decided whether or not to cheat, the activity of theta brainwaves strengthened — an activity pattern representative of cognitive control. Stronger theta activity meant participants were more likely to go against their moral default: cheaters were more likely to be honest, and honest people were more likely to cheat.
###
Paper title: Cognitive Control Promotes either Honesty or Dishonesty, Depending on One's Moral Default
Please contact media@sfn.org for the full-text PDF and to join SfN's journals media list.
About JNeurosci
JNeurosci, the Society for Neuroscience's first journal, was launched in 1981 as a means to communicate the findings of the highest quality neuroscience research to the growing field. Today, the journal remains committed to publishing cutting-edge neuroscience that will have an immediate and lasting scientific impact, while responding to authors' changing publishing needs, representing breadth of the field and diversity in authorship.
About The Society for Neuroscience
The Society for Neuroscience is the world's largest organization of scientists and physicians devoted to understanding the brain and nervous system. The nonprofit organization, founded in 1969, now has nearly 37,000 members in more than 90 countries and over 130 chapters worldwide.
---
Subject of Research
People
Article Title
Cognitive control promotes either honesty or dishonesty, depending on one's moral default
Article Publication Date
13-Sep-2021
COI Statement
No competing interests.