Feature Story | 7-Sep-2021
Remembering 9/11: A Legacy of Homeland Security
PNNL honors 20th commemoration of 9/11 with series of virtual public events
DOE/Pacific Northwest National Laboratory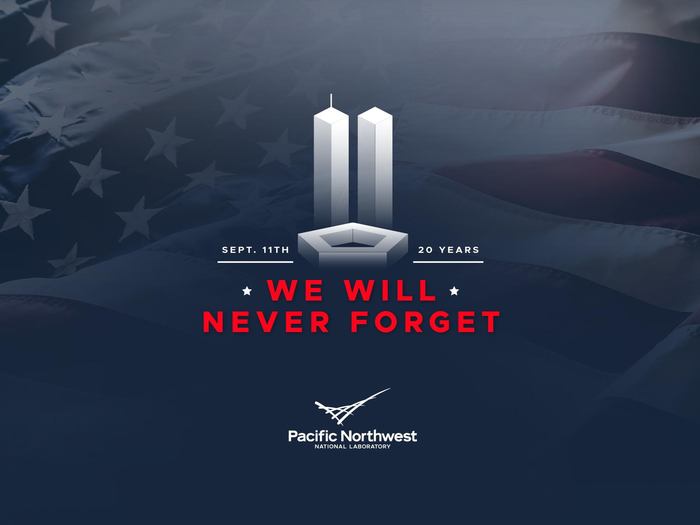 On the second Tuesday of September 2001, Mike Kluse, then-director for national security at Pacific Northwest National Laboratory (PNNL), was in Washington, D.C., on a routine business trip. Early in the morning, he hopped on the yellow line of the Metro from his hotel in Crystal City, Virginia, traveling under the Pentagon to downtown meetings with U.S. Department of Energy (DOE) officials.
Suddenly, his meetings halted. Everything stopped. And the United States changed forever. Two planes in quick succession smashed into the two World Trade Center towers. It slowly became clear this was a deliberate act—terrorism had come to the U.S. homeland.
Soon, the terror would come within a mile of Kluse's meeting place in Washington, D.C., when another plane nose-dived into the Pentagon building he had just traveled beneath. After many hours of waiting at the DOE Forrestal building, he was cleared to return to his hotel. That night, he was awakened by the acrid smell of smoke. Was his building on fire? Had it been hit by a terrorist attack, too? These were tense moments until he realized the smoke was coming from the still-burning Pentagon.
"It was pretty clear to me that things were going to change, particularly in the national security business, in a dramatic way," he recounted in an interview on SciVIBE, PNNL's science podcast (listen on Apple Podcasts, Spotify, or other podcast platforms).
From tragedy to technology innovation
When Kluse returned to PNNL in September 2001, he immediately started strategizing about the role the laboratory could play to help secure the nation and keep it safe.
"One of the first things I did was pull together a number of folks that were part of my leadership team to talk about what could PNNL do to help with the challenges ahead, knowing that we had been leaders in areas like data visualization, and radiation detection, and the millimeter wave holographic imaging that is now deployed at the airport," he said.
These were the first steps toward what would become a herculean effort, led by the White House but executed by many parts of the federal government—including the newly formed U.S. Department of Homeland Security (DHS)—to defend the nation from future attacks.
"PNNL started in 1965 trying to understand the impact of the plutonium production mission at Hanford on the environment and on people," Kluse said. "And that fundamental science base that was developed back then was the same science base that we drew upon to develop things like the radiation portal monitors. It's just great to see a technology developed for one particular reason being deployed for a totally different reason and making a significant impact on the security of the country."
While the most well-known example of PNNL security technology may be the millimeter wave airport security scanner, other research and policy solutions have permeated security in numerous domains—air, land, fire, water, cyber, and even shoes.
"From computing and data analytics to artificial intelligence and cybersecurity, we have pivoted in a major way to better assess risks and provide decision makers with unparalleled access to the information needed to improve the evolving security landscape," said Ryan Eddy, director of PNNL homeland security programs.
View PNNL's 20-year timeline of science and technology in homeland security.
Combating digital threats with data science
The 2001 attack put a spotlight on the dynamic threats facing the nation as technology began evolving at a breakneck pace—a trend that continues. Some of today's most terrifying threats are now digital. Information can be weaponized in the form of misinformation or disinformation. And attacks can occur on critical computing infrastructure.
PNNL's expertise in data science is being brought to bear on protecting the homeland from cyber-attacks and disinformation campaigns that seek to sow discord and division.
"We don't have a crystal ball, but all this data science and AI and machine learning opens up doors to understanding a lot of these digital threats in a way that we've never had access to before," said Russ Haffner during the SciVIBE podcast. Haffner is a national security specialist and team leader of technical security solutions at PNNL.
Diverse teams of PNNL data scientists work to stay ahead of the curve, thinking about where digital threats might be coming from in the future. Among these data scientists is Kate Miller, who turned toward the national security mission at PNNL after sustaining an injury while serving in the military. She hopes her work helps and inspires others.
"I would encourage women and minority groups, and anyone who feels like they are an outsider looking in, to really think about what national security means to them," said Miller in the podcast interview. "We want that perspective. We want people with opinions. We want people to drive conversation."
Miller emphasized that data analysis and the national security mission need the skills and experiences of the next generation to propel it into the future. Through internships, PNNL welcomes hundreds of students annually to work alongside researchers tackling real-world challenges in national security and other areas. For example, more than 30 interns contributed to the DHS Airport Risk Assessment Model.
"Every time I fly and go through the millimeter wave scanner, I am proud of what we were able to do," reflected Kluse, who served as director of PNNL from 2007 to 2015. "Crossing in or out of the country, I can see the radiation detectors that PNNL developed and deployed."
Now, it's up to the next generation—those too young to remember 9/11—to continue PNNL's legacy of national security science and technology.
Public events reflect on impact of 9/11—then and since
To acknowledge and honor the twentieth anniversary of 9/11, PNNL is holding a series of virtual public events September 7–10 to remember and explore how the science and technology developed at PNNL before, during, and after that historic day are making the homeland safer.
The series will bring together PNNL leaders, government and civic leaders, and first responders to reflect on how the events of 9/11 shaped their lives, careers, and the future of the nation. Events open to the public include:
Tuesday, September 7, noon (PDT)—Virtual panel: "Voices of the First Responder: Reflections on 9/11." PNNL leaders with first responders from Seattle, Kirkland, Bellevue, and New York City will explore the transformational effect the attack had on the development of improved, life-saving tools for first responders. Register.
Wednesday, September 8, 5:00 p.m. (PDT)—Live virtual tour: "PNNL and National Security: 20 Years of Mission Impact." Live public tour of two facilities at PNNL that have provided DHS with world-class solutions in airport security scanning and radiation detection at U.S. ports of entry. Register.
Friday, September 10, 11:00 a.m. (PDT)—Virtual panel: "PNNL and DHS: Perspectives on a 20-Year Partnership." Former government officials and staff at PNNL will discuss what PNNL and others did to support the creation of DHS, its mission and vision, and the future of science and technology needed to back DHS and the whole of state, regional, and federal governments in the years to come. Register.
Disclaimer: AAAS and EurekAlert! are not responsible for the accuracy of news releases posted to EurekAlert! by contributing institutions or for the use of any information through the EurekAlert system.