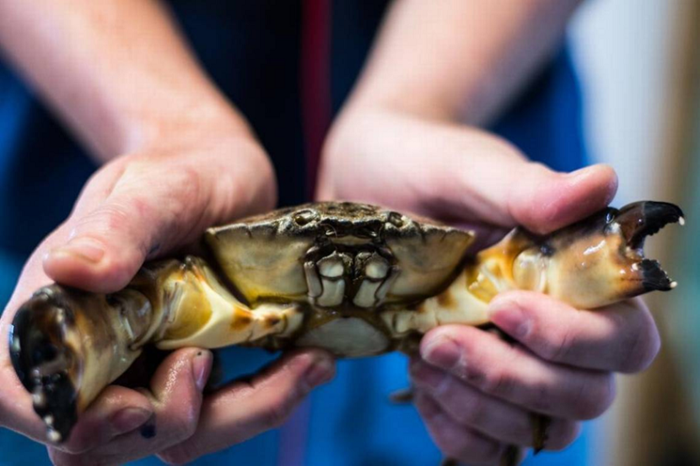 The LSU College of the Coast & Environment, or CC&E, is leading a team of researchers that has been awarded $922,033 from the National Science Foundation to conduct ground-breaking research to identify how climate change will impact one of Florida's most iconic fisheries, the Florida stone crab. The stone crab fishery is a $30 million commercial industry in Florida that supports more than 800 workers. Unfortunately, the annual stone crab harvest in Florida has declined by about 30 percent since the 2000-2001 season, an estimated loss of one million pounds of claws per year, suggesting that fishing pressure and possibly other environmental stressors may be having an impact on the fishery.
Assistant Professor Dan Holstein and Associate Professor Zuo "George" Xue, from the LSU Department of Oceanography & Coastal Sciences, within CC&E, and Assistant Professor Philip Gravinese from the Department of Biological Sciences at Florida Southern College, or FSC, are the principal investigators on this collaborative project. Furthermore, Xue is jointly appointed at the LSU Center for Computation & Technology, or CCT.
"Knowing what's going to happen to stone crab in the future is important, because it is one of many coastal invertebrates that we love to eat, but that appear to struggle in acidified oceans," Holstein said. "Our initial hypothesis is that what's going to happen to the coastal ocean due to climate change will make stone crab populations shrink, and potentially collapse. Not only will we no longer have them as a food source, but their place in the food web and in the ecology of the Gulf of Mexico, may be left vacant."
Stone crabs can be sensitive to environmental stressors caused by climate change, such as temperature, acidity, reduced oxygen and even red tide. To better understand why, the researchers will investigate and model how rapidly changing ocean temperatures and acidity through pH levels disrupt stone crab larval development, behavior and dispersal between habitats along the Florida coast.
"Climate change is set to impact some of our most beloved species in ways that we haven't quite figured out. So, we're using a set of tools that we haven't had access to before to understand and project into the future what their fates may be in a very warm and acidic coastal ocean," Holstein said.
The FSC team, led by Gravinese, will employ advanced digital tracking software to monitor the behavioral patterns of stone crab larvae as they react to various changes in water acidification and temperature. Then, Holstein and Xue will create biophysical models that integrate that data with high-resolution hydrodynamics and carbonate chemistry. This will allow them to forecast how stone crab populations might shift in size and location in response to looming climate changes.
"What we learn from the stone crab over the course of this study will be applicable to other coastal species that are expected to be sensitive to coastal ocean warming and acidification. We're using these iconic – and delicious – stone crabs in Florida as a model to understand what might be happening to all sorts of species all over the globe in the not-so-distant future," Holstein said.
According to Sam Bentley, professor and vice president for the LSU Office of Research & Economic Development, "This exciting project is a prime example of the innovation that can come from collaboration. Dan and George have brought together basic scientific understanding and advanced computational approaches to help address a problem of great economic and ecological significance. I hope this is the first of many such impactful studies from Dan, George and their teams in ocean and computational sciences. This is a playbook for success."
This work integrates key concepts in biology, ecology, fisheries management, physics, mathematics and high-performance computing and provides novel opportunities for undergraduate and graduate training. Furthermore, the grant will fund the development of interactive K-12 curriculum.
The National Science Foundation is an independent U.S. federal agency with a purpose to fund novel research that drives the U.S. economy and to sustain U.S. global leadership.
###
---