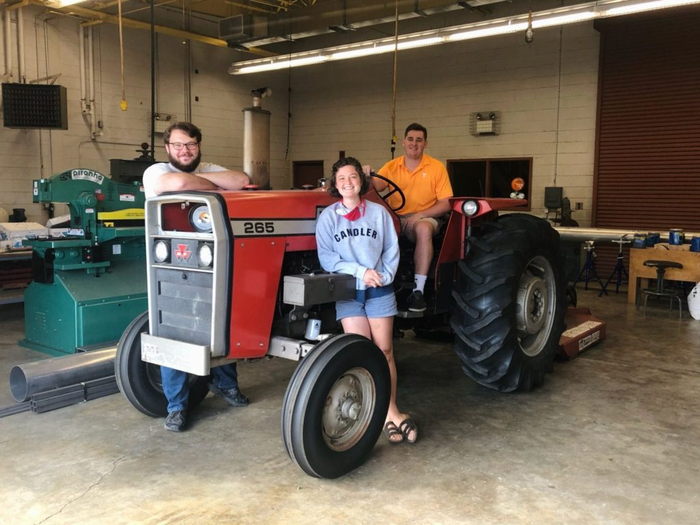 KNOXVILLE, Tenn. — In July, five University of Tennessee Institute of Agriculture students competed in virtual engineering design competitions, placing first and third in an American Society of Agricultural and Biological Engineers (ASABE) undergraduate student design competition. These results are just the latest in a long list of student successes achieved by biosystems engineering seniors in design competitions.
Two teams of students represented the Herbert College of Agriculture's Department of Biosystems Engineering and Soil Science at the competition. One team placed first with a project titled "Gradual Rotary Adjustment for Sloped Surfaces." Team members included Margie Peeler, Jim Roebuck and Lewis Webber. The team was advised by associate professor John Buchanan.
The second team placed third in the national design competition with a project titled "Solid-State Microwave Control and Data Collection System." Team members included Benjamin Cruz and Colby Gillman. The team was advised by Department of Food Science assistant professor JiaJia Chan and Department of Biosystems Engineering and Soil Science assistant professor Hao Gan.
With the exceptions of 2015 and 2018, student teams from the biosystems engineering program have placed 1st, 2nd, and/or 3rd in ASABE student design competitions every single year since 2009, demonstrating their skills against teams from across the US and even around the world. This historical legacy of excellent design projects sets students up for success as they later tackle real-world problems in industry positions or graduate school.
"Our senior design program is special because each year the projects are very open-ended and unique, forcing students to use and build on their science and engineering knowledge to develop, prototype and test their design," says Julie Carrier, department head of the Department of Biosystems Engineering and Soil Science. "The curriculum is arranged such that seniors work not only on their design but also on peripheral real-world aspects such as safety, environmental impact, human and societal factors, and presenting the design verbally and in written form. This could be one of the reasons why, year after year, we do so well on the national scene."
In addition to participating in design competitions, biosystems engineering students also have exceptional opportunities to work closely with faculty and advisers, like Lori Duncan, an assistant professor who serves as the faculty adviser for the student chapter of ASABE. An award-winning farm adviser and precision agriculture specialist herself, Duncan oversees a student mentorship program that pairs upperclassmen and graduate students with incoming freshmen and sophomores, ensuring student success and engagement with problem-solving peers.
Graduates from the biosystems engineering program can expect gainful, industry-focused employment as well, with the program boasting a 100 percent job placement rate, a statistic many programs aim to achieve. According to some industry leaders, the design experiences available to students provide a distinguishing edge.
"I have been part of several hiring and interview boards, and one clear observation is that University of Tennessee applicants who have experienced the senior design course in biosystems engineering stand out," states Joseph C. Zimmerman, a senior construction engineer based in Texas and a UT alumnus from 1989 and 1996. "The design projects are valuable and unique, and they help bridge the gap between routine coursework and internship experience. The design experience expanded the gap between UT applicants and other candidates with appliable real-world experience."
More information on the biosystems engineering undergraduate program is available at tiny.utk.edu/biosystems.
Through its land-grant mission of research, teaching and extension, the University of Tennessee Institute of Agriculture touches lives and provides Real. Life. Solutions. utia.tennessee.edu.
---