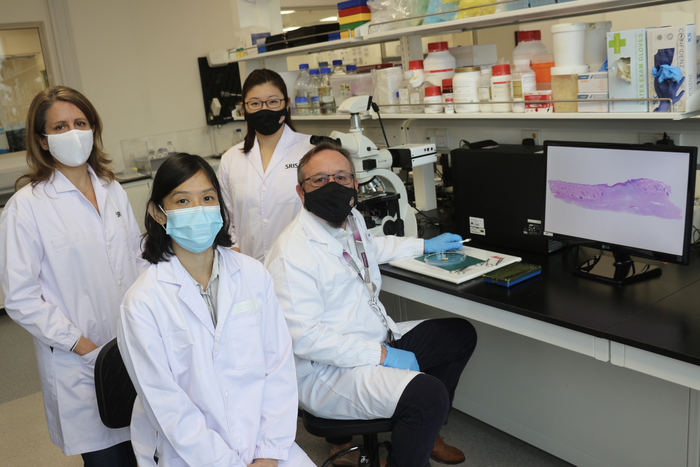 Scientists from Nanyang Technological University, Singapore (NTU Singapore), the Skin Research Institute of Singapore (SRIS), and local biotech start-up Celligenics are working together to develop accessible and affordable therapies to accelerate healing in chronic wounds such as diabetic ulcers and bed sores.
The collaborative research effort, led by Professor David Becker, an expert on tissue repair and regeneration at NTU Singapore's Lee Kong Chian School of Medicine (LKCMedicine) and at SRIS, will see the team of scientists formulating proof-of-concept wound healing patches, gels, or sprays using a regenerative extract developed by Celligenics, a spin-off from the Agency for Science, Technology and Research (A*STAR).
This regenerative extract is derived from stem cells obtained through Celligenics' proprietary stem cell technology, which are able to stimulate cell repair. Preliminary data suggest a one-third acceleration in wound closure upon treating wounds with this extract, highlighting the extract's potential in addressing the needs of chronic wounds.
The prototypes developed by the NTU-SRIS-Celligenics team are being tested on a first-of-its-kind wound healing platform developed by SRIS, a tripartite partnership between A*STAR, the National Healthcare Group, and NTU. This platform, which was funded as a project under the Wound Care Innovation for the Tropics (WCIT) programme, captures many of the features of human chronic wounds, unlike existing platform technologies.
Professor of Tissue Repair and Regeneration David Becker at NTU LKCMedicine and at SRIS said: "Chronic wounds such as diabetic foot ulcers and venous leg ulcers typically afflict the elderly, who often have poor circulation in their lower limbs. If left untreated, such wounds can lead to amputations, or even death if bacteria from the wound enters the bloodstream. In Singapore, there are at least four diabetes-related lower leg amputations daily[1]. Economically, chronic wounds cost at least US$216 million worth of healthcare burden in Singapore[2]. Currently, dressings for chronic wounds are physical barriers; none offer biological actives that stimulate the body's healing process. Through tapping the expertise of NTU LKCMedicine, SRIS, and Celligenics, we hope to come up with a new therapy that will help stimulate the healing process."
Mr Kurt Wee, Chief Executive Officer at Celligenics, said: "Many chronic wound care clinicians in the US and China noted that if they can accelerate healing time by 10 per cent, they would be able to save many patients and reduce healthcare costs and burden significantly. Our technology enables significantly accelerated wound-healing, which means we can reduce the complications of chronic wounds, saving lives and cutting costs for healthcare systems and nations. This collaboration is integral to our plan towards wider clinical developments in Singapore and China."
Dr Ng Yi Zhen, Programme co-lead at Wound Care Innovation for the Tropics Programme, SRIS, and Theme Lead for Wounds, A*STAR Skin Research Labs said: "Wound research is an important focus area in SRIS and we have developed in-house wound model testing capabilities, including a first-of-its-kind perturbed wound model for chronic wounds where wound closure is delayed significantly. We hope this collaboration with the NTU Lee Kong Chian School of Medicine and Celligenics will lead to better patient health outcomes and anchor Singapore's spot as a global innovation hub."
This project is supported by the Skin Innovation Grant under the Health and Biomedical Sciences Industry Alignment Fund Pre-Positioning (HBMS IAF‐PP) (H17/01/a0/004), administered by A*STAR.
###
---
[1] Ang Y, Yap CW, Saxena N, Lin LK, Heng BH. Diabetes-related lower extremity amputations in Singapore. Proc Singapore Healthcare. 2017;26(2):76-80.
[2] Lo, ZJ, Lim, X, Eng, D, et al. Clinical and economic burden of wound care in the tropics: a 5-year institutional population health review. Int Wound J. 2020; 17: 790– 803.
---