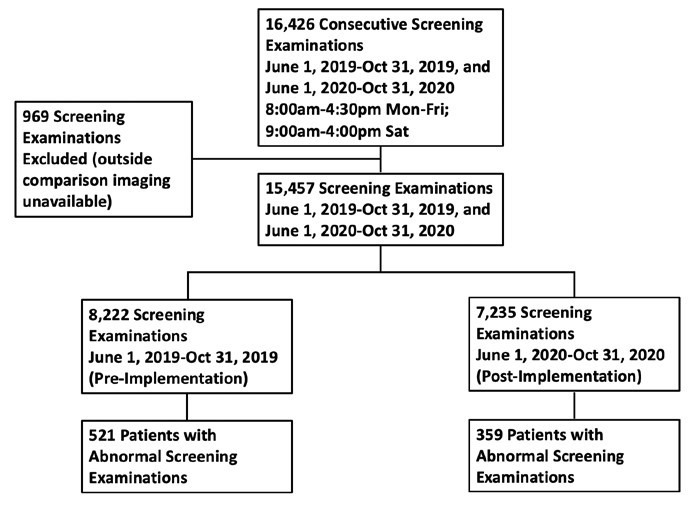 Leesburg, VA, September 9, 2021—According to ARRS' American Journal of Roentgenology (AJR), immediately reading screening mammograms during the coronavirus disease (COVID-19) pandemic promises a new and improved paradigm—reducing care disparities, while increasing the speed of diagnostic workup.
"The immediate-read screening mammography program reduced prior racial and ethnic disparities in same-day diagnostic imaging after abnormal screening mammograms," wrote first author Brian N. Dontchos of Massachusetts General Hospital and Harvard Medical School.
In May 2020, Dontchos et al. implemented a program wherein a dedicated breast imaging radiologist interpreted all screening mammograms in real-time, with patients receiving their results before being discharged. A separate radiologist made efforts to perform any recommended diagnostic imaging during the same visit. The team then retrospectively identified screening mammograms performed from June 1, 2019 to October 31, 2019 (pre-implementation; 8,222 examinations) or June 1, 2020 to October 31, 2020 (post-implementation; 7,235 examinations). 521 and 359 patients had abnormal screening examinations, respectively.
Before implementing this immediate-read screening mammography program, patients with races other than White had lower odds than White patients of having same-day diagnostic imaging after abnormal screening examinations (adjusted odds ratio [OR]: 0.30; 95% confidence interval [CI]: 0.10, 0.86; p=.03). After implementation, these odds were not significantly different (OR: 0.92; 95% CI: 0.50, 1.71; p=.80).
Responding to the Society of Breast Imaging's recommendation to reduce patient hospital visits during COVID-19, "we believe the practice is sustainable and not limited to only a transient period of lower-than-normal screening volumes," the authors of this AJR article noted.
---
Founded in 1900, the American Roentgen Ray Society (ARRS) is the first and oldest radiological society in North America, dedicated to the advancement of medicine through the profession of radiology and its allied sciences. An international forum for progress in medical imaging since the discovery of the x-ray, ARRS maintains its mission of improving health through a community committed to advancing knowledge and skills with an annual scientific meeting, monthly publication of the peer-reviewed American Journal of Roentgenology (AJR), quarterly issues of InPractice magazine, AJR Live Webinars and Podcasts, topical symposia, print and online educational materials, as well as awarding scholarships via The Roentgen Fund®.
MEDIA CONTACT:
Logan K. Young, PIO
44211 Slatestone Court
Leesburg, VA 20176
703-858-4332
---
Journal
American Journal of Roentgenology
Method of Research
Observational study
Subject of Research
People
Article Title
Disparities in Same-Day Diagnostic Imaging in Breast Cancer Screening: Impact of an Immediate-Read Screening Mammography Program Implemented During the COVID-19 Pandemic
Article Publication Date
8-Sep-2021
COI Statement
The authors are supported by institutional grant funding from GE Healthcare, Inc. and from Hologic, Inc.