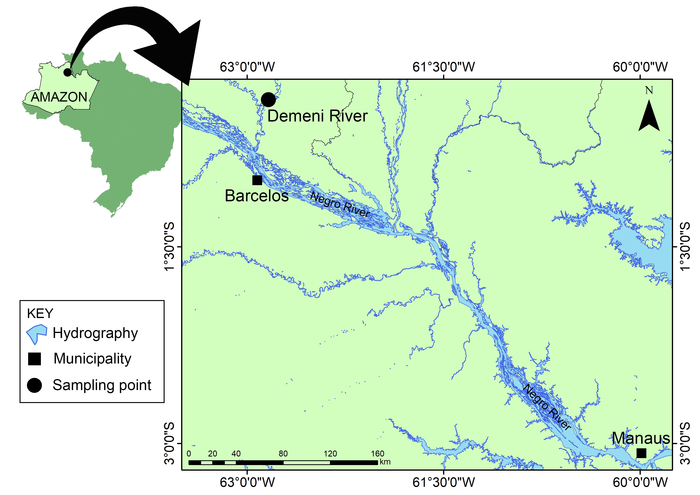 The Amazon River Basin is home to about 15% of all freshwater fish species known to science, and an estimated 40% yet to be named. These include some of the most bizarre fishes: the vampire fishes, locally known as candiru, members of the catfish subfamily Vandelliinae.). They survive by attaching themselves to the bodies of other fish and sucking on their blood, hence their common name. Yet, it was only recently that scientists found out that one candiru species, belonging to the genus Paracanthopoma, seems to be making use of its host in quite a different way.
During a sampling study of freshwater fish fauna in a lake of the Demeni River Basin, a left bank tributary of the Negro River, researchers from the Federal University of Amazonas and the Washington and Lee University found candirus attached to the surface of the body of an Amazonian species of a thorny catfish. They observed a total of twenty candirus attached to the outside of the bodies of nine larger Doras phlyzakion, one or two per host. Very unusually, the candirus were attached close to the lateral bone plates, rather than the gills, where these fish are normally found.
As a result of these observations, the research team recently published the first record of a candiru attached to the body surface of an Amazonian thorny catfish in an article in the open-access scholarly journal Acta Ichthyologica et Piscatoria.
Vampire fish have long and robust snouts, with strong dentary teeth that help them stay attached to the epidermis of their host and feed on its blood. However, when the researchers performed a macroscopic analysis of the stomach contents of the preserved Paracanthopoma specimens, they were surprised to find no coagulated blood, nor flesh, skin or mucus. This might indicate an interaction between parasite and host that is more benign than usually attributed to vampire fish.
"We believe the association between candiru and host in this case might be commensalistic, rather than parasitic, because the hosts were not badly harmed, and the candiru apparently derived no food benefit," said Chiara Lubich of the Federal University of Amazonas, lead author of the study.
But what else would they seek on the back of Amazonian thorny catfish? One explanation could be that, since candirus are tiny and nearly transparent, they might be avoiding getting noticed by visual predators by riding on larger fish. Another hypothesis is that they could be using their big cousins to transport them over longer distances that they wouldn't be able to cover themselves, eventually making it to safety or new food sources.
###
Research article:
Lubich CCF, Martins AR, Freitas CEC, Hurd LE, Siqueira-Souza FK (2021) A candiru, Paracanthopoma sp. (Siluriformes: Trichomycteridae), associated with a thorny catfish, Doras phlyzakion (Siluriformes: Doradidae), in a tributary of the middle Rio Negro, Brazilian Amazon. Acta Ichthyologica et Piscatoria 51(3): 241-244. https://doi.org/10.3897/aiep.51.e64324
---
Journal
Acta Ichthyologica Et Piscatoria
Article Title
A candiru, Paracanthopoma sp. (Siluriformes: Trichomycteridae), associated with a thorny catfish, Doras phlyzakion (Siluriformes: Doradidae), in a tributary of the middle Rio Negro, Brazilian Amazon
Article Publication Date
9-Sep-2021