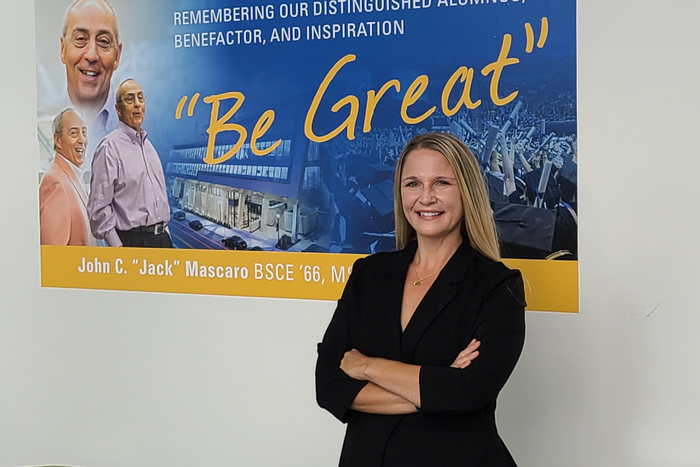 For nearly two decades, the Mascaro Center for Sustainable Innovation (MCSI) has helped to form and reimagine the impact of sustainability throughout the University of Pittsburgh. From student engagement and academic programs to philanthropic endeavors and cultural evolution, MCSI has sought to make its mission of "sustainable innovation" more than a rubric but rather an institutional heartbeat. Buoyed by twenty years of success, MCSI announced its new pulse in foundational leadership.
Melissa Bilec, William Kepler Whiteford Professor of Civil and Environmental Engineering in Pitt's Swanson School of Engineering, has been appointed co-director. Eric Beckman, her predecessor and Distinguished Service Professor of Chemical and Petroleum Engineering, will step into a new role as Director Emeritus and Chief of Innovation and Translation. Gena Kovalcik continues to serve as co-director of administration and external relations. MSCI, established through a gift from alumnus John C. "Jack" Mascaro BSCE '66 MSCE '80 in 2003, has maintained a singular mission at Pitt – to catalyze sustainability research and education.
"MCSI has its roots in the Swanson School, thanks to Jack Mascaro's enduring legacy. From degree and certificate programs to student and faculty research and community engagement outreach, this center is transformative," said Provost and Senior Vice Chancellor Ann E. Cudd. "Eric and Gena have contributed so much to imbue sustainability throughout the University, and I know that Melissa will continue that growth."
Bilec is a triple-alumna of Pitt, having earned her bachelor's (magna cum laude), master's, and PhD from Pitt's Swanson School of Engineering, where MCSI is headquartered. She is nationally and internationally recognized for her expertise in circular economy, life cycle assessment, energy assessment (especially within underserved communities), high-performance buildings and experiential learning.
"Sustainability has been integral to my teaching and research career, and so I am honored to carry on the incredible legacies that Jack, Eric, and Gena established," Bilec said. "Our pillars have been and continue to be excellence in academic programs, critical research, and community engagement, toward the goal of realizing greater undergraduate and graduate growth and excellence. I look forward to continuing this mission with Eric, Gena and our MCSI team; Aurora Sharrard in Pitt's Office of Sustainability; as well as our faculty and staff colleagues across the university."
Bilec has secured approximately $10 million in research funding as PI or Co-PI, including 15 NSF grants, and has worked closely with the City of Pittsburgh and Green Building Alliance as well as the Larimer Community. She also worked with Phipps Conservatory and Botanical Gardens on extensive, published research of its Center for Sustainable Landscapes, considered one of the greenest buildings in the world.
For the next five years, Bilec and MCSI leadership have coalesced around three specific goals:
Continue to expand and engage throughout Pitt to exponentially infuse sustainability into the University's education, research, and service missions.
Develop and implement a world-class transdisciplinary graduate program that integrates climate change solutions using circular economy strategies, driven by strong industrial partners.
Fully integrate and expand all programs from the summer undergraduate research program to faculty research to establish MCSI as leaders in equity, diversity, and inclusion.
"As the so-called green movement evolved into sustainability, which has greater breadth and depth throughout human life and global existence, Jack realized it should be integral to the university environment," Beckman noted. "Melissa's academic and research career has likewise grown and evolved throughout her Pitt career, and so she understands better than anyone what MCSI's future holds not only for the university, but also the many communities we serve. I am proud that she will continue here as my successor."
###
QUOTES FROM THE COMMUNITY-AT-LARGE
"Having Dr. Bilec as Co-Director, along with Gena Kovalcik is a great step forward for the Mascaro Center for Sustainable Innovation. Our dad, Jack Mascaro, started the search for a new co-director several years ago. He not only interviewed Melissa, but he had her also undertake the series of tests required of Mascaro employees to ensure that she was the right fit for MCSI. From our conversations with him regarding Dr. Bilec, we know he would be elated at her appointment.
"Dr. Bilec's experience and leadership in research for the Built Environment and Sustainable Engineering (BESE) group, along with the longevity and progress Ms. Kovalcik's leadership has delivered at MCSI, is a great combination of proven success and will only take the center to the next level. Dr. Beckman's continued involvement as Director Emeritus will also be a catalyst for future innovation at MCSI.
"We have been honored to be a part of the University's progressive movement in sustainability, first endorsed by Chancellor Nordenberg and continued to be supported by Chancellor Gallagher. The University of Pittsburgh is fortunate to have Dr. Bilec in this role, and we are excited to see what the future holds for MCSI."
Darlene D. Mascaro; John C. Mascaro, Jr., President & CEO; Jeffrey M. Mascaro, Executive Vice President; Michael R. Mascaro, Executive Vice President - Mascaro Construction Company LP
---
"The Mascaro Center for Sustainable Innovation found the ideal candidate for Co-Director in Dr. Melissa Bilec. Melissa is truly one-of-a-kind – a visionary with the passion, experience, and knowledge to envision an aspirational future and path forward, and a doer who creates transformational projects, builds collaborative partnerships, and supports others to realize greater collective impact. We look forward to continuing our partnership together with Melissa and MCSI in this new and exciting role."
Jenna Cramer, Executive Director, Green Building Alliance
---
"We at Carnegie Mellon have very much appreciated the collaboration with the Mascaro Center for Sustainable Innovation since its founding, especially in the planning of the biannual Engineering Sustainability Conference. It has been a pleasure for me to work with MCSI co-directors Eric Beckman and Gena Kovalcik in this endeavor, and for the past decade also with Melissa Bilec. Professor Bilec brings great knowledge, insight, creativity, passion to all of her work in the integration of sustainability into engineering. I know that she will help take MCSI in exciting new directions. Congratulations Melissa!"
David Dzombak, Hamerschlag University Professor and Head of Civil and Environmental Engineering at Carnegie Mellon, and former Director of the Steinbrenner Institute for Environmental Education and Research at CMU
---
"Melissa is a prized partner of our work on sustainability and resilience at the City of Pittsburgh. Together, we've catalyzed partnerships, advanced research, and helped set the course for greater incorporation of circular economy concepts in the Pittsburgh regional economy. We look forward to working with Melissa in her expanded capacity. She's a regional asset."
Grant Ervin, Chief Resilience Officer and Assistant Director for the City of Pittsburgh Department of City Planning
---
"Dr. Melissa Bilec is a respected leader in sustainability and The Heinz Endowments are pleased to offer our congratulations on her appointment as Co-Director of the Mascaro Center at the University of Pittsburgh. We look forward to working with the Center under her leadership. The Endowments also offers thanks and best wishes to long time Center director Eric Beckman."
Andrew McElwaine, Vice President for Sustainability at The Heinz Endowments
---
"Dr. Bilec is WELL deserving of this appointment! Working under her leadership as a PhD Student, I saw firsthand Melissa's exceptionally hard-working decorum and highly motivated passion for Environmental Justice and Sustainability, in addition to being fiercely passionate about a diversified and equitable culture beyond the walls of her individual research group. Inclusivity and innovation have been a centerpiece of her research for decades, and I look forward to MCSI reaching new heights under her direction."
Harold J. Rickenbacker PhD '19 (Civil & Environmental Engineering), Manager, EDF+Business, Clean Air & Innovation for the Environmental Defense Fund
---