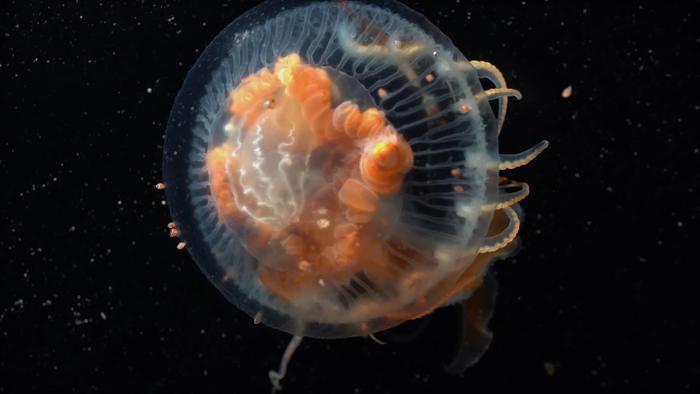 Sometimes, scientific discoveries emerge from the strangest turns of events.
It all started in 2018, when Dr. Emiliano Cimoli, postdoctoral researcher at the University of Tasmania, joined a field campaign to McMurdo Sound in the Ross Sea, Antarctica – to study not jellyfish, but rather the algal communities that thrive beneath the ice.
"These algae are like the plants of the under-ice world and are very important for the Antarctic food chain," Dr. Cimoli says. The research team he was part of focused on the development of new sensing technologies to monitor these algal communities (e.g. optical techniques and chemical microsensors).
"We usually have a nice large tent to be able to work and operate such instruments in the harsh Antarctic environment. The cool part is that inside this tent, we have a massive 2 x 2 m hole in the sea ice that allows us to deploy these instruments to the under-ice world."
It's kind of like a magic portal to another world filled with mysterious and wondrous jellyfish-like creatures that live down there.
Besides working as an engineer and remote sensing scientist, Dr. Cimoli is also a passionate amateur nature and wildlife photographer and videographer, and in his free time he decided to document all sightings of these creatures with his camera. The researcher used a combination of macro photography equipment and a set of light sources, along with underwater robots for filming underwater.
"Finally, I ended up having a massive amount of jellyfish footage, did not know what to do with it, then lockdown hit and suddenly I found myself working on a trippy video composition of all these creatures," he adds.
The value of his video was soon picked up by biologist Dr. Gerlien Verhaegen, postdoctoral researcher at the Japan Agency for Marine-Earth Science and Technology (JAMSTEC):
"When I came across Emiliano's video, I was amazed by the image quality of his underwater footage. You could clearly distinguish some key morphological features." Unlike hard-bodied animals, the fragile body of jellyfishes and comb jellies (i.e. "sea gooseberries") are easily destroyed when sampled with nets, which is why photography and videography of specimens are crucial to describing them taxonomically.
The two postdocs soon joined forces to produce a collaborative study.
"I think I underestimated the time needed to produce a jellyfish taxonomic paper," laughs Dr. Verhaegen. "Most of the original descriptions of Antarctic jellies date back to the so-called Heroic Age of Antarctic Exploration in the early 20th century, and are written in English, French, and German. Furthermore, due to the high-water content of jellies, it is extremely difficult to fix and preserve them in formalin or ethanol. We therefore could not compare our specimens to physical specimens preserved in museums but had to rely on the century old descriptions and drawings. Luckily, we were in good hands with my project host, Dr. Dhugal Lindsay, senior scientist at JAMSTEC, a jellyfish taxonomist expert, and last author of our paper".
Despite the small geographical and temporal scale of this study, which was published in the open-access Biodiversity Data Journal, a total of 12 species were reported, with two jellyfish and three comb jellies likely representing undescribed species.
Besides revealing new morphological traits for every species, including some behavior and trophic traits, this study was also the first to include a training image set for video annotation of Antarctic jellyfish through machine learning.
"Machine learning is being applied to numerous fields nowadays, from voice recognition software and translation through to detection of typhoon formation," comments Dr. Lindsay.
"In marine biology, annotating species from underwater videos can be both time-consuming and financially costly, with very few experts able to give names to the high diversity of species invariably encountered. Machine learning techniques could help solve these issues by enabling automatic first-pass annotation of videos. However, taxonomically accurate image-based datasets are needed to train these learning algorithms, and this study is a valuable first step."
Watch the video "Life Beneath the Ice" by Dr. Emiliano Cimoli on YouTube and Vimeo.
Original source
Verhaegen, G., Cimoli, E., & Lindsay, D. J. (2021). Life beneath the ice: jellyfish and ctenophores from the Ross Sea, Antarctica, with an image- based training set for machine learning. Biodiversity Data Journal, 9, e69374. https://doi.org/10.3897/BDJ.9.e69374
---
Journal
Biodiversity Data Journal