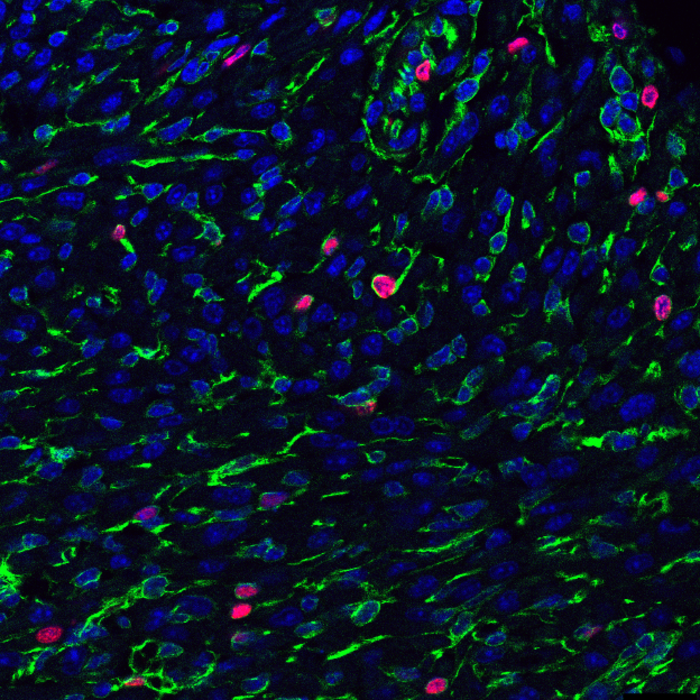 The Texas Heart Institute has announced that a new study from its prolific Cardiomyocyte Renewal Lab has been published in Circulation Research – a peer-reviewed journal from the American Heart Association that reaches clinical and academic cardiologists, basic cardiovascular scientists, physiologists, cellular and molecular biologists, and cardiovascular pharmacologists. The new study identifies that the Wntless (Wls) gene plays a critical role in heart regeneration in mice. Wls facilitate signal molecule secretion from cardiomyocytes (heart muscle cells) to cardiac fibroblasts – cells that produce connective tissue – in order to suppress CF activation, which in turn promotes heart functional recovery by reducing scar formation.
"In this study, we learned that the Hippo pathway, an inhibitory genetic mechanism, regulates cardiac scar formation based upon cross-communication between cardiomyocytes and cardiac fibroblasts vis-à-vis the Wnt signaling pathway; based upon this discovery, we are able to reduce scarring that is formed by fibroblasts following a myocardial infarction (heart attack) in neonatal mouse hearts," emphasized Shijie Liu, a Research Scientist in the Texas Heart Institute Cardiomyocyte Renewal Laboratory and a co-author on the study.
Liu has worked closely with Dr. James Martin, Director of the Cardiomyocyte Renewal Lab, on several studies, including a recently published study in Science Translational Medicine that represents a game-changing step forward for the treatment of heart failure using gene therapy to regenerate heart muscle following myocardial infarction. Liu previously spent time at the University of North Carolina working on oncology research before transitioning to cardiovascular investigation in 2016 under Martin's tutelage at the Texas Heart Institute.
"Moving forward, we hope to build upon the animal model for heart regeneration that has been developed through this research and will continue to press forward on working to understand the cross-talk that happens between cardiomyocytes and cardiac fibroblasts, which is a complex realm of study that involves a number of different cell conversations occurring simultaneously," Liu added. He concluded, "Further research could potentially lead to heart regeneration treatments that work in multiple ways instead of just one. We are optimistic about where this research is headed based upon this study in tandem with the paper we published a few months ago. The future is very bright, and I am excited to continue working with Dr. Martin and his team at the Texas Heart Institute."
Texas Heart Institute's Cardiomyocyte Renewal Laboratory focuses on understanding how genetic pathways are connected to adult tissue homeostasis and regeneration. By obtaining an in-depth understanding of these pathways, the team cultivates techniques to prevent disorders like heart failure and atrial fibrillation and develops new treatments to ameliorate heart disease. The newly published study, Yap Promotes Noncanonical Wnt Signals from Cardiomyocytes for Heart Regeneration, represents the latest in a number of research breakthroughs for the department.
Liu S, Tang L, Zhao X, Nguyen B, Heallen TR, Li M, Wang J, Wang J, Martin JF. Yap Promotes Noncanonical Wnt Signals from Cardiomyocytes for Heart Regeneration. Circ Res. 2021 Aug 23. doi: 10.1161/CIRCRESAHA.121.318966. Epub ahead of print. PMID: 34424032.
###
ABOUT TEXAS HEART INSTITUTE (THI)
The Texas Heart Institute, founded by world-renowned cardiovascular surgeon Dr. Denton A. Cooley in 1962, is a nonprofit organization dedicated to reducing the devastating toll of cardiovascular disease through innovative and progressive programs in research, education, and improved patient care. THI's scientists and physicians conduct fundamental biomedical, translational, and clinical research in cardiology, cardiovascular surgery, molecular-based medicine, stem cell and gene therapy, and regenerative medicine both independently and in collaboration with organizations worldwide. As global leaders of patient care for nearly six decades, Texas Heart Institute has been ranked among the top cardiovascular centers in the United States by U.S. News & World Report for the past 30 years. THI is dedicated to spreading awareness and sharing updates on ways to prevent, treat and defeat cardiovascular disease. With over 10 million visitors coming to its website from around the world every year, www.texasheart.org is just one of the ways THI is helping to educate people on the importance of heart health. For more information, please visit https://www.texasheart.org.
ABOUT THE CARDIOMYOCYTE RENEWAL LAB AT THI
The Texas Heart Institute Cardiomyocyte Renewal Laboratory addresses major areas of disease-related research including heart failure and atrial fibrillation. Led by James Martin, MD, PhD, the lab's groundbreaking studies have yielded exciting results, including discovering the genetic pathway that prevents the heart from regenerating after an injury. This key biological insight revealed that a failing organ, in this case the heart, can be rejuvenated by removing a specific, inhibitory genetic signal. The team is dedicated to continuing their work in basic research to develop new treatments for heart disease. This includes developing innovative gene therapies to treat severe heart disease such as heart failure. The lab will conduct further molecular analyses to define novel targets for cardiac regeneration therapy. Cutting-edge approaches, such as gene-editing technology, will be used to develop novel cardiac therapies. For more information, please visit https://www.texasheart.org/research/cardiomyocyte-renewal-laboratory/.
---
Journal
Circulation Research
Method of Research
Experimental study
Subject of Research
Animals
Article Title
Yap Promotes Noncanonical Wnt Signals from Cardiomyocytes for Heart Regeneration
Article Publication Date
23-Aug-2021
COI Statement
JFM is a co-founder of and owns shares in Yap Therapeutics.