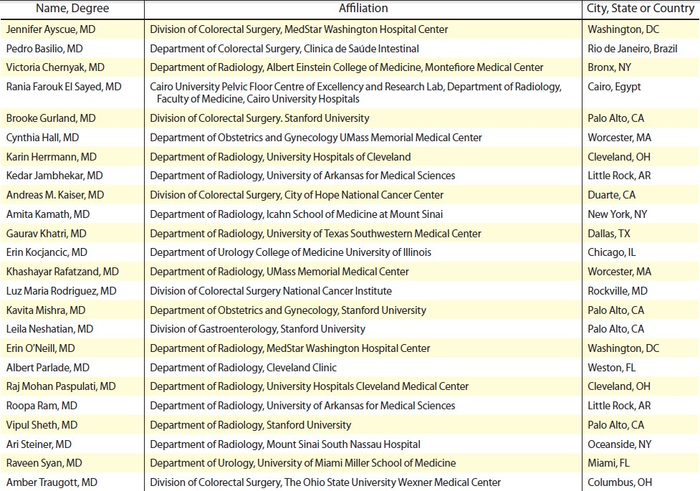 Leesburg, VA, September 17, 2021—The Pelvic Floor Disorders Consortium (PFDC) is a multidisciplinary organization of colorectal surgeons, urogynecologists, urologists, gynecologists, gastroenterologists, radiologists, physiotherapists, and other advanced care practitioners—formed to bridge gaps and enable collaboration between these specialties. Specialists from these fields are all dedicated to the diagnosis and management of patients with pelvic floor conditions, but given the differences in their respective training, they approach, evaluate, and treat such patients with their own unique perspectives.
In a multisociety-endorsed American Journal of Roentgenology (AJR) article (published concurrently with Diseases of the Colon & Rectum, International Urogynecological Journal, and Female Pelvic Medicine and Reconstructive Surgery Journal), the 24 members of the PFDC Working Group on MRI reached consensus regarding many clinically relevant considerations for performing, interpreting, and reporting MR defecography. Based upon the PFDC Working Group on MRI's consensus guidelines, corresponding synoptic interpretation templates were suggested for this unique patient population.
The templates and techniques described in this AJR article can be augmented with additional radiologic maneuvers and report elements—specific patient indications, health care provider preferences, local practice patterns, etc.—"but the suggested verbiage and steps should be advocated as the minimum requirements when performing and interpreting MR defecography in patients with evacuation disorders of the pelvic floor," the 15 coauthors of this AJR article concluded.
An electronic supplement is available online at doi.org/10.2214/AJR.21.26488.
---
Founded in 1900, the American Roentgen Ray Society (ARRS) is the first and oldest radiological society in North America, dedicated to the advancement of medicine through the profession of radiology and its allied sciences. An international forum for progress in medical imaging since the discovery of the x-ray, ARRS maintains its mission of improving health through a community committed to advancing knowledge and skills with an annual scientific meeting, monthly publication of the peer-reviewed American Journal of Roentgenology (AJR), quarterly issues of InPractice magazine, AJR Live Webinars and Podcasts, topical symposia, print and online educational materials, as well as awarding scholarships via The Roentgen Fund®.
---
The Pelvic Floor Disorders Consortium (PFDC) aims to enhance the care of patients with pelvic floor disorders by promoting a scientifically sound, streamlined, and multidisciplinary approach toward their care. Working with appropriate committees representing a variety of disciplines involved in the care of patients with pelvic floor disorders, including the American Society of Colon and Rectal Surgeons, PFDC creates and evaluates educational programs, clinical guidelines, and algorithms of care through clinical collaboration, multidisciplinary consensus, and research.
MEDIA CONTACT:
Logan K. Young, PIO
44211 Slatestone Court
Leesburg, VA 20176
703-858-4332
---
Journal
American Journal of Roentgenology
Method of Research
Imaging analysis
Subject of Research
People
Article Title
Consensus Definitions and Interpretation Templates for Magnetic Resonance Imaging of Defecatory Pelvic Floor Disorders: Proceedings of the Consensus Meeting of the Pelvic Floor Disorders Consortium of the American Society of Colon and Rectal Surgeons, the Society of Abdominal Radiology, the International Continence Society, the American Urogynecologic Society, the International Urogynecological Association, and the Society of Gynecologic Surgeons
Article Publication Date
10-Sep-2021
COI Statement
The authors declare that they have no disclosures relevant to the subject matter of this article.