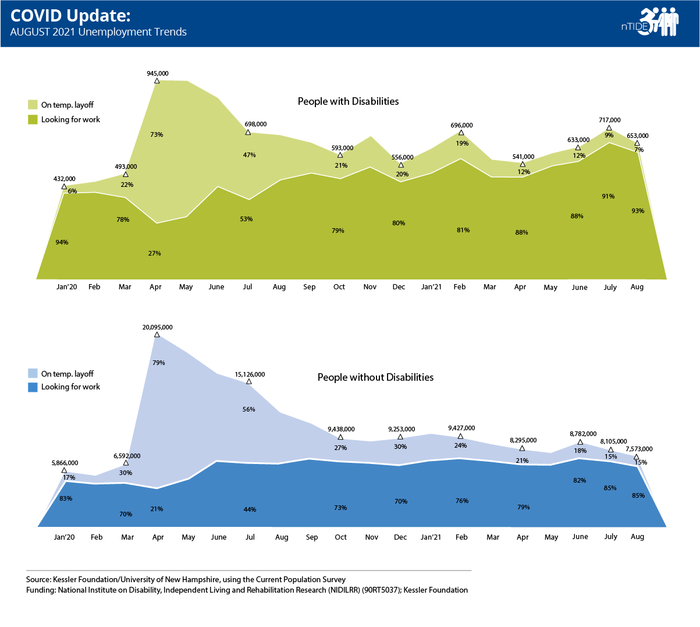 East Hanover, NJ. September 20, 2021. People with and without disabilities experienced modest declines in unemployment in August, according to today's National Trends in Disability Employment (nTIDE) COVID Update, as pandemic restrictions eased, and businesses and schools moved ahead with plans for reopening.
In April of 2020, restrictions on economic activity in the U.S. due to the COVID-19 pandemic precipitated an unprecedented rise in furloughs and people looking for work, prompting the addition of this mid-month nTIDE COVID Update. The mid-month nTIDE follows two key unemployment indicators – furloughs, or temporary layoffs, and the number of people looking for work, comparing trends for people with and without disabilities.
Although August's nTIDE COVID Update graphic shows lower unemployment, it is important to keep in mind that declines in unemployment may reflect movement 'in to' or 'out of' the labor market," noted nTIDE co-author Andrew Houtenville, PhD, professor of economics at the University of new Hampshire (UNH) and research director of the UNH Institute on Disability. "Unemployment declines when people get jobs or are recalled to work, for example, but also when they stop looking for work and drop out of the labor market," he explained.
The nTIDE report issued earlier this month provides clues to the movements underlying the recent decline in unemployment. "For August, we saw increases in the employment-to-population ratio and the labor participation rate for people with disabilities" recalled Dr. Houtenville. "That's indicative of a net increase in employment for this population, which is the more likely scenario for the drop in unemployment."
Cautioning against focusing on monthly changes, Dr. Houtenville noted that the 'big picture' remains largely unchanged. "As the economy strives to recover, people with disabilities appear to be treading water," he added. Looking at the August unemployment data for people with disabilities, the number of unemployed is 653,000, which falls within the range for the last year. "It's important to evaluate monthly movements within the larger context of the chronically high unemployment compared to pre-pandemic levels."
Notes from the Field
The August decline in unemployment for people with disabilities is encouraging, according to disability employment expert John O'Neill, PhD, director of the Center for Employment and Disability Research at Kessler Foundation and co-author of nTIDE. Dr. O'Neill cited positive news from JobPathNYC, a New York City-based nonprofit that provides customized employment services for people with intellectual and developmental disabilities. As New York City businesses and cultural institutions reopen in a tight labor market, JobPath's clients are being placed in new jobs, as well as returning to former employers. "Their job developers are as busy meeting the needs of jobseekers and employers as they were before the pandemic," reported Dr. O'Neill.
Dr. O'Neill serves on the board of JobPath, which was able to maintain its support staff despite the stressors of the pandemic. He attributes the rapid increase in job placements to JobPath's avoidance of staff layoffs. "To maintain skilled job development staff, JobPath staff formed virtual career groups that were eligible for state funding, so now, JobPath is well positioned to take advantage of the increased demand for workers. It also helps that jobseekers and their families are feeling more comfortable about returning to the workplace."
Unfortunately, the outcomes are much different for the many providers of disability employment services that were severely undermined by the COVID-19 lockdown. "JobPath's resilience is clearly due to their ability to maintain their experienced job counselors and their valuable connections with the business community," commented Elaine E. Katz, MS, CCC-SLP, senior vice president of Grants and Communications at Kessler Foundation. "From this lesson learned, the stakeholders in disability employment will develop strategies aimed at supporting the resilience needed to weather upheavals that adversely affect the job market for people with disabilities."
Register for next month's nTIDE webinars: October 8, 2021, nTIDE Jobs Report, and our October 22, 2021, COVID Update at https://researchondisability.org/home/ntide
This COVID Update is an extra edition of National Trends in Disability Employment (nTIDE), a joint project of Kessler Foundation and the University of New Hampshire Institute on Disability, co-authored by Dr. Houtenville and John O'Neill, PhD, of Kessler Foundation. The nTIDE team closely monitors the job numbers, issuing semi-monthly nTIDE reports, as the labor market continues to reflect the many challenges of the pandemic.
Funding: Kessler Foundation and the National Institute on Disability, Independent Living and Rehabilitation Research (NIDILRR) (90RT5037)
About Kessler Foundation
Kessler Foundation, a major nonprofit organization in the field of disability, is a global leader in rehabilitation research that seeks to improve cognition, mobility, and long-term outcomes -- including employment -- for people with neurological disabilities caused by diseases and injuries of the brain and spinal cord. Kessler Foundation leads the nation in funding innovative programs that expand opportunities for employment for people with disabilities. For more information, visit KesslerFoundation.org.
About the Institute on Disability at the University of New Hampshire
The Institute on Disability (IOD) at the University of New Hampshire (UNH) was established in 1987 to provide a coherent university-based focus for the improvement of knowledge, policies, and practices related to the lives of persons with disabilities and their families. For information on the NIDILRR-funded Employment Policy and Measurement Rehabilitation Research and Training Center, visit ResearchonDisability.org.
Interested in trends on disability employment? Contact Carolann Murphy to arrange an interview with our experts: cmurphy@kesslerfoundation.org.
Graphic: Title: nTIDE COVID Update: August 2021 Unemployment Trends
This graphic compares the impact of the COVID-19 pandemic on people with and without disabilities, capturing pre-pandemic and current unemployment data for January 2020 to August 2021. Unemployment for people with and without disabilities declined as economic activity increased, but levels of unemployment remain above pre-pandemic levels.
---