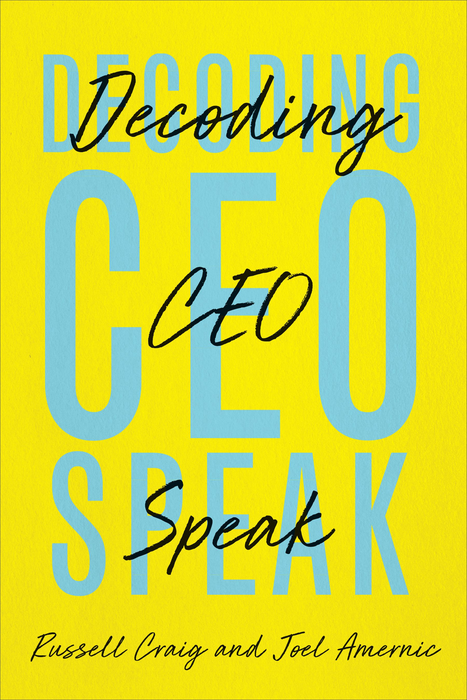 Toronto – The words of business leaders matter. They can spark action, enhance branding, share knowledge, transmit values, and influence social and cultural behavior.
A new book, Decoding CEO-Speak, critiques the public language of a powerful class of people – the Chief Executive Officers of major companies. Interest in the behavior and thinking of CEOs is not confined to their corporation's direct stakeholders only: the public is increasingly interested in how CEOs stand on current issues and community debate.
Through case study analysis of companies such as News Corporation, BP, Wells Fargo, Satyam, Uber, Canadian National Railway, Tesla, and Boeing, authors Russell Craig and Joel Amernic illustrate ways of mining meaning or decoding a CEO's written words and speeches. They critically examine a variety of public media, including social media, testimony, and speeches, performed by leaders of major companies.
Decoding CEO-Speak, published by Rotman-UTP Publishing, an imprint of University of Toronto Press, demonstrates how monitoring the language of CEOs can yield valuable insights into a company's policy, strategy, and ethicality; and how it can point to the priorities, values, and personality of the CEO. The book will appeal to CEOs, senior managers, and public relations and media consultants, as well as business professors, students, and corporate stakeholders who want to find otherwise disguised meaning in the words of leaders.
Russell Craig is a professor of accounting at the Durham University Business School. His main research interests include financial reporting, accounting history, research ethics and the accountability discourse of executives. A major purpose of his research is to expose the folly of unquestioning acceptance of the narrative accountability statements of CEOs.
Joel Amernic is a professor of accounting at the University of Toronto's Rotman School of Management and past editor of Canadian Accounting Perspectives. He is the author and co-author of several books and numerous research and practitioner articles. His main research interests include the accountability language of corporate leadership, financial reporting, management control and management education.
The Rotman School will host an online launch event for the book on September 21, 2021.
###
Advance Praise for Decoding CEO-Speak
"This innovative book is essential reading for anyone interested in making sense of the language games played by CEOs. Decoding CEO-Speak is especially useful for policymakers, employees, investors, trade unions, scholars, students, journalists, and others trying to decode what the masters of the contemporary world are saying, and also what they would rather not say." -Prem Sikka, Member of UK House of Lords and Emeritus Professor of Accounting, University of Essex and University of Sheffield
"A lucid, compelling, and entertaining exposition by two world-class authorities on the subject. Russell Craig and Joel Amernic ensure a contemporary flavor with an epilogue on pandemic-speak. This scholarly work assembles a wide literature, advice on method, and illustrative exemplars of CEO-speak. It is set to become the benchmark for texts on the subject." - Niamh Brennan, Michael MacCormac Professor of Management, University College Dublin and Founder/Academic Director, UCD Centre for Corporate Governance
"Russell Craig and Joel Amernic have written a leadership book for our times. They help readers understand society's fascination with top leaders through the power of words with an eye toward accountability. The message of Decoding CEO-Speak is that communication matters. Language matters. Tone matters. What a refreshing and provocative message to counter today's post-truth leadership where words seem to lose their currency. This book is a must-read for all students of leadership and communication, practitioners, and academics alike." - Gail T. Fairhurst, Distinguished University Research Professor, University of Cincinnati
Bringing together high-impact faculty research and thought leadership on one searchable platform, the new Rotman Insights Hub offers articles, podcasts, opinions, books and videos representing the latest in management thinking and providing insights into the key issues facing business and society. Visit www.rotman.utoronto.ca/insightshub.
The Rotman School of Management is part of the University of Toronto, a global centre of research and teaching excellence at the heart of Canada's commercial capital. Rotman is a catalyst for transformative learning, insights and public engagement, bringing together diverse views and initiatives around a defining purpose: to create value for business and society. For more information, visit www.rotman.utoronto.ca
-30-
For more information:
Ken McGuffin
Manager, Media Relations
Rotman School of Management
University of Toronto
E-mail:mcguffin@rotman.utoronto.ca
---