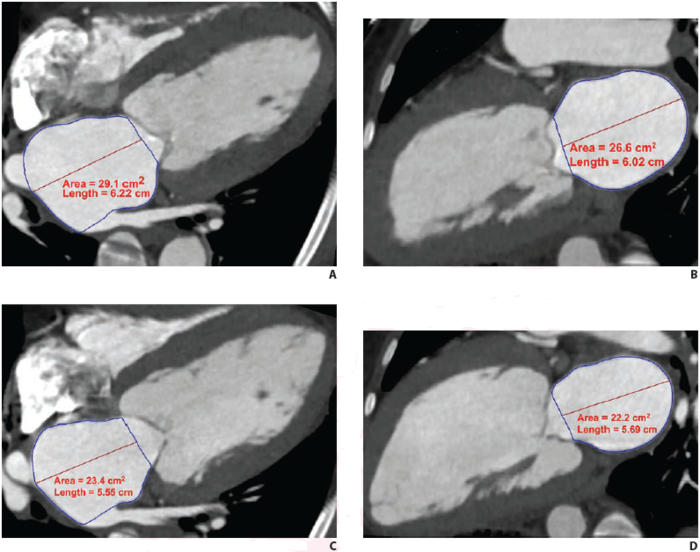 Leesburg, VA, October 13, 2021—According to ARRS' American Journal of Roentgenology (AJR), cardiac CTA-derived left atrium emptying fraction (LAEF) improves predictive performance of established clinical risk scores and may be used to assess patients' risk during pre-transcatheter aortic valve replacement (TAVR) workup and postprocedural surveillance.
"LAEF derived from preprocedural cardiac CTA independently predicts mortality in patients with severe aortic stenosis undergoing TAVR," concluded corresponding author U. Joseph Schoepf from the Medical University of South Carolina's Heart and Vascular Center.
Schoepf and colleagues' retrospective single-center study included 175 patients with severe aortic stenosis (92 male, 83 female; median age, 79 years) who underwent cardiac CTA for clinical pre-TAVR assessment. Maximum and minimum left atrium volumes were calculated using biplane area-length measurements, and the values were indexed to body surface area: LAVImax and LAVImin, respectively.
In their sample, a reduced LAEF independently predicted all-cause mortality within 24 months post-procedure (hazard ratio 0.97 [0.94–0.99]; p=.02). Moreover, when incorporating LAEF, the c-index of the Society of Thoracic Surgeons Predicted Risk of Mortality significantly increased from 0.64 to 0.70.
Acknowledging that atrial parameters are more commonly assessed using transthoracic echocardiography, both atrial volume and atrial function can be reliably assessed using cardiac CTA, "which now represents the gold standard for preprocedural planning in patients undergoing TAVR," the authors of this AJR article added.
---
Founded in 1900, the American Roentgen Ray Society (ARRS) is the first and oldest radiological society in North America, dedicated to the advancement of medicine through the profession of radiology and its allied sciences. An international forum for progress in medical imaging since the discovery of the x-ray, ARRS maintains its mission of improving health through a community committed to advancing knowledge and skills with an annual scientific meeting, monthly publication of the peer-reviewed American Journal of Roentgenology (AJR), quarterly issues of InPractice magazine, AJR Live Webinars and Podcasts, topical symposia, print and online educational materials, as well as awarding scholarships via The Roentgen Fund®.
MEDIA CONTACT:
Logan K. Young, PIO
44211 Slatestone Court
Leesburg, VA 20176
703-858-4332
---
Journal
American Journal of Roentgenology
Method of Research
Observational study
Subject of Research
People
Article Title
Utility of Functional and Volumetric Left Atrial Parameters Derived From Preprocedural Cardiac CTA in Predicting Mortality After Transcatheter Aortic Valve Replacement
Article Publication Date
13-Oct-2021
COI Statement
U. Joseph Schoepf is a consultant for and/or receives research support from Bayer, Bracco, Elucid Bioimaging, Guerbet, HeartFlow, and Siemens Healthcare.