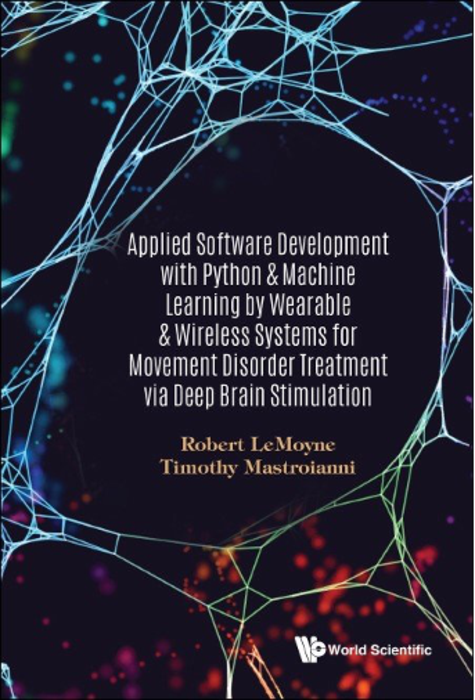 In their new book, Applied Software Development with Python & Machine Learning by Wearable & Wireless Systems for Movement Disorder Treatment via Deep Brain Stimulation, Dr. Robert LeMoyne and Timothy Mastroianni present the confluence of wearable and wireless inertial sensor systems, such as a smartphone, and machine learning, for deep brain stimulation for treating movement disorders, such as essential tremor. The machine learning distinguishes between distinct deep brain stimulation settings, such as its 'On' and 'Off' status. This achievement demonstrates preliminary insight with respect to the concept of Network Centric Therapy, which essentially represents the Internet of Things for healthcare and the biomedical industry, inclusive of wearable and wireless inertial sensor systems, machine learning, and access to Cloud computing resources.
Imperative to the realization of these objectives is the organization of the software development process. Requirements and pseudo code are derived, and software automation using Python for post-processing the inertial sensor signal data to a feature set for machine learning is progressively developed. A perspective of machine learning in terms of a conceptual basis and operational overview is provided. Subsequently, an assortment of machine learning algorithms is evaluated based on the quantification of a reach and grasp task for essential tremor using a smartphone as a wearable and wireless accelerometer system.
These skills regarding the software development process and machine learning applications with wearable and wireless inertial sensor systems enable new and novel biomedical research only bounded by the reader's creativity.
The authors present the utility of the amalgamation of applied software development using Python with machine learning and wearable and wireless systems for establishing the efficacy of deep brain stimulation.
Applied Software Development with Python & Machine Learning by Wearable & Wireless Systems for Movement Disorder Treatment via Deep Brain Stimulation retails for US$88 / £75 (hardcover) and is also available in electronic formats. To order or know more about the book, visit http://www.worldscientific.com/worldscibooks/10.1142/12249.
###
About the Authors
Dr. Robert LeMoyne is presently an Adjunct Professor for Northern Arizona University for the Department of Biological Sciences. Dr. LeMoyne is researching advanced concepts for wearable and wireless systems, such as for the domain of movement disorders. His Ph.D. in Biomedical Engineering is from University of California Los Angeles (UCLA) (2010). He has first authored more than 140 technical proceedings, which have been cited more than 1500 times, spanning a broad array of subjects, such as wearable and wireless systems for applications regarding movement disorders with deep brain stimulation.
Timothy Mastroianni is a cognitive scientist, researcher, and entrepreneur. He is the innovator of HiLoClient 2002, which is a first in the development and utilization of computer vision and pattern recognition used in a non-invasive manner for decoding a machine's random number generator and statistically making predictions about its internal states. This breakthrough was subsequently presented in 2003 as algorithms and methods that enabled Carnegie Mellon University to turn patterns into predictions using the amalgamation of machine learning and fMRI to predict thought and certain internal states of the human mind.
About World Scientific Publishing Co.
World Scientific Publishing is a leading international independent publisher of books and journals for the scholarly, research and professional communities. World Scientific collaborates with prestigious organisations like the Nobel Foundation and US National Academies Press to bring high quality academic and professional content to researchers and academics worldwide. The company publishes about 600 books and over 140 journals in various fields annually. To find out more about World Scientific, please visit www.worldscientific.com.
For more information, contact WSPC Communications at communications@wspc.com.
---